Navigation improved - Counters and more
By
LRT Team
on 08/27/20 in
Changelog
last updated 09/24/20 12:09 pm
3 New Navigation Elements added

We improved the navigation and added
1 Welcome area with tips and links to our documentation and our training
2 Reports Overview to show access all LRT classic reports with one click
3 Smart COUNTERS for all objects
Counters help you understand data better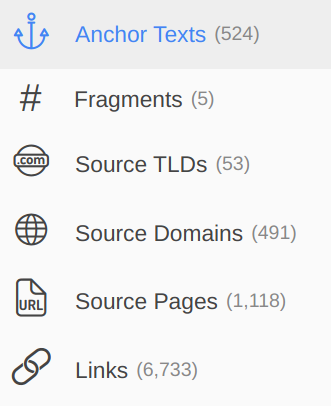 You see the number of links, source pages, anchor texts, fragments, etc. at a glance.
This helps you get an immediate feeling of the volume of data you have in the current project.
Always keep an eye for the Backlink Profile Coverage, because if that is lower than 100% then a complete crawl can increase all counters.
Counters update with the Filter Slice
The benefit of seeing the data volume in your navigation extends to filter slices.
So if you filter by say "Only disavowed links" by clicking the preset tab 1 it applies trhe filter slice to the project 2
and the navigation updates all counters 3 to those affected by the filter selection.