State of Links 2019: SEO Questions that Google should answer
By

Christoph C. Cemper

in Google last updated 07/31/20 12:11 pm by

Christoph C. Cemper
John Muller - Web Trends Analyst of Google - always supporting webmasters , always helpful, always nice
https://twitter.com/JohnMu/status/1057309363856039936
When John Muller offered to take questions, I was immediately excited and started putting together a list of questions, that I tweeted to John and Gary Illyes as usual.
However, Twitter is a very limited medium and doesn't allow to illustrate and explain more complex scenarios like the "Multi Path HREF" question for example.
Illustrating and explaining all the questions to the webspam team is the first goal of this post.
Summarizing the answers is the second goal of this post, and as usual, John will do a wonderful job in getting the webmaster community, and essentially everyone outside of Google great answers and explanations.
Here we go!
I am really looking forward to John's answers to my questions.
Enjoy & Learn
Christoph C. Cemper
and the team of
LinkResearchTools (LRT)
---
Questions on Disavowing Links
Disavow Tool not needed anymore?
Some people say that they don't want to use the disavow file (on their "personal sites" as Gary mentioned September 2017 in Brighton).

However many of our clients see recoveries from link-based penalties on a weekly basis using the disavow file. Can Google officially set the "should we still disavow" question straight?
I believe both John in 2017 and Gary made clear statements recommending the disavow tool as both a pre-emptive measure and of course in the case of a penalty.
https://twitter.com/methode/status/780457659409412096
Also watch this video
Does google spot 100% of the unnatural links now?
Some people say that Google has found the "magic key" to spotting 100% of unnatural links, so any disavow or link removal would be pointless. This belief goes back to an announcement from Gary in September 2016 regarding Penguin 4.0 / Real-Time Penguin.

Explained how parts of the website, like folders and pages, are rather penalized=demoted than the whole site. It seems this statement was taken out of context, echoed via blogs and led to above assumption.

This assumption also leads some people to go back to 2012 and before and just spam and spam whatever link they can get, assuming that Google would not count the bad links. Is this how Google does today?

Are all link-based penalties and demotions removed from the algo again, Google Penguin related code disabled?
How to Disavow Linkspam on Redirected Domain I don't have control over?
My domain ME has a Domain SOMEONE redirecting to me. SOMEONE has a ton of unnatural links. How can I disavow links going to SOMEONE? Do I add these to the disavow file of ME?
How does Google interpret the Link Graph?
Page [a] embeds an iframe [b] which links to page [c].
How do you think Google interprets this? What are the chances of this counting in some way as an implicit link from [a] to [c], in addition to [b] to [c]?
https://twitter.com/dejanseo/status/1074218785161113600
https://twitter.com/JohnMu/status/1074635583190908929
How did the Author based page rank update go? (E-A-T update, Author Rank, etc.)
It appears you tested something like "Author based page rank" (Author Rank, or similar named, also dubbed E-A-T update) in August and reverted it. Besides the walled-gardens of LinkedIn, Facebook and co, what other issues did you encounter with G+ being a too sparse source for authorship signals?
How do you process and credit multiple path links or canonical mixes?
If a page ME has a link to one page A but a Rel-Canonical to another page B in header: for any incoming link to ME a) does the link to A count? b) does the Rel-Canonical to B count? c) do both count A and B? Split up 50:50 or how?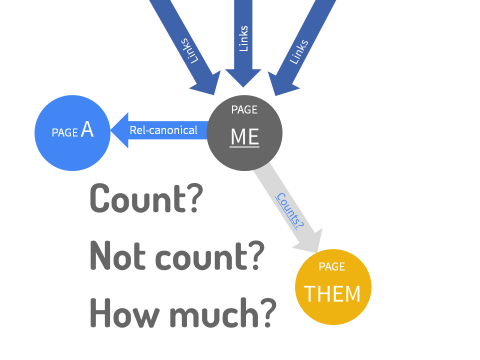 (Please note - in the above diagram the pages are named differently, A receive the Rel-Canonicals (B in the  tweet), and THEM receives the link (A in the tweet)
And then another case
Add a second page C via Rel-Canonical to the HTML code or Header. How does this change the outcome? Which page gets credit? All three? Which ratio?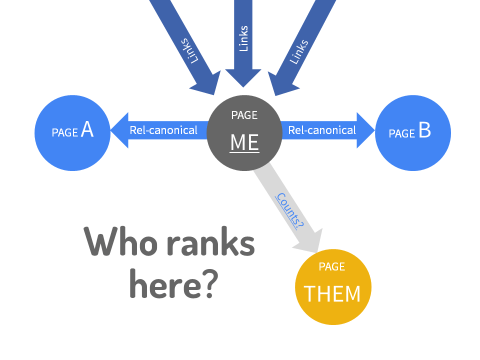 (Please note - in the above diagram the pages that receive the Rel-Canonicals are called A and B, in the tweet B and C. The linked to page A is called THEM in the diagram)
See also
https://twitter.com/JohnMu/status/1057309363856039936
Common Recipes for "Link Ratios" or not?
Is the link-based evaluation a one-size-fits all or depending on many factors, like e.g. Country, Language, Topic, Keyword?
Questions on the effect, impact, and risk of Redirected Domains and Links
Revisit "All Redirects Pass Rank"
Are all technical redirect types still passing the same kind of "page rank" as stated by @methode ? Are all types of redirects free from damping factors, i.e. pass that page rank for an indefinite amount of time, because even long term "temporary redirects" are "converted" to "permanent" redirects in the algo?
Do links of orphan pages help? How long? Link Power Decay on Orphan Pages.
Lots of "great links" start of highly visible articles on news sites and home pages strongly linked, and then go back to archives without any external links, and often not even internal links. Does Google value links from completely orphan pages? How long can we expect before the link effect is gone?
Are all redirects and REL canonicals passing penalties now?
Starting with Penguin 2.0 in May 2013 the Penguin algo already started to pass on link based penalties via 301 redirects. With the harmonization of redirects in 2016 as mentioned by @methode are all redirects passing the link-based penalties now? What about REL-canonicals?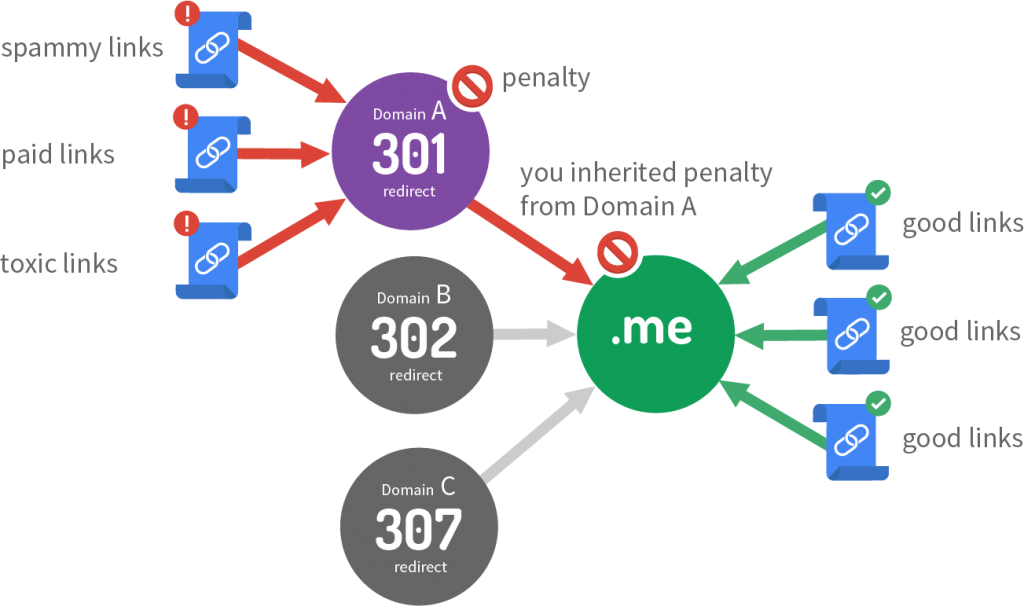 Questions on various types of link penalty risks
Does Negative SEO work?
Despite having the Google Disavow Tool since 2012 (thanks so much for that folks!), we still come across people who say link-based Negative SEO is not possible six years later. Yet, we see recoveries from such using the disavow tool on a weekly basis.

Does Google have an official page explaining (i.e. "admitting") the risk of Negative SEO, or was your delivery of the Google Disavow Tool in October 2012 sufficient enough to answer that from your point of view?
Updated Links on existing pages recently penalized again ("Niche Edits")
We saw more penalties for updates of links on existing pages (broken link building, niche edits) recently again. Are you tweaking the tuning of the penalty filters based on popularity of link building methods ongoing, or was that a broader update (e.g. based on a new algo)?
No Follow Links causing penalties
Will Google change giving out penalties for links from No Follow link spam (in certain cases, not generally) or are there any plans to really remove them from the No Follow links from the link graph altogether?