Search Console by Google - The Ultimate Guide
By

Kristi Hines

in Google last updated 06/08/20 02:18 pm by

Christoph C. Cemper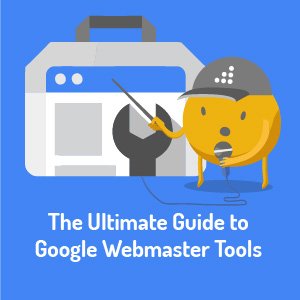 Improve your website's presence in organic search using the Google Search Console
If you're not sure what you can get out of Google Search Console (Google Webmaster Tools), we have the solution.
This guide will show you everything you can learn from and do with Google Search Console in order to improve your website's presence in search.
Logged in users can click on the links throughout this post to get to specific sections, reports, and tools for reference.
Read on and learn how you can get the most out of Google Search Console (Google Webmaster Tools).
This post refers to the old version of Google Search Console. Some functions are moved to a whole new UI. We leave this up for reference, knowing that some functions are different now. We are working on a new article for new UI of Google Search Console.
What You Can Learn From and Do With Google Search Console
If you haven't connected your website to Google Search Console (Google Webmaster Tools), it's simple.
Go to Google Search Console (Google Webmaster Tools) and click on the Add a Site button. Verify your website without adding code to your site using your Google Analytics or domain name provider account under the Alternative Methods tab. If you have a sitemap, add it to your Google Search Console (Google Webmaster Tools) account here.
After a couple of days, you will start to see data coming in. Here are some areas you can use in Google Search Console (Google Webmaster Tools) to learn about and improve your website's presence in search.
Get Messages from Google
Google sends a variety of messages to website owners, which you can find in your Site Messages. These messages can alert you to problems with your website, or simply offer advice on ways to improve your website. Some examples of messages include the following.
Increase in not found errors

Google detects a significant increase in the number of pages not found on your website (404 errors). You should view these errors to see if a portion of your website is not working or if they are links you need to redirect to another page on your website.

Stop redirecting smartphone users to the homepage

Part of Google's quest to make search results more mobile friendly. Check to see if any plugins or code you use to make your website mobile friendly are redirecting internal links to your homepage.

Googlebot can't access your site

Check to see if your website is live and if there are any DNS issues with your hosting provider.

Malware

If Google detects the presence of malware or hacked code on your website, they will notify you via Google Search Console (Google Webmaster Tools) messages. It's important to get any malware issues with your website fixed quickly as Google will warn visitors in search and Google Chrome that your site has been hacked.

Manual actions

When Google determines that your website has violated webmaster guidelines, you may receive a message in Google Search Console (Google Webmaster Tools) concerning a manual action. These include unnatural links to or from your site, thin content, pure spam, cloaking, sneaky redirects, hidden text, keyword stuffing, spammy freehosts, and spammy structured markup. You can read more about each type of manual action in Webmaster Tools Help.

Reconsideration requests

When you submit reconsideration requests to remove manual actions from your website, you will receive Google's response in your Google Search Console (Google Webmaster Tools) message inbox.
Most messages sent to you via Google Search Console (Google Webmaster Tools) will either include detailed directions on how to solve the problem or links to pages where you can learn more about the problem. Be sure to review your messages regularly or configure your settings to have alerts emailed to you in your Google Search Console (Google Webmaster Tools) preferences.
Improve Your Website's Appearance in Search
In the Search Appearance section of Google Search Console (Google Webmaster Tools), you will find several resources that can help you improve your website's appearance in search. Beginners can start with a quick overview of the terms Google uses for specific elements in search results by clicking the "i" for info link next to Search Appearance.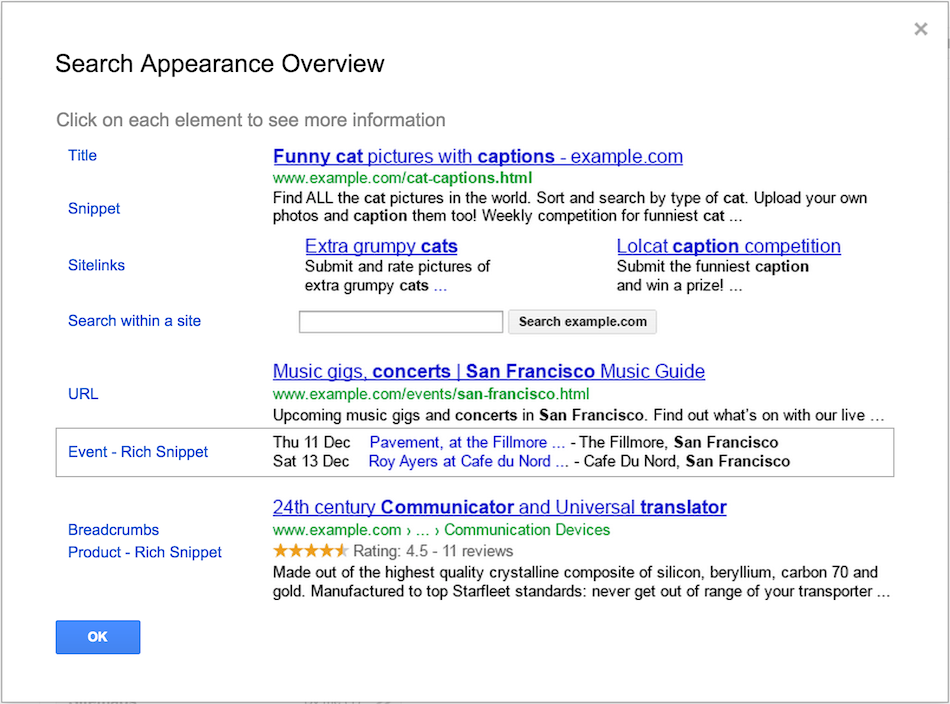 Review Markup Schema with the Structured Data Report
Webmasters that use markup schema can browse the Structured Data report to see if they have any errors in their code.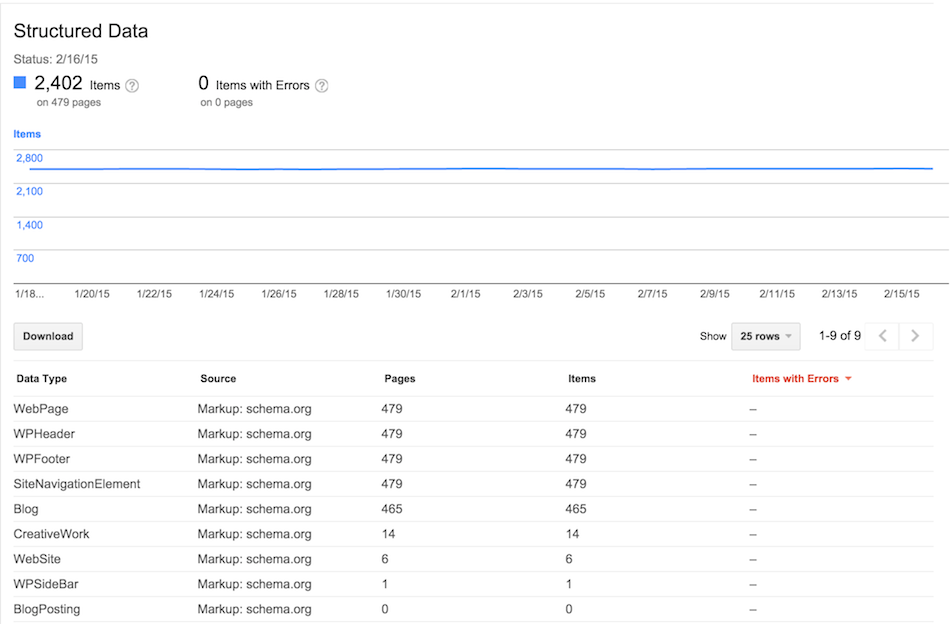 Be sure to correct any errors to keep your website's presence in search up to date. Also look for significant drops in your number of pages containing structured data, as these might signify a problem with a subset of your website content.
Create Rich Snippets with the Data Highlighter
Google supports rich snippets for web pages for reviews, people, products, businesses, organizations, recipes, events, and music. For webmasters who do not want to add markup schema to their website, Google Search Console (Google Webmaster Tools) offers the Data Highlighter. The Data Highlighter allows you to mark up pages on your website inside Google Search Console (Google Webmaster Tools) so Google can identify articles, book reviews, events, local businesses, movies, products, restaurants, software applications, and TV episodes. To get started, you will paste in your URL, choose the page type, and note whether the markup is for multiple pages or just the one.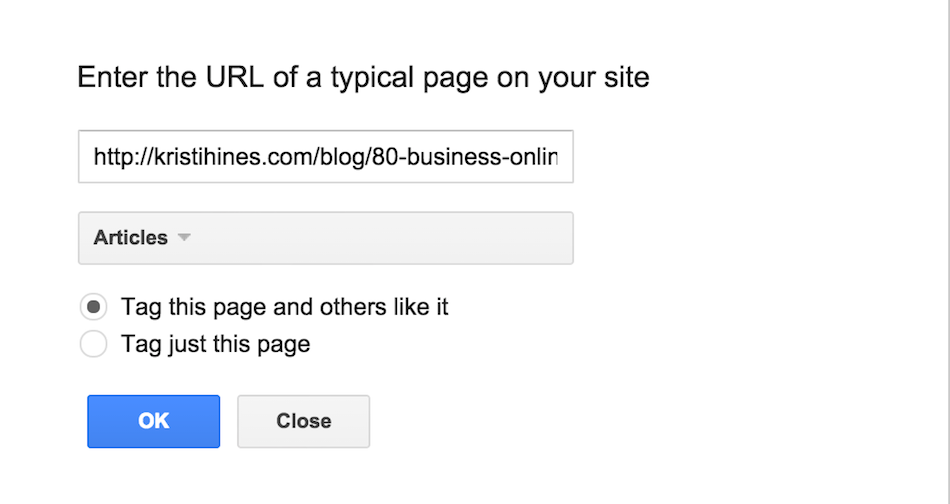 You then get to highlight specific portions of your page's content and identify them as specific elements that Google needs to create rich snippets.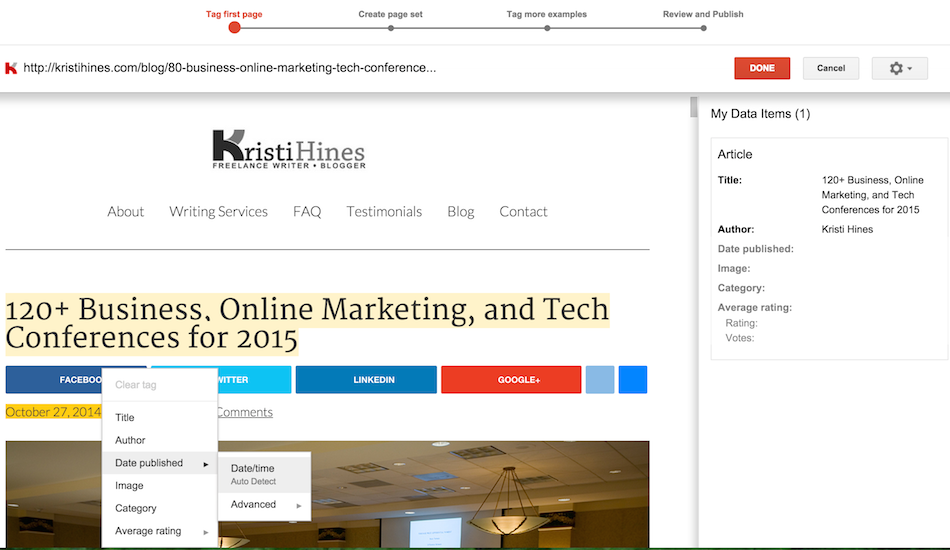 This tool is perfect for people who have websites that would benefit from rich snippets, but don't have the time to code hundreds of pages or have access to their website's templates for editing.
Get Google's Help with HTML Improvements
If your on-site search optimization needs help, Google Search Console (Google Webmaster Tools) will give you suggestions for specific pages on your website in HTML Improvements.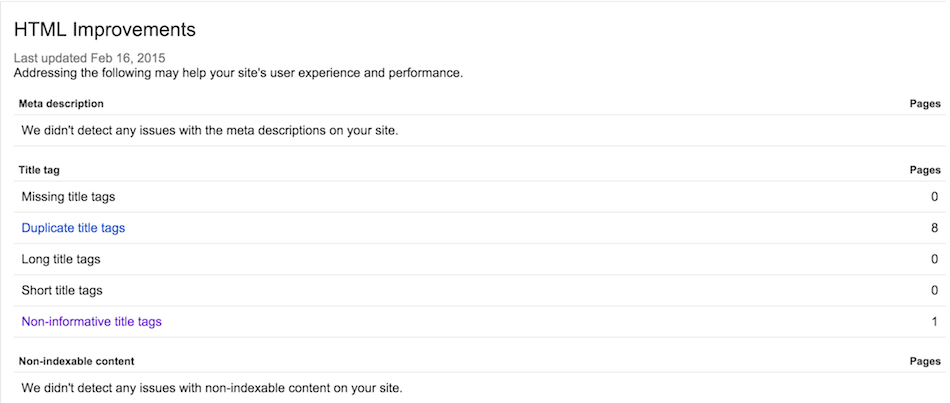 This section is the perfect guide if you want to know exactly what Google wants in terms of optimizing your website for search.
Modify Your Sitelinks in Google Search
Unfortunately, you can't specify what sitelinks you want in organic search. But you can identify which ones you don't want. Start by searching for your brand name to see what sitelinks appear.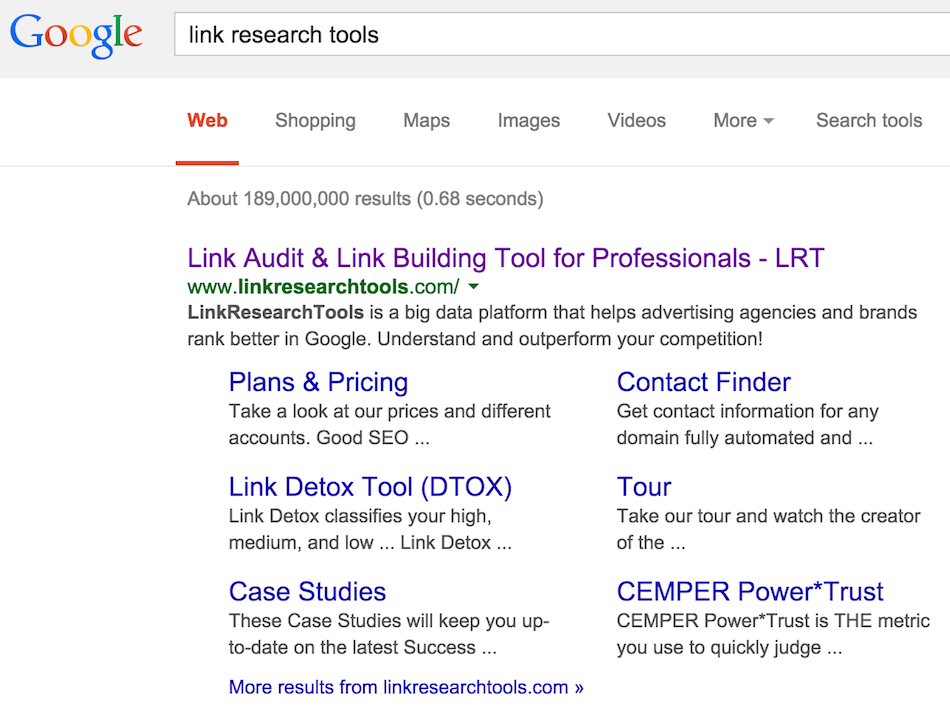 If there are any that you do not want, demote them in your Sitelinks.

After a week, revisit your branded search results to see if you are happy with the sitelinks that appear or if you need to demote another URL.
Learn More About Your Search Traffic (and What Affects It)
Ready to find out about your keyword impressions, top pages, and links? Google Search Console (Google Webmaster Tools) offers several reports and tools in the Search Traffic section that can help you learn more about your website in search.
Substitute (not provided) Keywords with Search Queries
The Search Queries report can show you the terms that give your website the most impressions and clicks in search. While it's not a suitable replacement for (not provided) keywords in Google Analytics, it's better than nothing.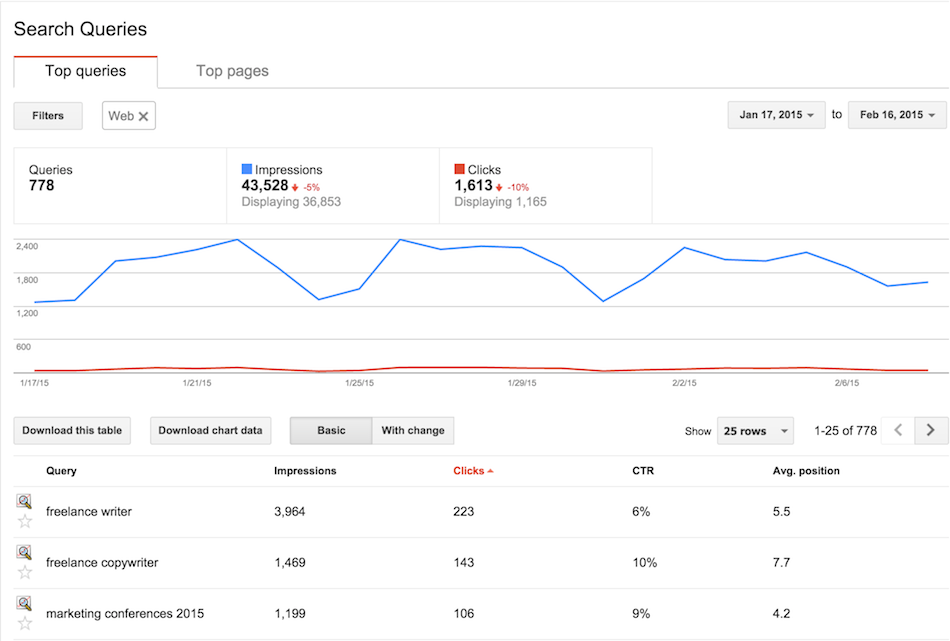 You can switch over to the Top Pages tab in this report to see the top pages on your website that receive search traffic. Click on the arrow next to each page to see what keywords are driving the most impressions and clicks.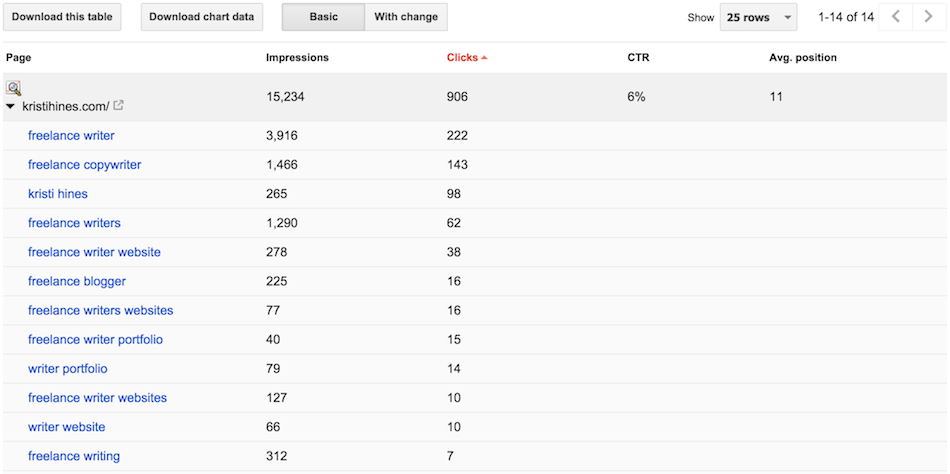 Review your top pages and keywords periodically - you may find opportunities to add new content to your pages to make them better for search visitors.
Discover Backlinks in Links to Your Site
Google Search Console (Google Webmaster Tools) can help you discover your website's backlinks in the Links to Your Site table. When you click on the more link under the who links the most heading, you will find a list of the domains linking to your website.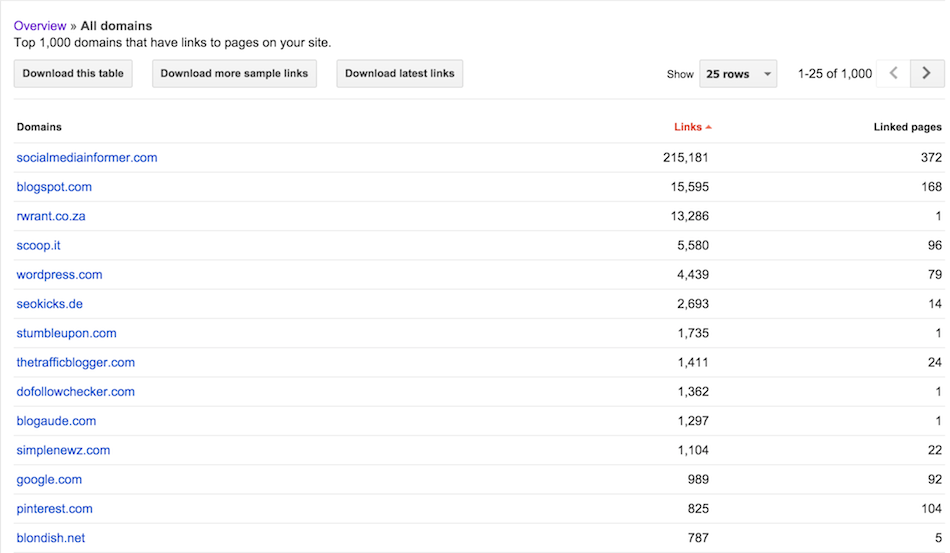 You can use the download options to download more sample links to your website and the latest links to your website. These will give you simple spreadsheets with backlink URLs in them. If you want to analyze your backlinks in depth, continue reading as we will look at how you can get more information about each of your backlinks.
Review Internal Links
If you aren't in the habit of linking to your internal content, then you should be. Google Search Console (Google Webmaster Tools) keeps track of the pages with the most internal links in the Internal Links report.

Note that these links include your menu items, so most of your pages will have links from all of your other pages. If there's a particular page or piece of content you want to rank well, be sure that it has a substantial number of internal links pointed at it beyond just your menu.
Review Manual Actions and Request a Review
If you received a notice of a Manual Action from Google, this section will give you additional details and give you the option of requesting a review once you have taken care of the problem.

Be sure to review everything you can about the type of manual action you have received and what you will need to do to resolve it. The sooner you have your manual action removed, the sooner you will be able to regain some of your search traffic.
Target Your Website to the Right International and Language Audience
If your website caters to audiences from specific geographic regions or those speaking a specific language, you can target them using International Tagging.

The International Tagging section will check your language tags and allow you to choose a country to target if applicable.
Find Out If Your Website is Mobile Friendly with Mobile Usability
Now that Google has started to mark websites in search results as mobile friendly, it's important to ensure that yours actually is. You can visit the Mobile Usability report to find any mobile issues that need to be resolved.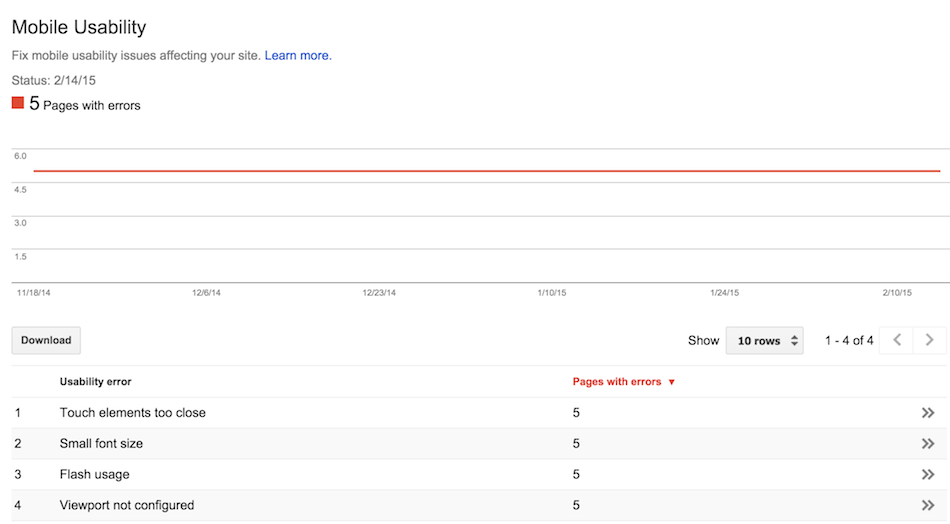 If you do have mobile usability errors, you can click through to the pages that are causing the areas in the report, then click on the triple dots to see details about the particular problem.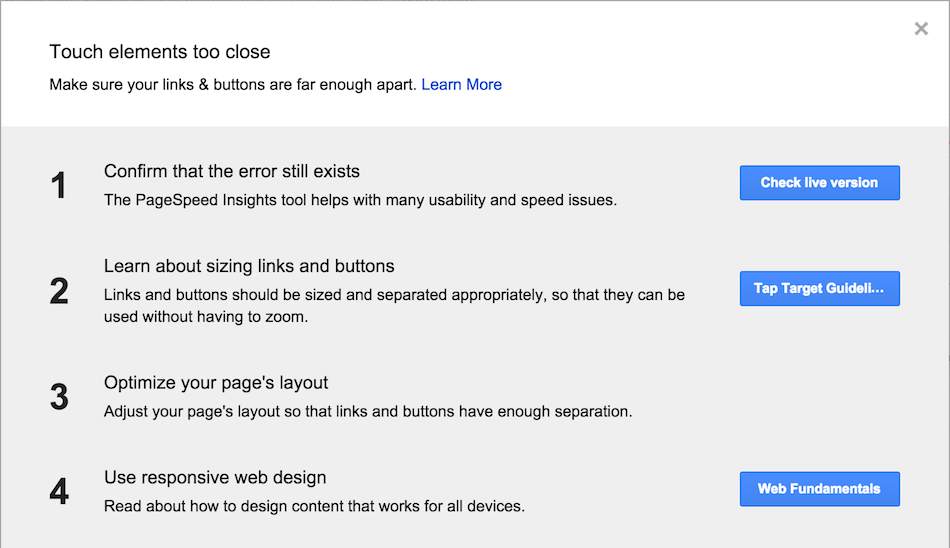 The simplest way to resolve these issues is to switch your website to a responsive theme / template if possible. WordPress users can also install plugins like WP Touch to create a mobile version of their website without changing the design.
Review Your Website Status in the Google Index
If you have noticed a drop in organic search traffic, you may want to review your website's Index Status. This graph will show you how many of your website's pages Google indexes in search.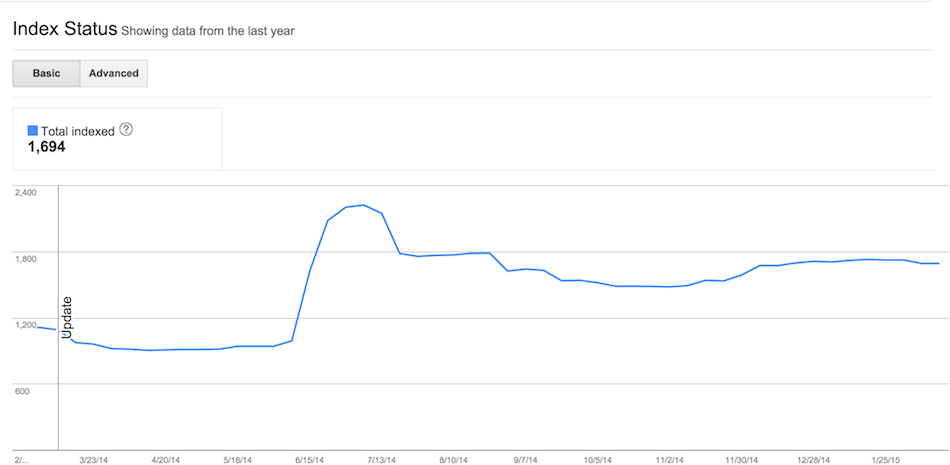 This graph may also help you understand how severe a penalty or manual action on your website truly is.
See the Keywords Google Links to Your Content
Curious what keywords Google believes are important on your website? Visit the Content Keywords report to find out.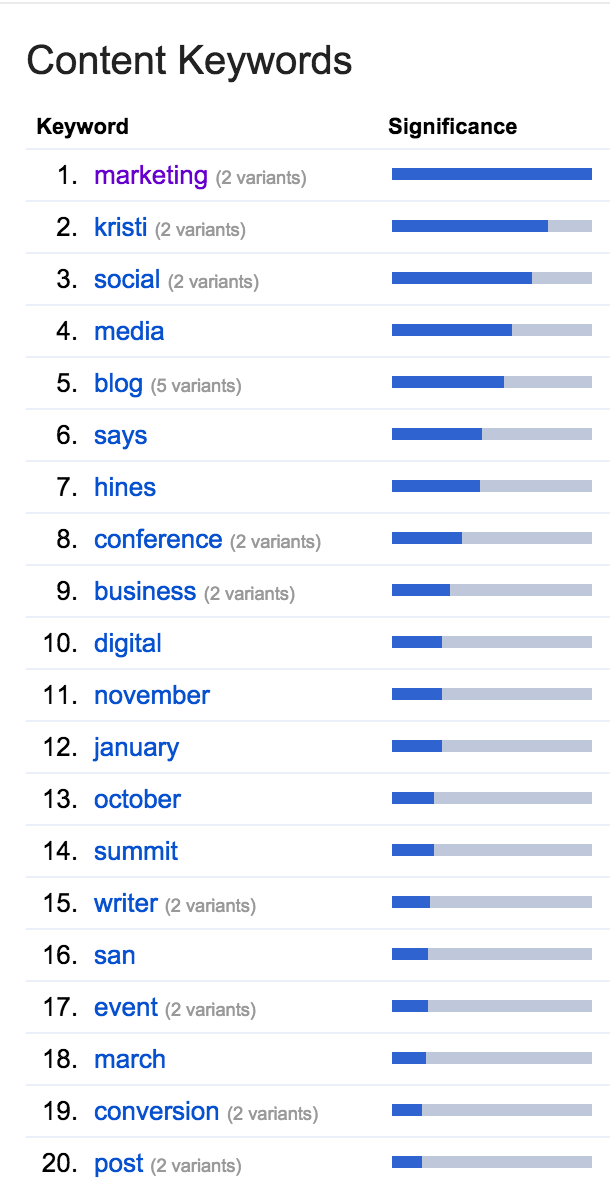 While it only identifies individual keywords as opposed to phrases you might be targeting, it can alert you to issues on your website. These issues include over-emphasis on a keyword not related to your business or keywords added to your website through malicious code hacking and malware.
Remove URLs from Google Search
Have you looked at the pages that receive organic search traffic in Google Analytics (click on google / organic in the Source / Medium report and add Landing Page as a secondary dimension)? If you find that there are certain pages getting traffic from search that shouldn't be, you can request that those URLs be removed from Google via the Remove URLs tool.

For those who can't modify their robots.txt file, this is a good alternative to getting specific pages removed from search results.
Find Out How Google Accesses Your Website
The Crawl section in Google Search Console (Google Webmaster Tools) helps you assess how Googlebots access your website, and the problems they encounter. Here are the things you can learn in this section.
Fix Pages Not Found and Other Errors
When the Googlebot goes to crawl your website, any errors they encounter are noted in the Crawl Errors table. These errors include DNS errors, server errors, and robots.txt failures. You can find out what different error codes mean on the HTTP status codes page.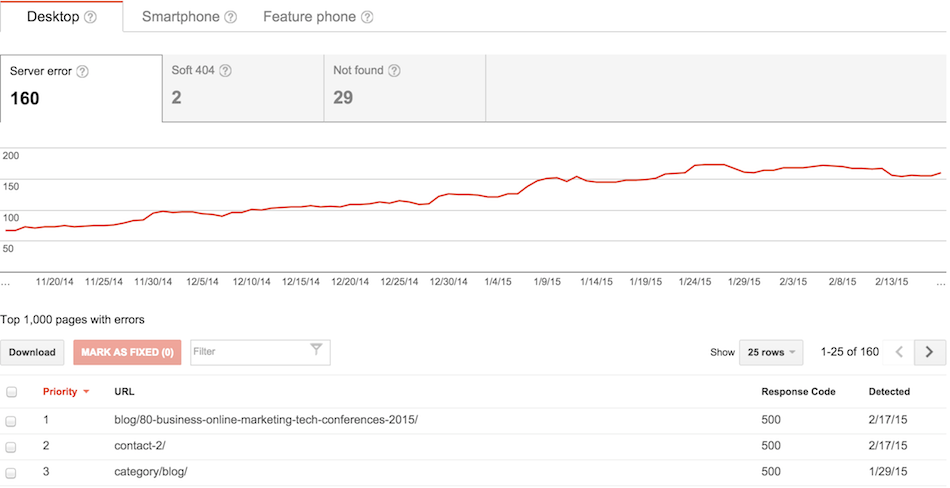 One of the errors you should pay particular attention to are the page not found errors, as these are pages that people may be trying to access but can't. The simplest way to fix them is to redirect them to the correct page on your website. Alternatively, you can dress up your website's 404 page to direct visitors looking for pages that are no longer found to appropriate areas on your website.
See Googlebot Progress in the Crawl Stats
Get a snapshot of Googlebots activity over the last 90 days on your website in the Crawl Stats report.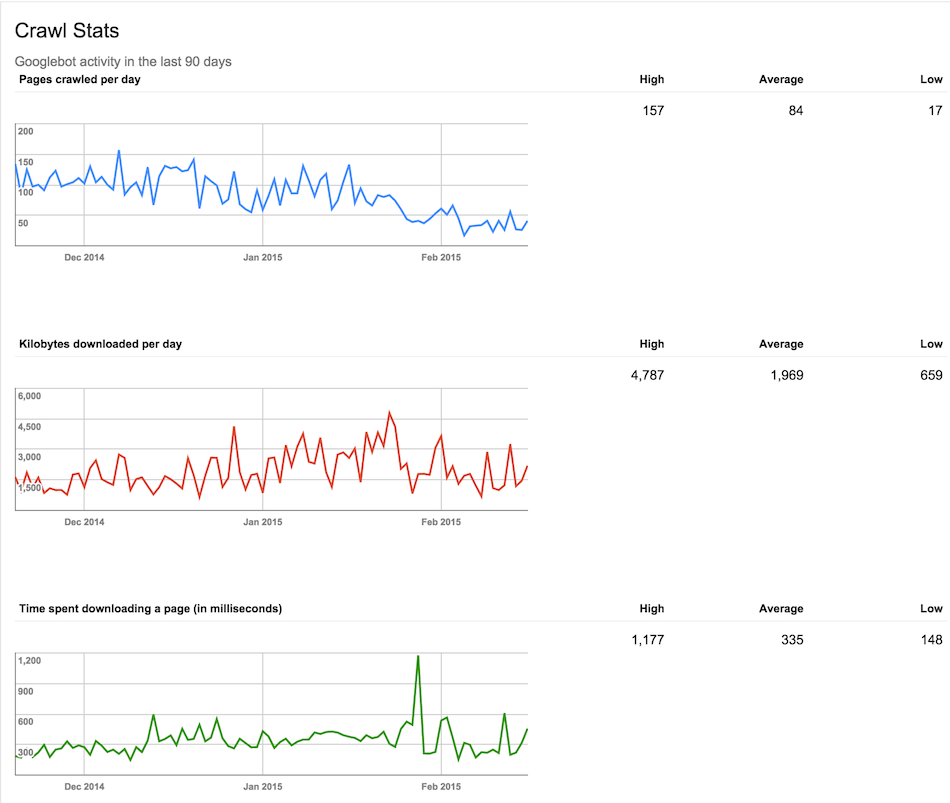 If you notice things like a drop in the number of pages crawled on your website, you might want to check to see if there are any problems with certain areas of your website.
See Your Website Like Google Sees It
To find out if Google can access the content you want them to crawl on your website via desktop and mobile crawlers, use the Fetch as Google tool.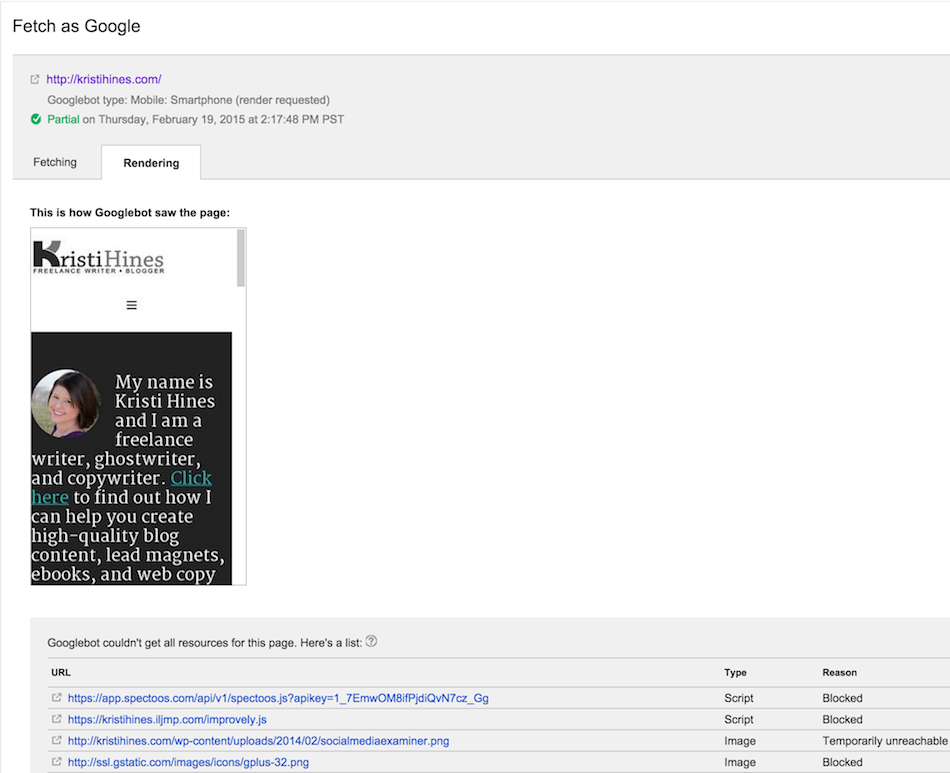 This tool can be particularly useful for those who want to test the mobile accessibility of their website. It can also help you test different media on your website for accessibility, such as Flash content.
Test Your Robots.txt File
Have you added specific disallow requests to your robots.txt file or other instructions? If so, be sure to test them with the Robots Testing Tool.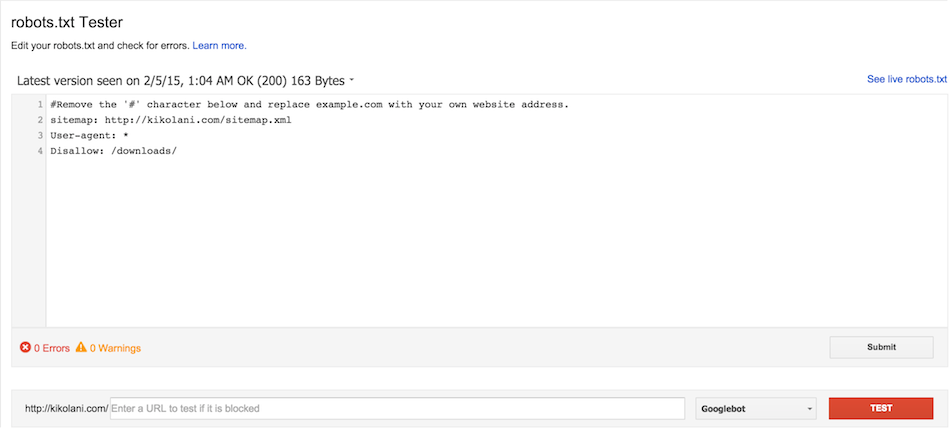 This test will help you fix any errors that might prevent Googlebots from doing their job on your website.
Tell Google About Your Important Pages Using Sitemaps
It never hurts to give Google a helping hand when it comes to indexing your website. You can submit sitemaps to Google via the Sitemaps List.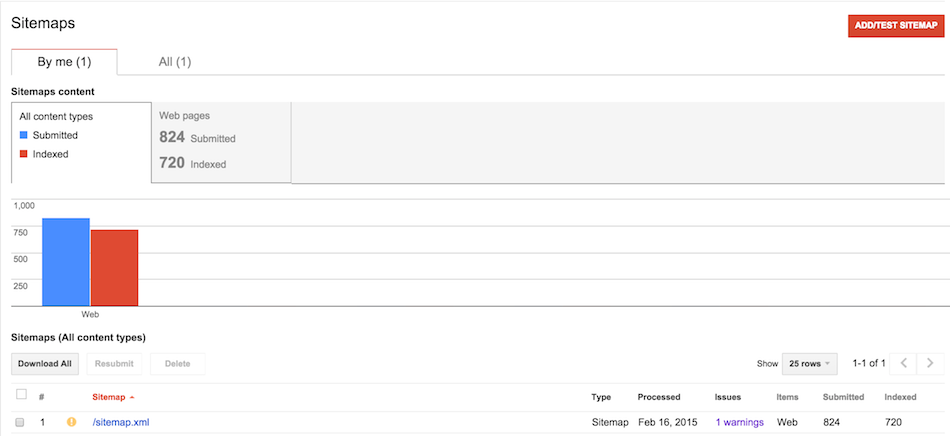 In addition to submitting your sitemap, you can check it for errors and see if Google is indexing the same number of pages you submitted.
Fix Duplicate Content Issues with URL Parameters
If you are having trouble with duplicate content issues, you can tell Google how to read your website using the URL Parameters tool. This tool should only be used if you are having problems with duplicate content as described on this page in Google Search Console (Google Webmaster Tools) support.
Learn About Security Issues on Your Website
Google takes hacked websites seriously. If you receive a message that your website has been hacked or is distributing malware, you can visit the Security Issues section to learn more about what has been found on your website and how you can fix it.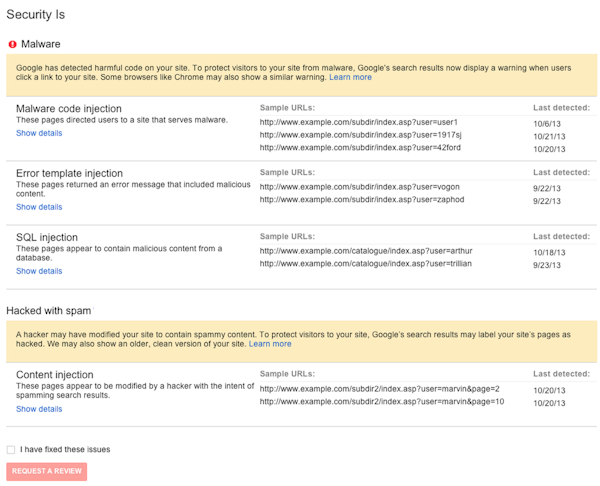 They also offer information for webmasters figure out hacked sites, including steps that beginners to advanced webmasters can take to fix their site.
Additional Resources
Last, but not least, Google Search Console (Google Webmaster Tools) offers additional resources for webmasters to help with their website, email, and business. They include the following.
How You Can Integrate Google Search Console (Google Webmaster Tools) For More Benefits
So now that you have an overview of what Google Search Console (Google Webmaster Tools) has to offer, you might be asking how you can get more out of it. Here are three great places to start.
Connect Google Search Console (Google Webmaster Tools) to Google Analytics for Data in One Place
Under the Acquisition section in Google Analytics, you will find three reports for Search Engine Optimization that pull your website queries, landing pages, and geographical summary data from Google Search Console (Google Webmaster Tools).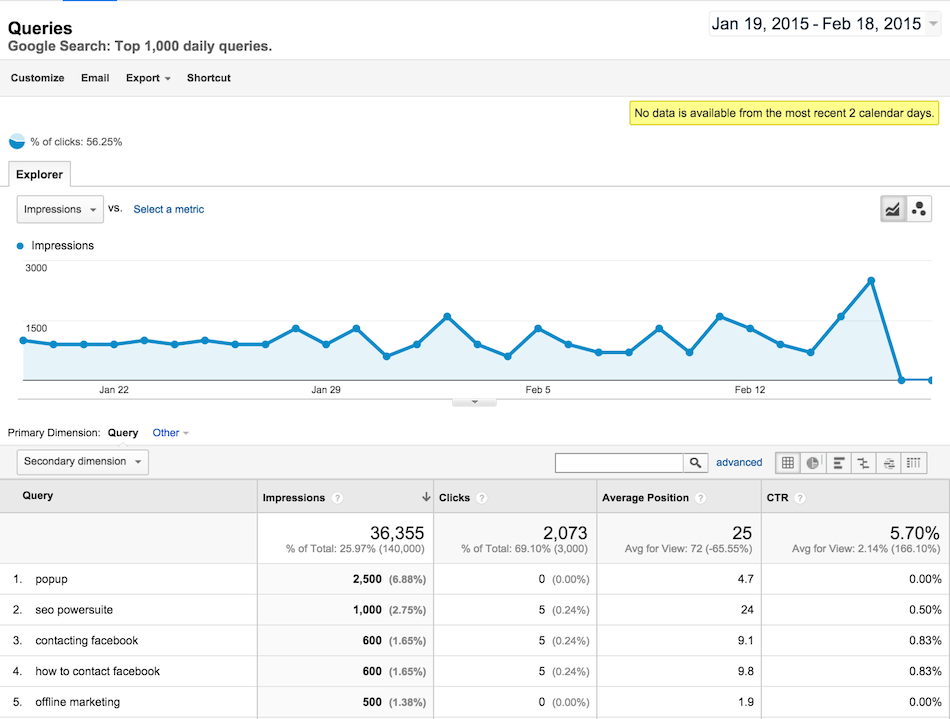 When you first visit these reports, you will be asked to connect Google Search Console (Google Webmaster Tools) to Google Analytics. After a few days, you can start reviewing your Google Search Console (Google Webmaster Tools) data inside Google Analytics. Unlike typical Google Analytics data, there will be a two-day delay.
Connect Google Search Console (Google Webmaster Tools) to Link Research Tools for Better Link Analysis
If you have been affected by a manual action or penalty due to bad backlinks, then you will want to analyze your backlinks to find the most likely offenders and remove them (or disavow them). If you export your backlinks from Google Search Console (Google Webmaster Tools), here's what you will have to analyze.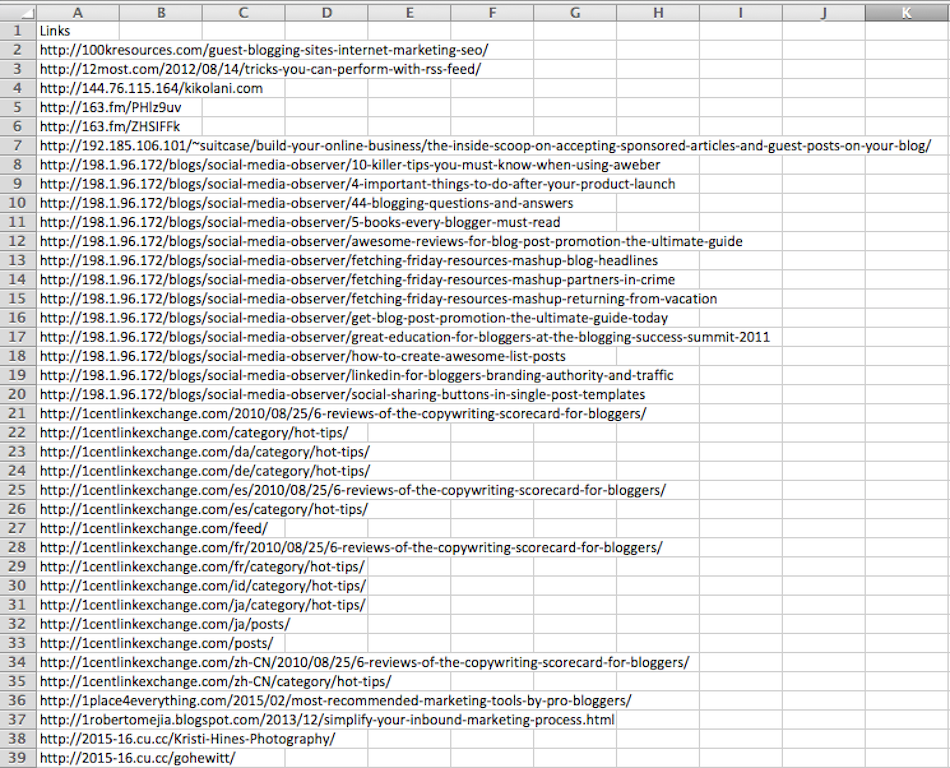 When you combine Link Research Tools Link Detox Report with Google Search Console (Google Webmaster Tools), you get a larger sampling of your backlinks (7,922 with Google Search Console (Google Webmaster Tools) integration versus 3,618 without).

A summary of what needs to be done...

And a much easier to read report on which ones need to be tackled first.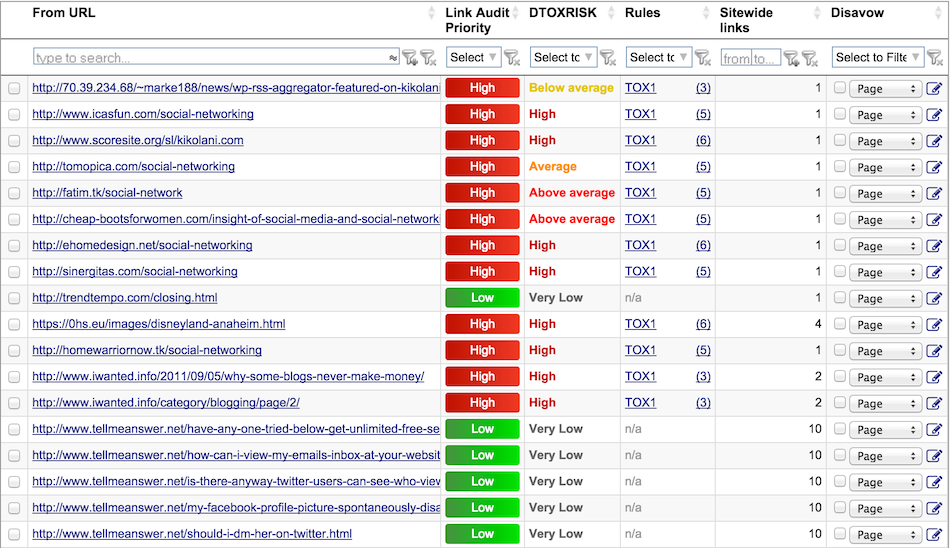 Link Research Tools also integrates with PitchBox to make contacting webmasters for link removals a more manageable process.
Connect Google Search Console (Google Webmaster Tools) to HitTail for (Not Provided) Keywords
Tired of the (not provided) keywords in Google Analytics? By combining Google Search Console (Google Webmaster Tools) with HitTail, you can have the keywords that drive traffic to your website plus new keyword phrases suggestions analyzed and emailed to you on a regular basis.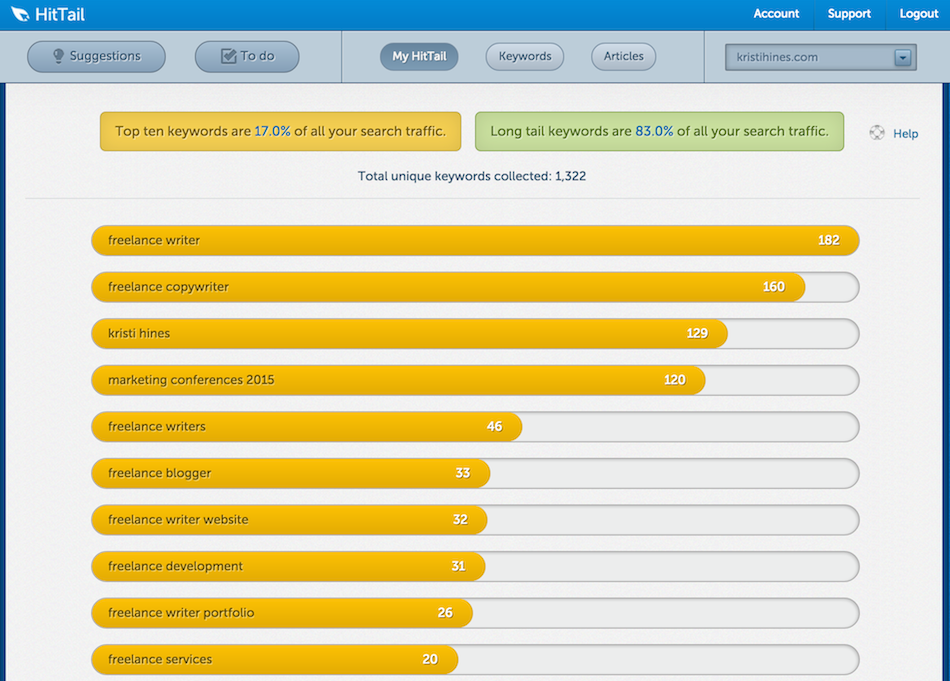 Using HitTail, you will find new keywords to optimize your main pages for as well as ones to use for blog content.
In Conclusion
I hope that you have learned how valuable Google Search Console (Google Webmaster Tools) can be for your website, and how integrating it with your Google Analytics, LinkResearchTools, and HitTail can offer more helpful insights. Have questions? Let's discuss them below.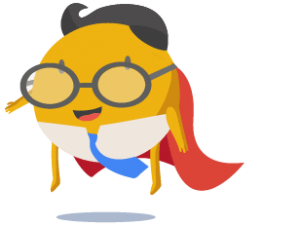 With the Superhero Plans you can perform link audits, link cleanup, link disavow boost, competitive research, professional SEO and backlink analysis for your own or your competitor's sites.
You can avoid a Google Penguin Penalty! Learn all about the Real-Time Google Penguin Update in this free webinar.
Join our 21 Day Link Strategy Training below
Signup to receive snack sized bits of knowledge about Link Research Strategies, SEO Tactics & features of LinkResearchTools platform and technologies.