What are tags?
The tag function offers you the possibility to add personal notes in your Link Detox reports. With this feature you can create comments and marks to organize your workflow in a more efficient matter. Tags are available to use in Link Detox (DTOX) and Link Simulator (LORT).
Why do I need to use tags?
You don't have to use tags but they are very useful. For example:
Mark a link that has been reviewed
Mark a link where the webmaster needs to be contacted
Mark a link where you have received an answer from a webmaster
Mark a link that you wish to check at a later date?
Use tags to mark the links you decide to build.
You could tag each link with a priority, a team member name, a maximum time budget to spend on getting that link, and any other notes for your outreach team. Then you can download only the tagged potential links as an Excel file and also use this as goal definition for the outreach.
TL;DR
Tags can be used to keep everything well organized. You can use tags to add notes to links for you and your team.
Technical Details
Tags can be added to links in a Link Detox report in four ways:
Adding tags to single links
Simply type your tag name in the column and hit return. Using multiple tags can be used, but only the first will be displayed in the Tags column along with a number to show how many tags are applied to this link. In the example below there are two tags on the first link. Clicking the number 2 2 will open a pop up displaying all the tags that apply to this link: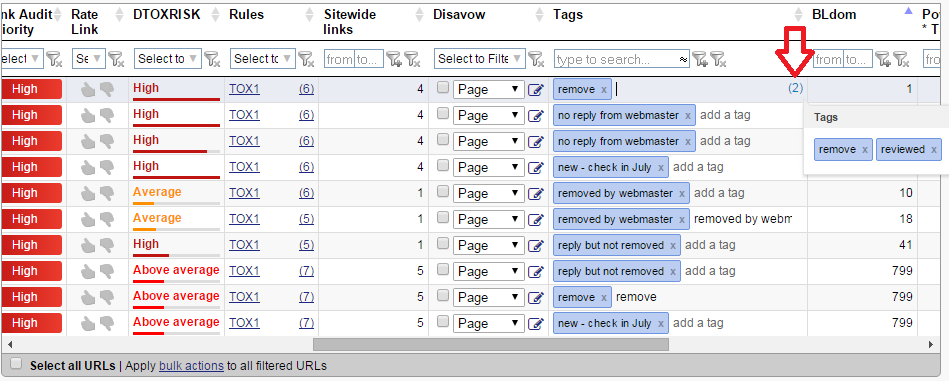 Adding tags to multiple links
To add a tag to multiple links at the same time, just check the links you want in the first column, enter your tag and hit enter: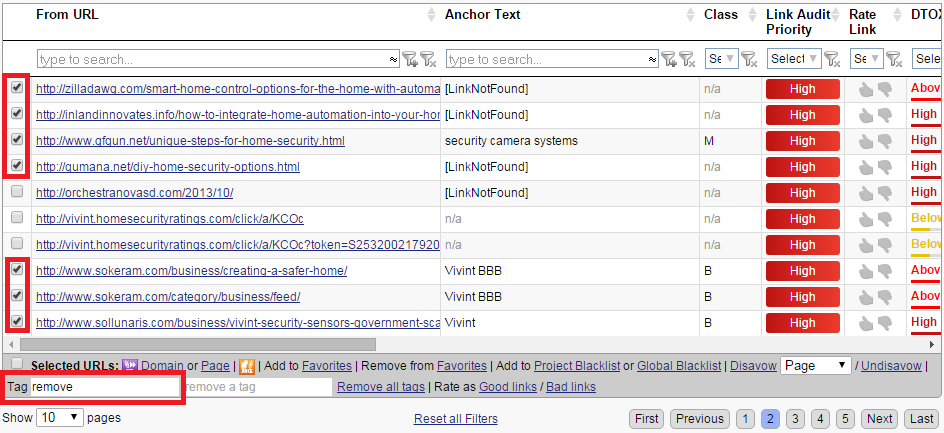 Adding tags using Bulk Actions
If you have filtered your results table to show a certain set of links you then tag all these by using the bulk actions feature:

Adding tags using Link Detox Screener
When reviewing links using Link Detox Screener you can add tags as you go along:

Keep Tags
When you start a Link Detox report you have the Advanced Option to 'Keep Tags' for future reports:

Further Reading
Google Penalty and Negative SEO Attack WOW Recovery: This is an amazing case study by Ashley Turner. In his link audit process he says, "We aim to tag EVERY single link using our in-house system – We do this to sanity check the work and create an easier report for the client to digest."
http://www.linkresearchtools.com/case-studies/google-penguin-manual-action-negative-seo-attack-wow-recovery/