Link Detox Screener (SCR)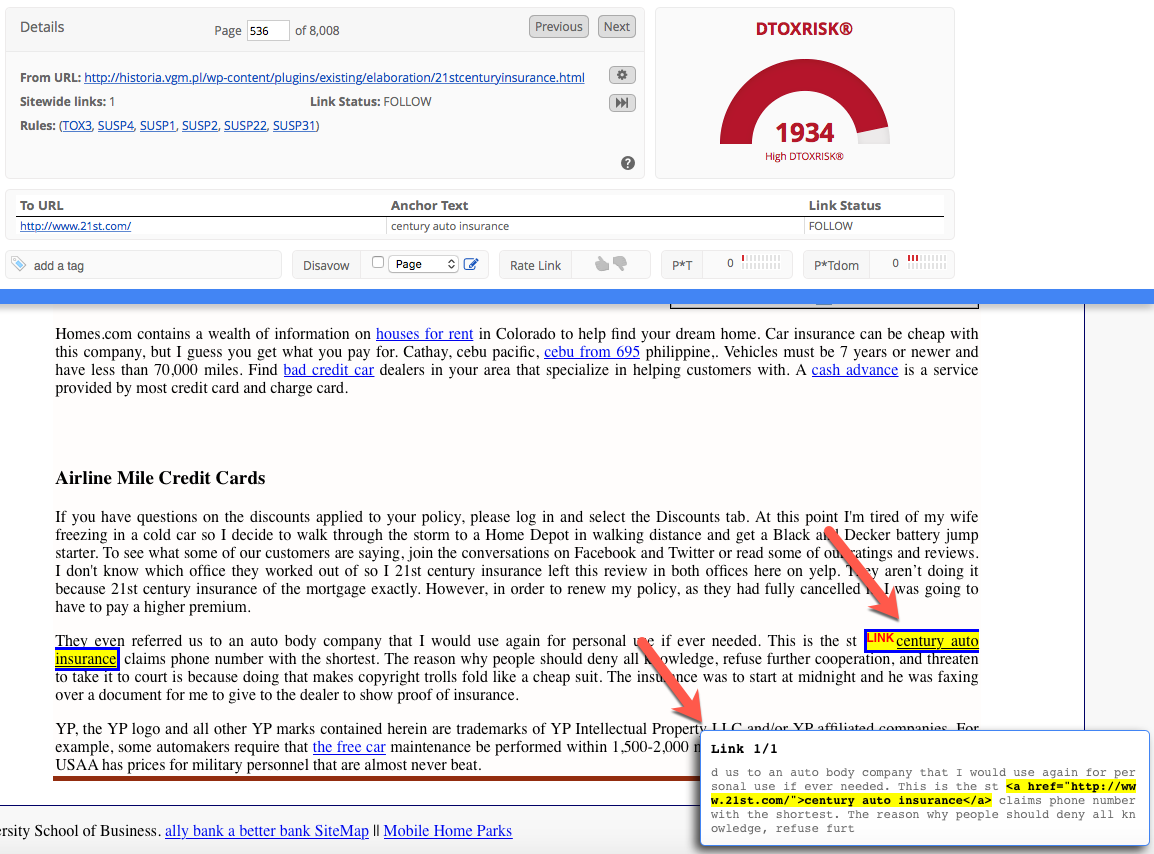 Link Detox Screener (or short Screener, SCR) is a link browser in your browser - to go through links one by one.
You benefit from
Cleaning up becomes easy and fast
See Key SEO Metrics for every page and link
Use Keyboard-only for maximum efficiency in your link audit
These features help you excel
HTML code snippet view helps to see even hidden links
Navigate with the cursor keys
Take disavow action with WASD and other keyboard shortcuts
Tag and rate links via hotkeys
Sitewide link skip
How Link Detox Screener works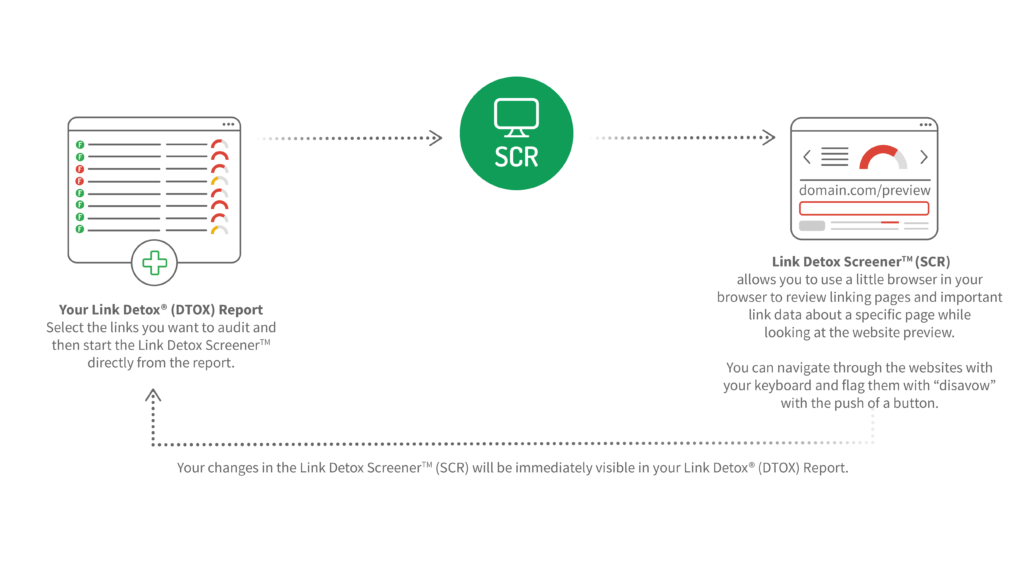 The Mini Browser Link Detox Screener
Link Detox Screener gives you the most important data to review in the upper section of the screen and a live preview of the audited URL in a frame in the lower section of the screen.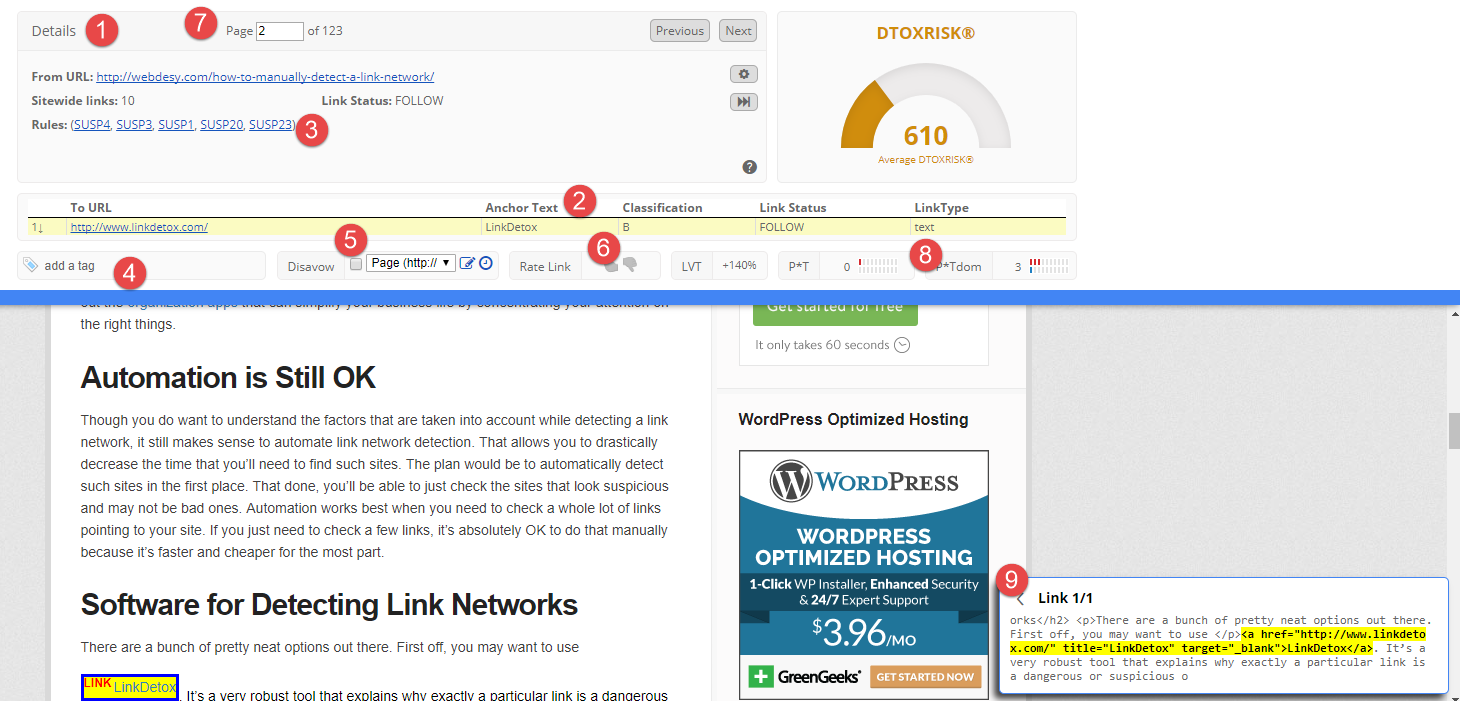 URL you are currently reviewing.
Anchor Text and the Link Status of the Link.
You can use the link tagging function right from Link Detox Screener.
Disavow: you can disavow the currently viewed link on all three disavow scopes page, domain and root-main. Make sure the box is ticked.
You can also rate the link.
With the "Go To Page" you can quickly jump to another result, to continue with your work where you stopped the last time.
The currently selected link is highlighted link in the preview page and shows the HTML-code. In the HTML code you sometimes find clues about sponsor links, paid links because someone (pretty dumb) added CSS classes for those. If you find such clues you should certainly disavow the link ASAP.
Video Tutorial
Keyboard Shortcuts
You can use the following shortcut keys (hotkeys) to make your link audit, tagging and disavowing domains and pages much faster.

A Disavow Whole Domain ("A for ALL here is spam")
D Disavow Individual Link
R Disavow Root Domain
W Clear Disavow ("W for Wipe this Page of my Disavow File")
S Skip Sitewide Linking Pages
C Add comment to Disavow File
G Rate Link as good
B Rate Link as bad
J Jump to Page
L Show all Links on the Page
◀ = Previous Page
▶ = Next Page
▲ = Previous Link on Page
▼ = Next Link on Page
Helpful features
Important SEO Metrics for each link
We help you decide if to keep a link or disavow it immediately.
In addition to the most important Link Detox Risk® metric to see if a website is toxic, you also get more highly useful metrics: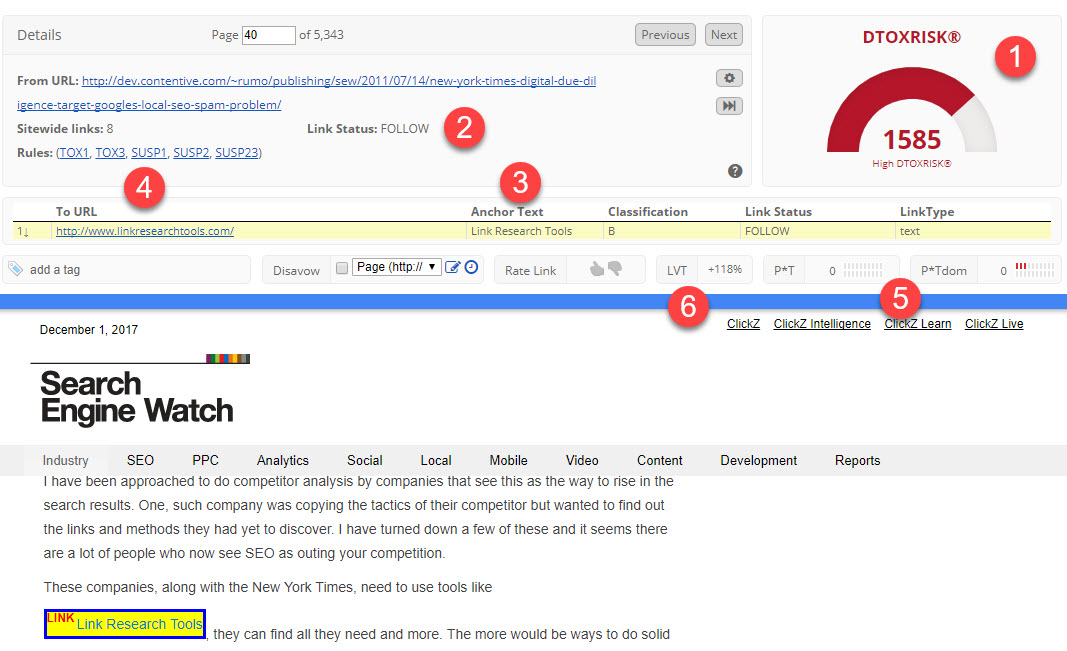 Link Detox Risk (DTOXRISK)
Link Status
Anchor Text
Link Detox Rules
LRT Power*Trust for page and domain
Link Velocity Trends (LVT)
Highlight Links
You can quickly spot all the links on the pages you're browsing. We're highlighting all of them for you.
You can see the HTML code for each link and quickly spot suspicious CSS class, weird Javascript code, NoFollow links or hidden links or simply see the link itself if it's a hidden one.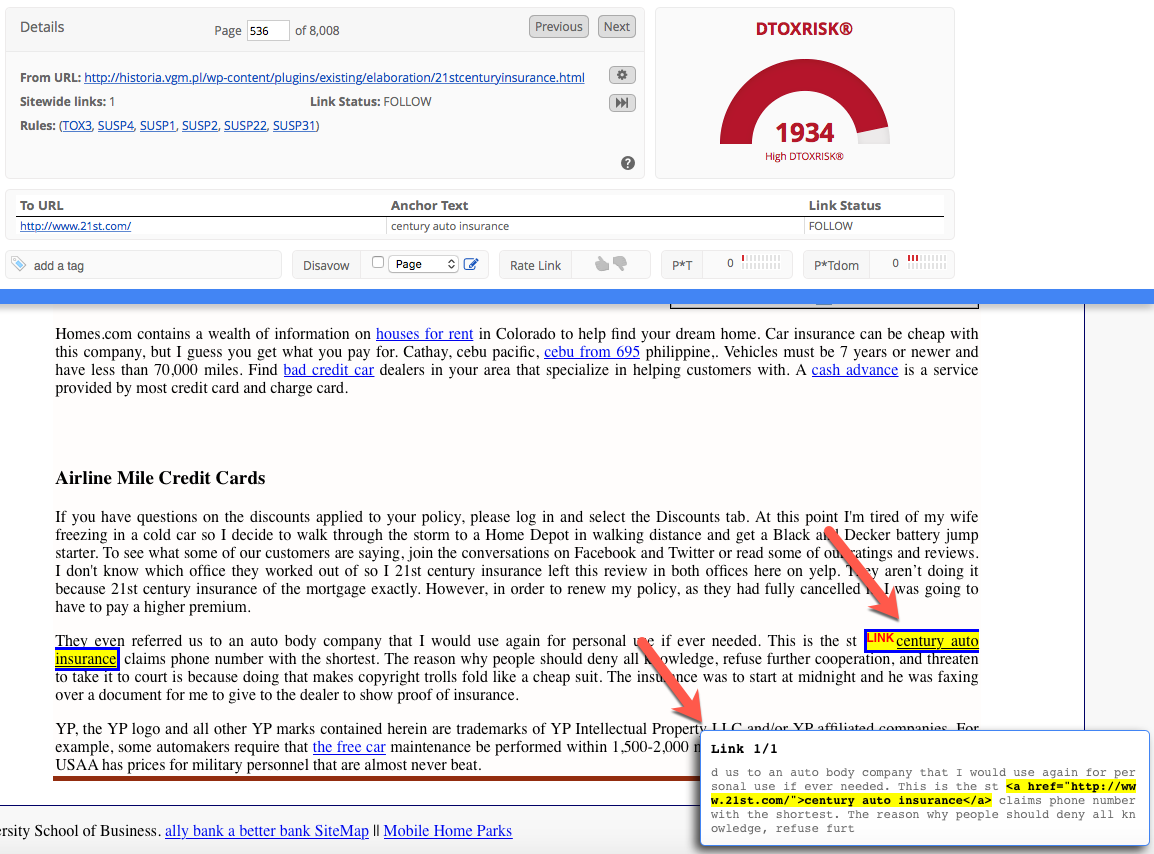 By using the up and down arrows on your keyboard, you can jump from one highlighted link to your domain to another.
▲= Previous Link on Page
▼ = Next Link on Page
L Key to List all links and keywords for a page with
Hitting the L hotkey will display a list of all the links on the page to your domain, including:
the anchor text - for you to quickly spot if it's a money keyword and
link status - for you to see at a glance all the Follow and No Follow links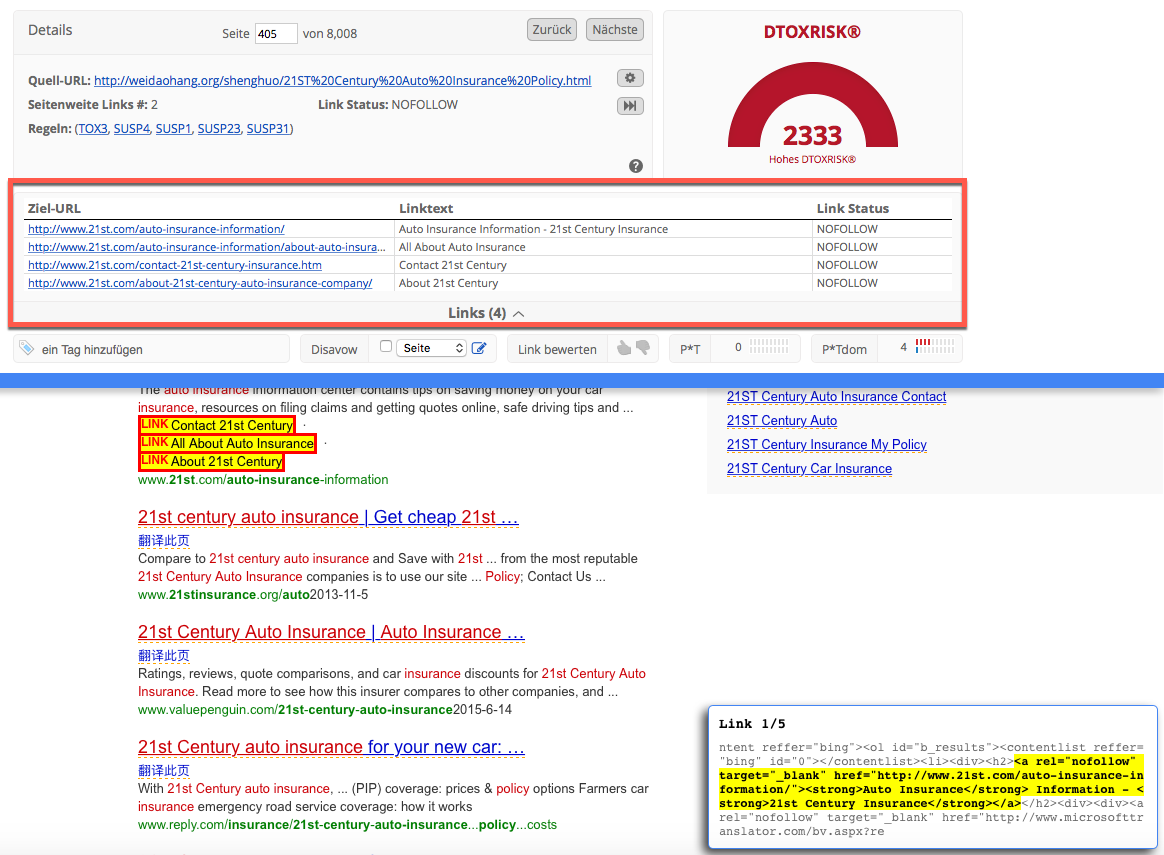 S Key to Skip sitewide links
Save time by skipping pages from disavowed domains and site wide links using the S key.
You can let Link Detox Screener skip pages from domains that you already disavowed. This is a small but very time-saving feature that our users LOVE once they use it.
You can now also skip site wide links in your screener session without disavowing them (by pressing the S key).