Interflora Google Penalty - a Deep Dive into Toxic Links
This case study was created using an LRT Superhero account. Some of the use cases explained in this case study are not available in lower plans.

This post is quite old, but we kept it online for your learning and insights. Some parts of the application may look different today, usually much nicer - don't we all get prettier over time?

Interflora - Bad Link Penalty Analysis
I am sure you've heard about Interflora.co.uk being penalized by Google last week. In fact, well-respected fellows Martin McDonald broke the news and Dave Naylor already analyzed and closed the case. Irishwonder contributed as well to the discussion that Barry from SearchEngineLand already commented on and notable regional newspaper page rank penalties were documented, as well as Matt Cutts' "fresh reminder" about paid links.
Reminder: Google's guidelines on paid links that pass PageRank also apply to "advertorial" pages. See http://t.co/e7YluzHGas for more info. — Matt Cutts (@mattcutts)
https://twitter.com/mattcutts/status/305059896301346816
Now I do second all of what my fellows said about the advertorial issue with regional newspapers as well as several link networks built with not-good-enough camouflage.
But there's more to it!
When starting a simple Link Detox today (I've been OOO for 2 days for family reasons) I realized that Interflora had over 70% toxic links and suspicious links and that made me dig deeper...
You can now read more about
I kept this post as brief as possible - keep in mind we always look at 2 or 3 examples per "bad link"-category, but Link Detox found hundreds for each!
Advertorial campaign on regional newspapers
No question – those advertorials were poor – very poor, and Wiep already joked about the mass advertorial
So *now* they tell me mass buying advertorials isn't the same as content marketing... — Wiep (@wiep)
and I think he's damn right, especially if you look at pages they had (links have been removed very fast)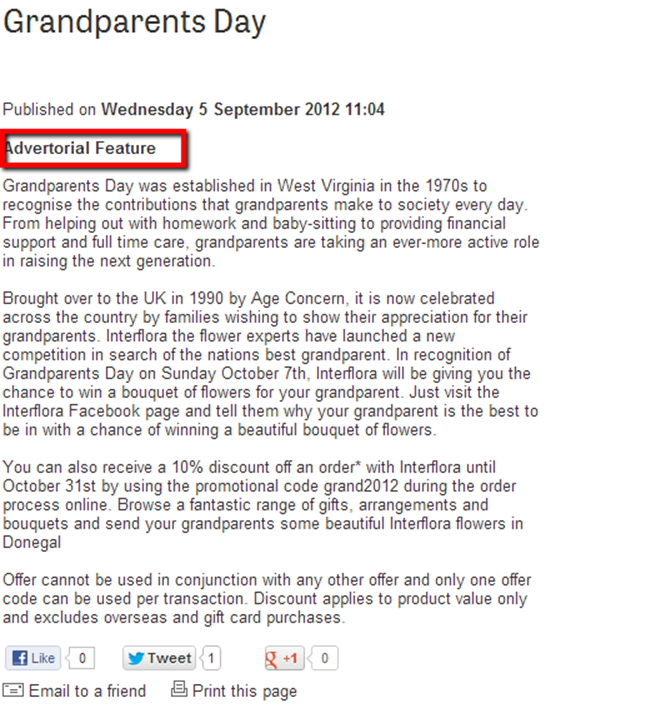 http://www.donegaldemocrat.ie/special-features/grandparents-day-1-4223428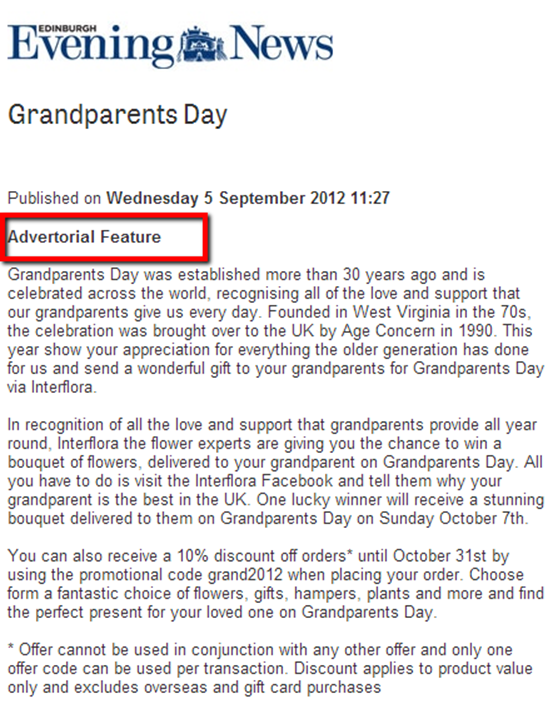 http://www.scotsman.com/edinburgh-evening-news/latest-news/grandparents-day-1-2507377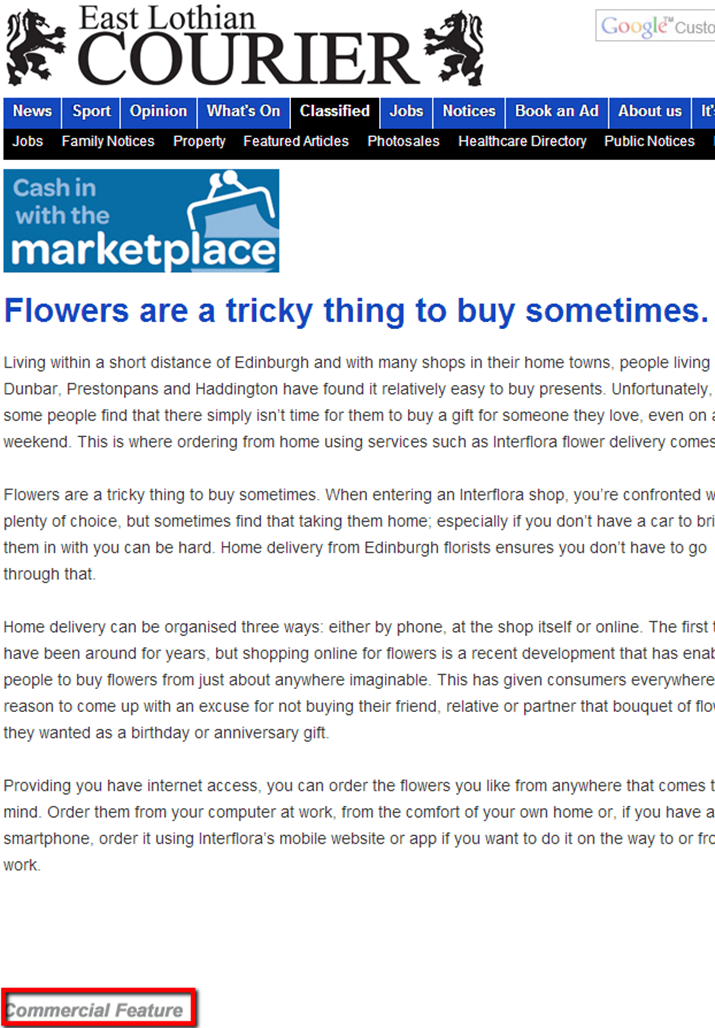 http://www.eastlothiancourier.com/classified/information/20120/flowers-are-a-tricky-thing-to-buy-sometimes  
I mean marking the advertorials is one thing, but publishing those really bad auto-spun posts is another thing.
I know Interflora has been aggressive for Valentines Day 2013, like every flower-shop should be, but above samples just testify an ongoing messy link building strategy – quantity over quality. And while those domains could have had some trust in Google, they just all got penalized.
By the way, I quickly found those samples by using the "Restrict sites" feature in QBL, which is basically a "domain:" operator on steroids, ...
I gave it the 54 domains that Dave Naylor mentioned in his post having a PR penalty and got all the actual links to Interflora a couple seconds later.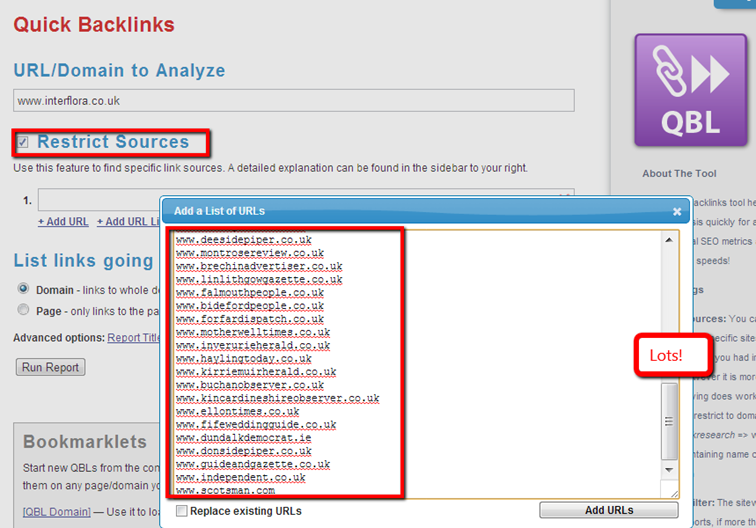 (make sure you don't let us remove the dropped links in this case)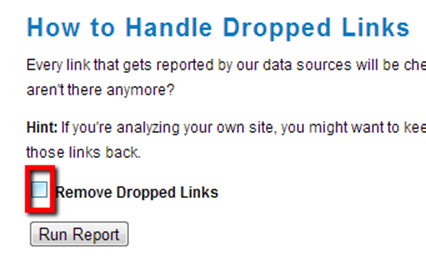 And voila – some of those nasty advertorials on those penalized sites picture here

(3 of those examples are listed and screenshot above)
Ok,  fair enough, those are really cheap made mass advertorials, and they won't pass a manual review. Please note how all of them have FOLLOW links and are marked as paid links. Not the smartest thing to do. Dave's opinion is very much that such cheap advertorials triggered the penalty. Is that really all, or is there more to see?
High level – what about Power*Trust?
Before diving deeper into all those bad links I thought that a competitive landscape analysis would make sense (using our Competitive Landscape Analyzer) and thanks to the quick mode those 70k links were brought back
within a couple seconds. I knew I wanted more, so started the detail mode right away against 10 competitors I hand-picked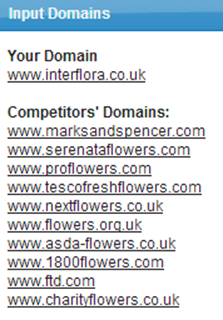 The first graph already struck me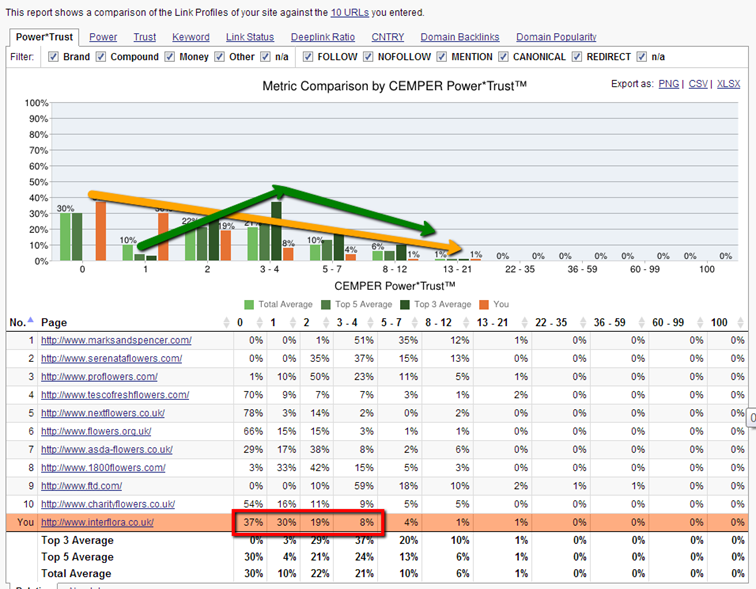 Please note those orange and green arrows are mine, should just emphasize the very obvious difference in those link profiles as measured by LRT Power*Trust.
As we can see immediately, that Interflora link profile lacks a good chunk of highly trusted and powerful links as compared to their competitors.
So whatever shady stuff we continue to find as we dig deeper into Interflora's link profile, this isn't good for them, and it was only a question of time when they got hit. In fact I wonder why Interflora wasn't penalized earlier, given that a lot of shady stuff happened last year already. One possible conclusion might be – and I'm totally for it – that they just "overdid" it.
A big brand gets away with a lot of stuff, but at some point the threshold is reached and we found similar "limits" for traffic drops when we analyzed those unnatural link warning mails last year. 
So that's worth a closer look. Let me repeat, I totally believe that those recent newspaper advertorials for Valentine's day triggered a threshold or forced someone at Google to take action, maybe simply because of one or multiple spam reports.  
Tiered links – SUSP1
Taking a quick look at other suspicious links, we start with SUSP1 - we got 2382 or 46.6% of all links in this category. SUSP1 
Page has no LRT Power*Trust™ and LRT Power*Trust™ Domain < 5 - a page without external links on a weak domain
http://amyroses.weebly.com/index.html  
Just have a look at this beauty. Nice pictures, some "unique" content and those two money keywords linked to http://www.interflora.co.uk/category/roses/  and
http://rotateweddflowers.blogspot.com/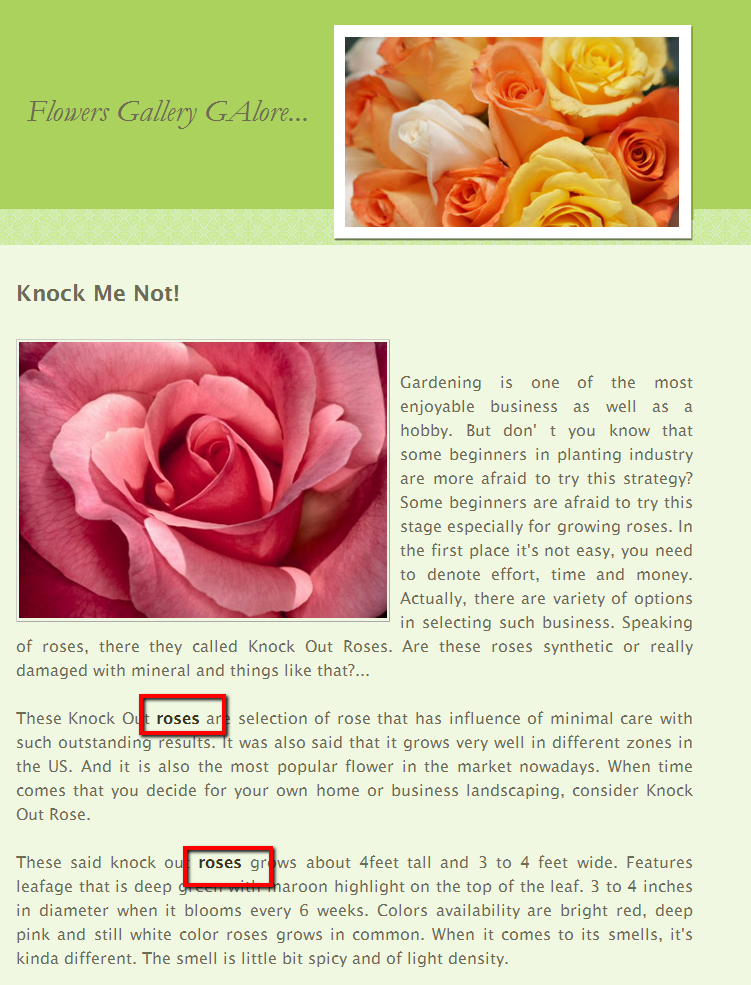 Well, some people might put the second link to Wikipedia (aka "Co-Citation to Authority") but in this case it's just a link to another free-blog.  
That one indeed again links to only two sites.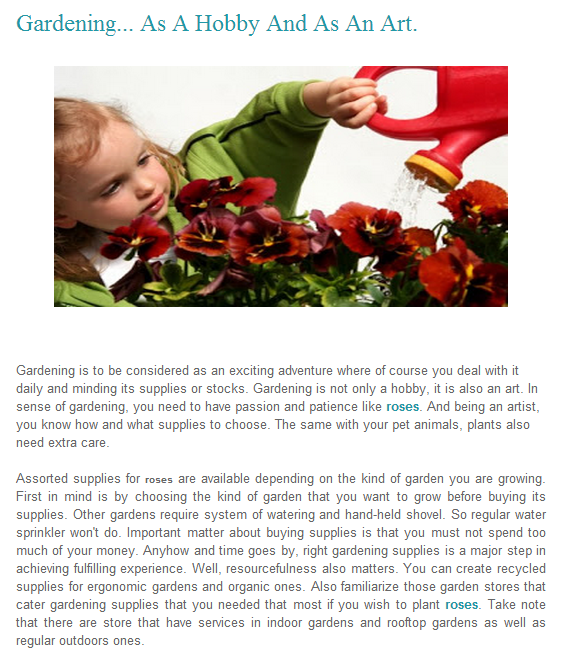 http://www.interflora.co.uk/category/roses/ and http://flowersbypost.jimdo.com/
Hmmm... someone fancied roses as keyword and target url, did they?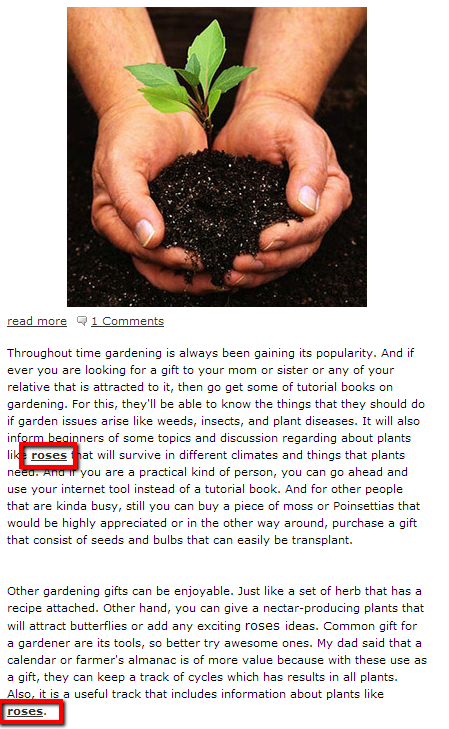 Guess what, the next one again goes to http://www.interflora.co.uk/category/roses/ and rosesforskin.blinkweb.com (another free host) And that one again links to two URLs only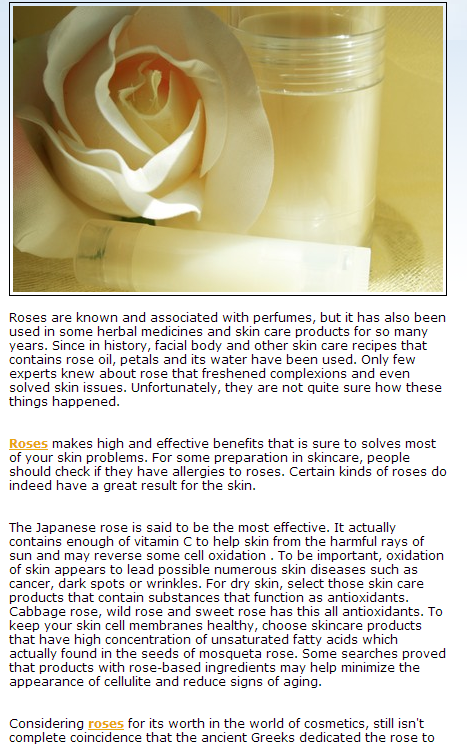 http://www.interflora.co.uk/category/roses/ and http://easy123-roses.livejournal.com/634.html  
I think we can stop traversing the link list here – it's enough to demonstrate how a "link-wheel" used to work.
Those free-hosts sometimes only had ONE page posted, a typical pattern. And needless to say, the links going to those free hosts were spam as pictured below
or just nada – no links at all. I have to say tough, that the "feeder links", so those spam links powering those spammy free-host pages were very few.
Under usual blackhat practices one would have sent a couple hundred or thousand of such profile link to the free host parts of the link wheel. Here it was either intention to only get them indexed or scariness to "stay below the radar" with not overdoing the nastiest part of link wheel creation. Or the guys that set it up simply didn't want or could spend their time making this a "full scale" black hat link pyramid.
Enough said, the pattern is clear and the implementation is so-so for blackhat standards. However, those links are still out there and removal is probably a big pain as passwords for automatically generated pages like those, 2 or 3 years ago, are probably lost. What we do not know at this point is, if those links were already disavowed.
Only Interflora and Google know so.
Paid blog posts on abandoned sites – SUSP10
A quick review on those 23.8% (still 1216!) suspicious links according to rule SUSP10 reveal some insights – here's the SUSP10 definition SUSP10 
Domain has Link Velocity Trend < -70%, LRT Power*Trust™ < 16 and LRT Power*Trust™ Domain < 16 - probably part of an Expired Link Network or a domain that the public has lost interest in. So generally that means links from sites out of favor, have a quick look and judge for yourself... on this one http://www.miasprom.com/page/2/...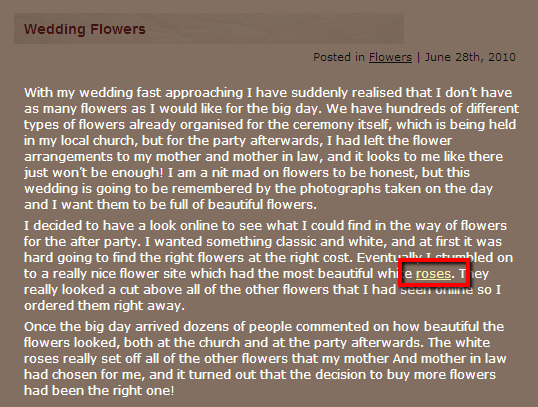 We found the roses again – linking follow to http://www.interflora.co.uk/category/roses/ and that page on http://www.miasprom.com/page/2/ really links out to every link spammer in the world as well, talking about nurse uniforms, Expedia discounts, shoes at Shopwiki, Mascot costumes and other kinky stuff.   Anyways, looking at it, we identify a typical "paid blog site" where one of those poses went between 10 and 50 bucks onetime. Not a bad cut given that the post was most often simply posted automatically or triggered by the link buyer.
Another sample is this url at http://containergardeningexpert.com/articles/making-the-most-of-what-space-you-have/ and I think that screenshot says it all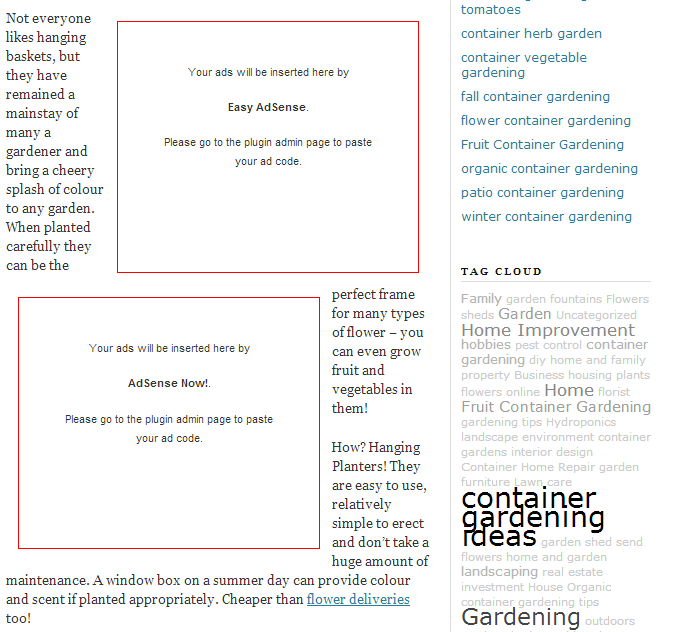 Please note that flower deliveries link goes to another money term and page on Interflora http://www.interflora.co.uk/content/flowers-delivered-florists/ It's been a while since this link was posted, and the site has obviously been abandoned since.  
TOX1 sites, denindex
What it says is clear. And often a clear sign too... TOX1 
Domain is not indexed in Google. Usually a sign for a penalty. 
Read more A couple of those
And I leave it up to you to judge it that would be a link to keep. Looks like subdomain spam to me, and Google just recently mentioned that...
Google advises against Subdomain-Spam - like abcdef . blogspot . com ? :-) http://t.co/Um0fRvYP — Christoph C. Cemper (@cemper)
https://twitter.com/cemper/status/303589749115990016
SUSP14 – Pagerank penalties
Once again a clear signal of poor links is when no pagerank (i.e. grey bar) is there and there are still links to the page. That's not natural at all. SUSP14 
Page has no PageRank™ but at least some weak links. This could be a sign for a page punishment by Google. Google PageRank™ is more and more inaccurate and many webmasters don't trust that metric anymore. And looking at some of these 224 pages (4.4%) we find

e.g. http://www.prettysinglemom.com/2012/11/flowers-from-heart.html and http://www.methinkyou.com/2012/11/flowers-and-decorations.html
which all have keyword-rich urls and pretty poor layout and text quality, of course including a money keyword link – what else. No need to red-highlight those for you, or?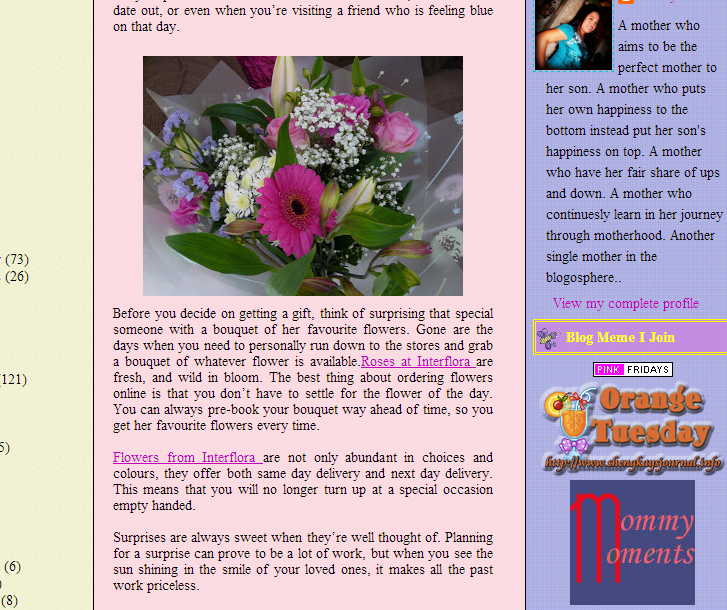 As you can clearly identify those blog posts as junk, so can Link Detox and of course Google.
SUSP15 – Typical web directory links
Yadda yadda, web directories are dead, links still up, as no one bothered to remove them. Not looking good at all

And the point here is – links from pages like http://www.submitocean.com/shopping/giftspage-8.html might be old, but Google still sees them.
They influence your google-credit-rating, no matter what. And that link simply looks and feels bad
 BTW did you realize the name of the site?

Yes. Probably auto-submitted with 100 other low quality directory entries. That's what people got paid for only a few years ago...
SUSP6 – Same Domain Owner – Link Networks
Finally as Irishwonder also brought this up, there's simple minded link networks, and bad content with money keyword phrases add to their worseness. I promise this is the last suspicious rule I will comment on before leading on... 161 links or 3.2% are SUSP6, which is SUSP6 

Domain has the same REG (Domain name registrant) as other linking domains - possible Link Network. And it looks like this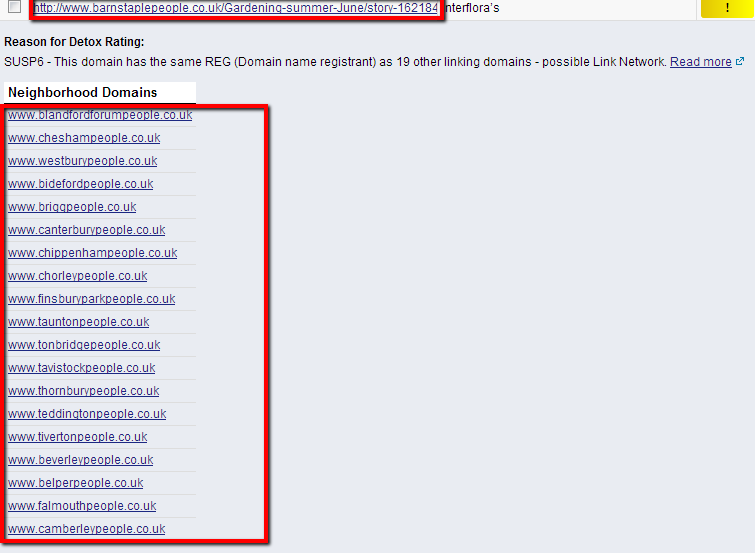 In fact a sample page looks like this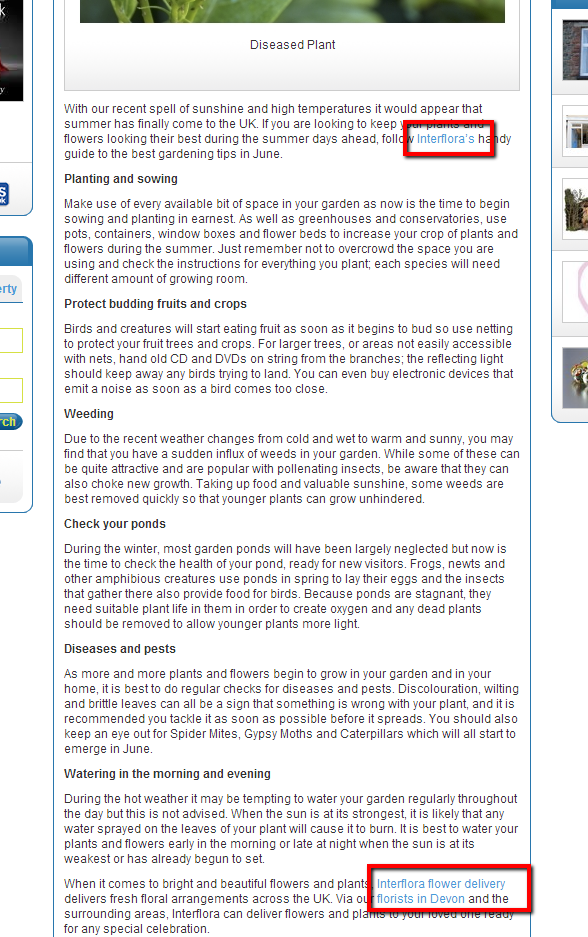 Lovely, ha? Be aware that the page here http://www.barnstaplepeople.co.uk/Gardening-summer-June/story-16218432-detail/story.html looks just as spammy as http://www.belperpeople.co.uk/Award-success-Interflora-RHS-Chelsea-Flower/story-16175370-detail/story.html and http://www.beverleypeople.co.uk/Gardening-summer-June/story-16250337-detail/story.html
And of course all those links are "naturally" surrounded by 300 words of unspired writing by someone badly needing those 5 bucks to complete their freelance assignment.
It's obviously lowest quality, isn't it?
I am frank here – since we started Link Detox last summer I've seen so many bad link building results that I got really shocked.
Not shocked about people delivering such poor results, but actually clients accepting these as work results, and merely quality-checking on what they got from their suppliers.
So let me say, I'm not surprised here, and I wouldn't be surprised if no-one at Interflora had checked these "results".
But coming back to Interflora...
Interflora is doomed – because of the deep dive.
Interflora have simply overdone it. As Dave and Matt pointed out, those advertorials were a really bad idea, but looking at these links from 2 or 3 years ago everyone and his dog will realize that Interflora has been doing unnatural link building for years. Not surprising, given that it's a pretty boring topic to write about a flower shop. An undisclosed Google engineer once said to me about a heavily spammed (and undisclosed industry) that they simply don't have enough good signals. That means, Interflora got away with it, probably because they were just GOOD ENOUGH for that industry. Every vertical is diffent – competition rules are defined by country, keyword space and language. Whoever echoes stuff about X percent of something and Y to Z ratios has simply never worked in more than one industry or none at all. Anyways, Interflora is now undergoing a deep dive. They HAVE to file for a Google reconsideration request, and given they lost (almost) everything organically that's a wise thing to do. They HAVE to cleanup everything we saw in this post and a LOT more.
What Interflora should do...
To be very clear, Interflora got away with a lot of bad link building for a while – they just tripped the 70% mark, but actually that's pretty late given that we saw 3 major penguin updates in 2012. However, NOW a Google spam engineer will soon or already has been looking at all these old nasty things, and will ask for them to be removed. Is it simple, no. Does Google care? No. Guess what, Interflora has been getting away with all these spammy tricks for years and should send a big chocolate cake to thank Matt Cutts for not taking action against them earlier.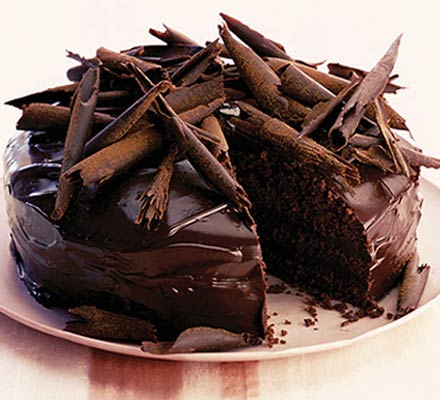 Are you clean?
The question now is, are you clean? What would you do if you trip a filter because of those old and bad habits? Don't get me wrong. There used to be a time when forgiveness was pretty en vogue at the Google spam team, but nowadays you can get in deep trouble for your old spamming games. It's very similar actually to banned Adsense and Adwords accounts. Once you're blacklisted they just refuse future business. You should take care about your backlink profile today, not when you get booted. Obvious pitch: If you want, you can just go and get a link detox account to review you own site.  
Let me know - what have YOU found about the Interflora Link Penalty?
Cheers,
Christoph C. Cemper