Link Data Freshness is an indicator of how fresh your backlink profile data is.
Measured on a simple scale from 1 to 10 it helps you to decide when you are looking at (too much) outdated data.
If Freshness is 10, it's perfect for your SEO decisions, just recently recrawled.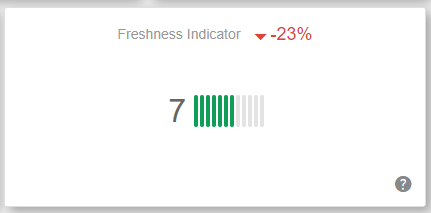 Why does backlink data outdate?
Every link database works the same, by crawling the web. And the web changes every second.
That means the bigger the link database is, the lower the probability that the links that you are interested in were crawled recently.
Big public link databases like that LRT also supports as data sources like Majestic, SEMrush, Ahrefs but also Google themselves have their limitations in the speed how fast they can crawl the web.
Public link databases often have "fresh" data (i.e. 30 days fresh) vs. "historic" data (not recrawled for up to 5-6 years)
How does LRT ensure fresh backlink data?
Whatever sources we combine, we always have outdated link data, often up to several years old.
Therefore we recrawl that data for you and provide you a 100% fresh picture (expressed by value 10 on the bar, the maximum) , of what the links meaningful to your and your website looked like just a moment ago.
This is a major unique advantage you get from using LinkResearchTools (LRT) over other products, or combining them with it.
The new Freshness Indicator was introduced with LRT Smart.
Benefit of using LRT to avoid stale backlink data
Only with LRT you can initiate a recrawl for your all backlinks.
This enabled you to time the effort for preparing the data to the freshest state, before your starting your work.
LRT Smart vs. LRT Classic
In addition to the manual recrawl, LRT is configured to refresh the complete or basic backlink profile on a regular basis in your Link Crawl Budget Management Dashboard.
The functionality of recurring reports from LRT Classic is replaced by this functionality.