Import data from External APIs
Bring all the possible link sources together
When doing a link audit, you want to make sure that you don't miss any toxic links.
It brings together link data from 25 link sources, re-crawls it and cleans it up for you.
You can always get more data if you
upload all your link lists as files
connect and automatically connect 3rd party applications using their API.
To provide you with even more link data and SEO metrics, we provides API integrations with
SemRush
Sistrix
Majestic
Ahrefs
Google Search Console
Google Analytics.
You can enable additional metrics and link data by entering API Keys from the other tools, and we will import all the data, clean it up for you and integrate it into your LinkResearchTools reports.
You can save a lot of time by providing those API keys, as we always get data for all reports you start, to give you the full picture.
How to connect your API key to LinkResearchTools
To connect your External API Keys:
Log into your account and go to "Settings"

Choose the tool you have an API key for.
Go to "External API Keys" and choose the API you would like to connect.
Click on "Connect" and follow the instructions.
Click on "Save settings" and you will see the service as connected to your LinkResearchTools (LRT) account.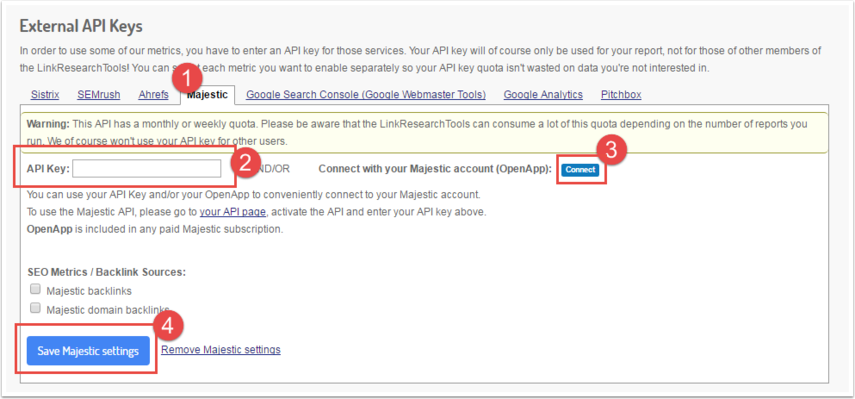 After you added the API Key or connected your account (OpenApp) and saved your settings you will see that your LinkResearchTools account is connected to the external service you chose.