Notification of New Links
Be notified whenever you or your competitors get new backlinks.
Benefits of LA
Monitoring new inbound links to your site
LA is like Google Alerts, but for links. An Email is sent to you when new links are found. Link Alerts can be used to build a useful link history of the backlinks to your site. As new links appear they can be checked to see if they are good or bad and deal with accordingly.
Prevent your site a Google Penalty caused by negative SEO attacks
Link Alerts will inform you automatically when new backlinks appear. This allows you to react immediately in case of unwanted backlinks or negative SEO attacks.
Be aware of your competitor's new links
Link Alerts can also be set for your competitor's websites, this way every time they get a new link, you will be notified by Email. Your outreach team can then pick up the phone and work on the opportunity while it's hot.
Discover link dates
Find out when a link was placed so you can track your inbound activities.
Link Alert Features
The Link Alerts tool delivers new links as quickly as possible, checks them for validity, and adds a standardized SEO package. With LA, you can monitor not only your own pages but also those of your competitors. If your competitor places a link on a good page, you can try to place a link there, too. You also have the option of generating a link history for the web pages. This removes the necessity of continuously looking at the LRT. You receive weekly notifications as soon as new links have been added.
Starting an LA Report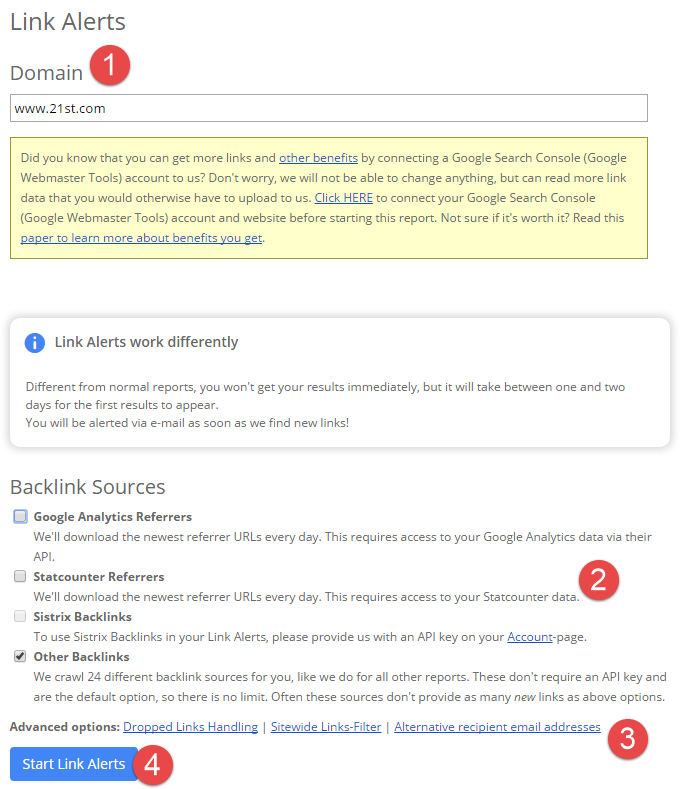 Enter the name of the domain that you would like to analyze.

Select the backlink source. To use Google Analytics Referrer, Statcounter Referrer, or Sistrix Backlinks, you will need an additional API key. Otherwise, we retrieve the information from our 25 different sources.

In addition to the usual filter options, you can also enter an alternative Email address if you want to send link alerts to a colleague, e.g. for further processing. You can also change the Email address later in the "Link Alerts" area.

Press the "Start Link Alerts" button and wait until your report has loaded.
Advanced Options
In the advanced options, you can use the following settings for LA:
Interpretation of the Results
You will receive an email as soon as new links have been found.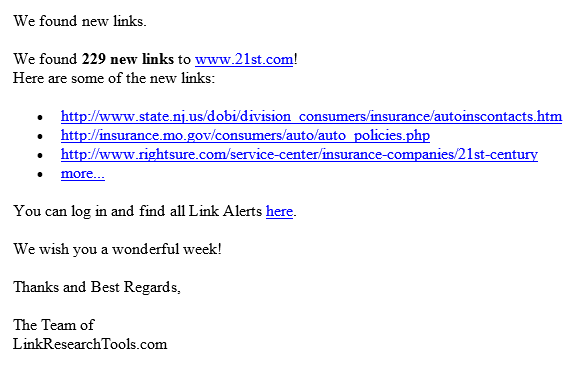 In the Link Alerts menu option, you will find an overview of your current link alert reports. Here you can also change the settings under "Options" and see how many URLs have been added and when the last update was.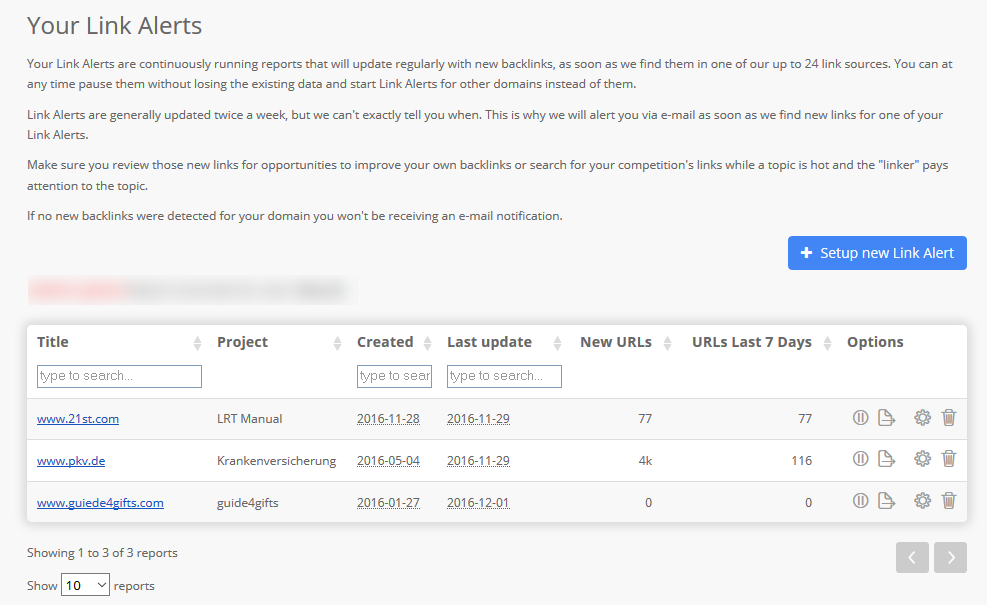 The Link Alert report also contains a histogram.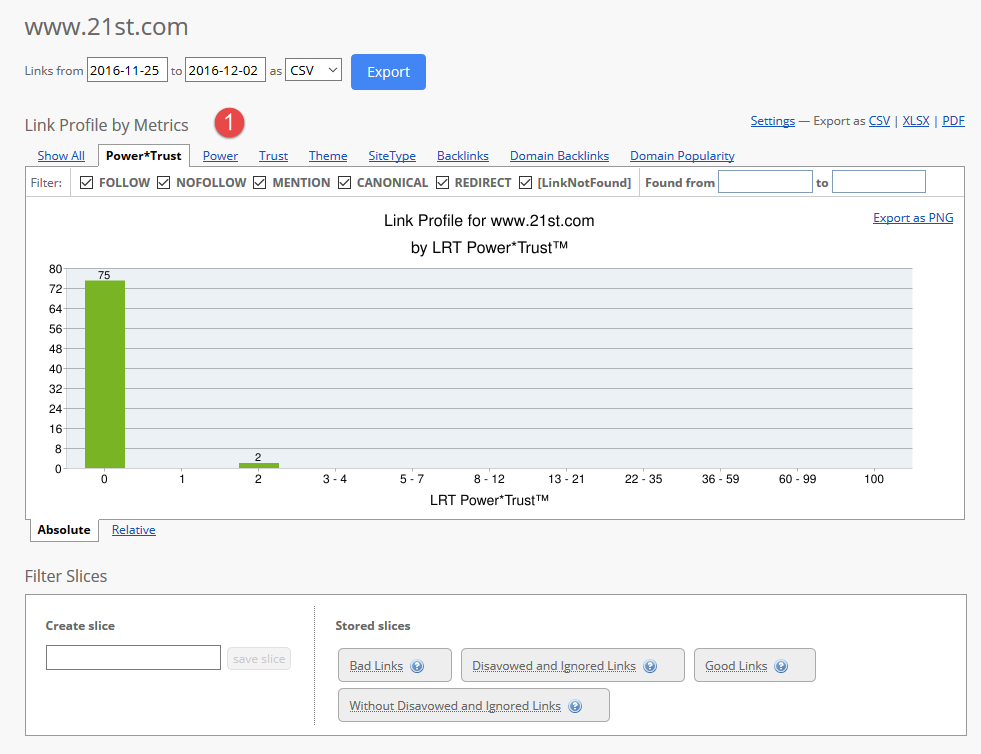 In the link alerts report, you can see which links you would like to export based on the date of discovery.

As usual, you can see all the results in the link detail table and, thus, you can see how your new links are doing (e.g. do you have many new links from blogs?). What is the Power*Trust value of these backlinks? Are the links good or poor? Do you want to keep them?
Below, you will find the report of the link detail table again:

You have the possibility to evaluate found links in the report. For example, you can have a quick overview if you want to rebuild the link from the competitor or you want to remove your own link. You can also filter by evaluated results.

The information about the time when the Link Alerts Report has found the link is indicated in the column "Found".
Please note that LA does not work retroactively but evaluates the new coming links. If you had created alert links for one domain over months or years, then you would have collected the links during this time and created a link history.