Link Type is the technical type and sub-type of link, e.g. sub-type of link, e.g. image, text, redirect, canonical and many more. Getting a clear understanding of which technical types of links you have is of utmost importance in SEO. LRT shines to combine these with many other Link Metrics.
LRT Smart
The new Link Type contains a lot more detail and new link types not detected before.
Below is a screenshot of a Link Profile histogram by link type.
We see
1) 34.7% of the backlinks are of type "image normal", i.e. normal image links.
2) and that already 6% of the backlinks are no backlinks, but of type meta canonical, which is worth drilling down with a click there.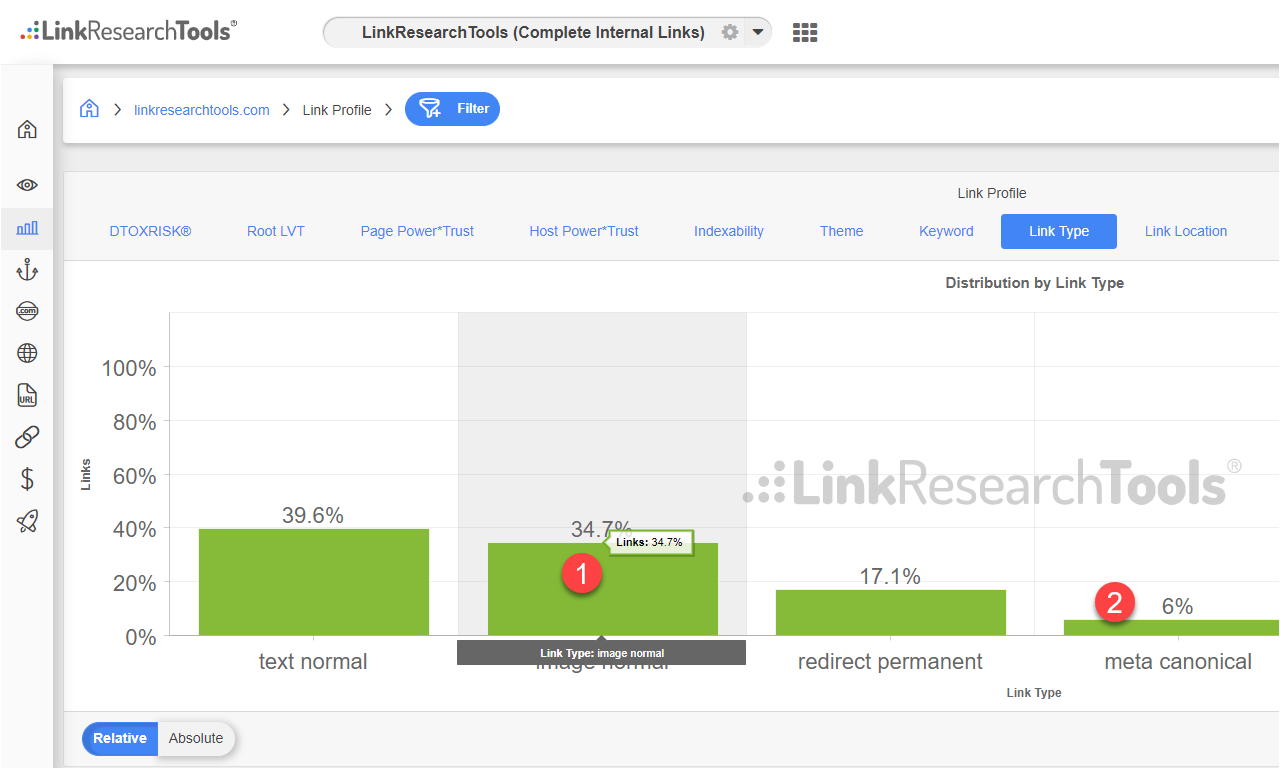 After clicking on the meta canonical bar 2 we get to a list of links, but can easily
3 switch to the referring domains (source domain view) and then
4 order by the number of sitewide links descending.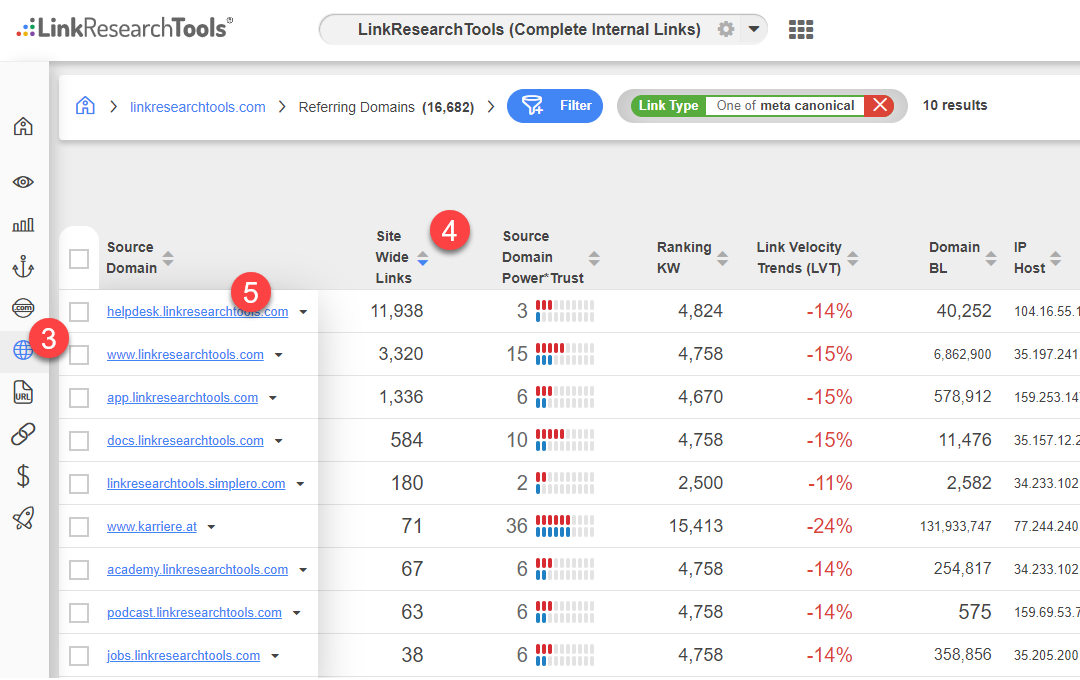 While we don't spot any obvious negative SEO from shady domains doing a Rel-Canonical attack on us, we see our (former) Zendesk Helpcenter.
This way we unfortunately found out that Zendesk Helpcenter is not SEO ready at all and inflated the ca. 200 articles to 12,000 canonical URLs. That's not how it's done, but glad we found it with just a few clicks.
5 Clicking on the domain name helpdesk.linkresearchtools.com we can drill down to the Referring pages view, which will then show us all the details that are part of the canonical URL problem.
Possible Values for Link Type
The following values are possible for Link Type:
| Link Type | Description |
| --- | --- |
| text normal | |
| text alttext | |
| text hidden | |
| image normal | |
| image alttext | |
| image hidden | |
| iframe | |
| iframe hidden | |
| frame | |
| frame hidden | |
| frame mixed | |
| frame other | |
| redirect permanent | |
| redirect temporary | |
| redirect meta refresh | |
| redirect header refresh | |
| redirect mixed | |
| redirect other | |
| mention normal | |
| mention mixed | |
| form normal | |
| meta canonical | |
| header canonical | |
| meta body canonical (canonical found inside body element) | |
LRT Classic
LRT Classic had only a small set of types