Starting Link Detox Boost
Step 1

You can start a new Link Detox Boost from your LinkResearchTools "Start Report" dashboard

Or you can run Link Detox Boost on all of the links that you have already marked as disavowed from directly inside your Link Detox reports. This function will be marked green as soon as you have already added links to your disavow file.
Step 2

Enter your URL
Step 3
Once you have entered your URL you have 3 ways you can Boost the links that you have already disavowed.
Option 1: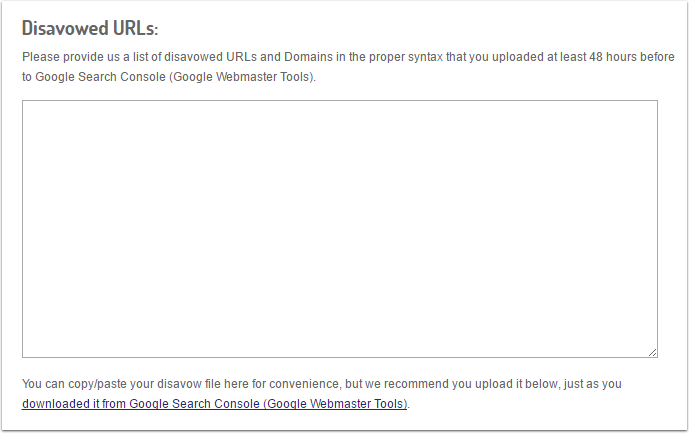 The first method is to copy and paste the URLs into this text box.
Option 2:

The second option is to use the Disavow file that you have already uploaded to your LinkResearchTools account.
Option 3:

And the third option is to get the disavow file from Google Search Console and upload it using our simple upload function.
Step 4
After you submit a disavow file to Google, using the Google Disavow Tool, you need to wait for 48 hours and then start a BOOST report for the links you disavowed. Link Detox Boost will push Google to re-visit your disavowed links, and it will show you the exact date when Google re-crawled each link.
Right after you upload your Disavow file to Google, you can now schedule Link Detox Boost to start with a delay of 48 hours. This way, you will not forget to run Link Detox Boost. Remember, this is a must-do after you upload a new disavow file to Google Search Console.

Step 5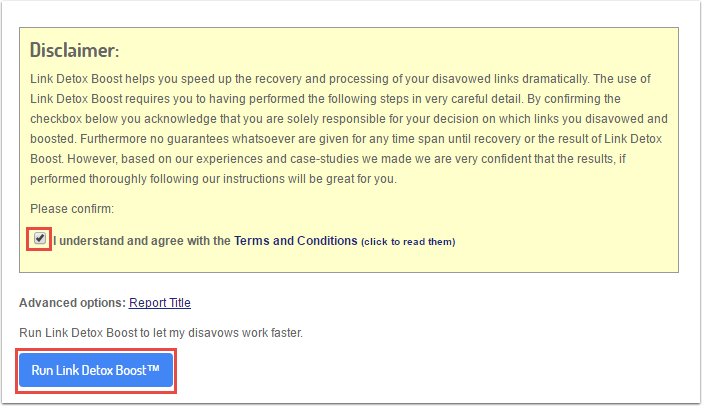 Then all you need to do is agree to the terms and conditions and click "Run Link Detox Boost".
Start Link Detox Boost after downloading the disavow file
After you downloaded the disavow file from inside your Link Detox report you can start Link Detox Boost.