How to Get More Link Data from Google Search Console
By

Bartosz Góralewicz

in Google, Link Audit last updated 06/07/20 07:43 am by

Christoph C. Cemper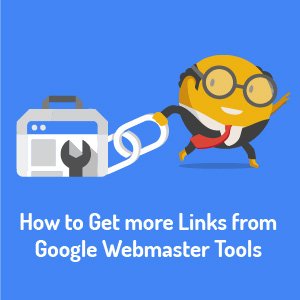 TL:DR You can download link data from different Google Search Console properties, combine them and get a lot more data than you would otherwise get from Google. In the more recent Learnings from a 100 million link domain case study you will see how much is actually possible to achieve.
This post led to the automation of the process in LinkResearchTools, that lets you get a lot more extra link data.
How to get more links from Google Search Console
Google can make you extremely angry and impatient.
They count every link going to a site but only show a random sampling of those links in Google Search Console.
Since links can mean life or death for a website, it's tragic that Google makes it so hard to see all your backlinks. That is, until now.
One of our experts discovered an ingenious way to squeeze more links out of your Google Search Console account.
Following this detailed guide will help you see those hidden links Google is counting against you.
When I read this, I thought it was too simple to work, but it does work. We double-checked the findings and can verify that this is a tested and true way to get more links from Google Search Console.
Enjoy & Learn
Christoph C. Cemper
Introduction
Before writing this article, I asked around, Googled, checked and asked around again. This technique is genius in its simplicity but wasn't published anywhere and I didn't find any SEO using it before.




Squeeze more link data out of Google Search Console - and do it easily!
High risk clients are often those that are the ones willing to pay any money for finding some extra spammy backlinks. It was widely discussed in my CashLady case study where their inability to find all their spammy links was blocking the whole brand from recovering and moving forward.
Let me quote Christoph C. Cemper, founder of LinkResearchTools:
Google really takes removing spam links very serious and one single wrong link in the eyes of the spam engineer can block a successful reconsideration request. This requires a lot of detail work, and this is why we support combining all available data-sources (including the Google Search Console data) in LRT, as well as uploading custom files from all previous link building reports to Link Detox.
To be honest, in 2012, after reading such a quote I would think that Christoph is some kind of crazy, "scared of the links" white hat preacher. Now in 2014, it couldn't be truer. Some people may just not yet realize it.
Usually, I follow this rule:
The cheaper it was to build the link, the harder it will be to find and remove it.
Where is the problem?
Some of you may now ask, with so many crawlers out there and so many tools, why would I search for links?
Let me explain to you "Matt Cutts" style:
Well – that is a really great question! Let me list the possible scenarios where you can have problems finding more backlinks:
Automated link building on a massive scale. With thousands of backlinks built per day (e.g. xRumer), crawlers will need a lot of time to crawl all the spammy websites and list the backlinks.
Negative SEO attack (similar as above).
Hidden link networks (more popular than you may think).
Cloaking (also still alive and kicking).
Out-of-control ex-SEO agency.
Few more specific situations like the one you can read about in the CashLady case study.
What do I need the backlinks for?
Most of you probably already know there is nothing worse in SEO than having your money site drop in rankings due to an algorithm change or penalty. If the problem is link-based, every backlink counts.
Manual Penalties
If you want to have your penalty lifted, you need to document your efforts on making your link profile clean. To do that, you need to:
Audit all the backlinks you can find manually
Remove all the backlinks you can
Document your link removal efforts
Disavow or no-follow all the links that are not in your control (or you cannot remove them)
Google Penguin
If your website got hit with a Google Penguin update, you are in a worse situation. There is no reconsideration request, and you get your recovery chance only once every few months. This year it is different as I mentioned in my "Orca Technique" article. It's been almost a year since the last Google Update. And guess what? If you don't recover with the next update, you have to wait… again!
To fix Google Penguin issues, you need to:
Audit all the backlinks you can find manually
Disavow or no-follow all the bad links
If possible, remove the bad links completely (not crucial with Penguin, but it definitely can help)
Why Google Search Console?
It doesn't matter if you are looking for the backlinks made with cloaking, link networks hidden from crawlers, or any other shady technique. All those techniques are made to trick Google. Therefore, they have to be clearly visible for Google to find.
Unfortunately, Google is not eagerly giving out this data and we need to help Google to do that.
How to get more backlinks out of Google Search Console?
Google is somehow filtering the links that we can see in Google Search Console. I have no idea how and I am not going to speculate, but let's base this discussion on the assumption that Google is randomly showing 40% of your links from the whole link profile visible to Google bot. Based on that 40% assumption, if we add any subpage to Google Search Console, we should see 40% of the backlinks pointing to this page. Those links could be identical with the ones we already have for the main page, but they can also be totally different with no matches at all. Worth a try, huh?
I came up with this idea by combining these facts:
Your domain has a whole structure and each part of this structure is getting backlinks.
You can add just the parts of your website to Google Search Console.
While looking at the folders added to your Google Search Console account, you see only data related to a given folder and not the domain as a whole.
Interesting fact
E.g. subpage https://goralewicz.co/blog can be added to Google Search Console as a separate directory. I had few problems authorizing this folder on a different Webmaster Tools Account than https://goralewicz.co (/blog/ is not actually a folder). 
Simply put, by adding separate parts of your site in different folders to your Google Search Console account, it's giving you more links. For free.
Workflow and a case study
I could finish my article with the statement above, but it is published as LRT Case Study so I feel like I need to show you a case study of this method working on a "live" domain. Let's do it then.
Getting more backlinks for www.extremetacticaldynamics.com
Quick thank you
The guys from www.extremetacticaldynamics.com have been my customers for a while now, and they agreed to let me to present my method on their domain so I can (as usual) show everything step by step. No theory, no bullshit! Thanks for that, guys! I am sure Christoph C. Cemper will gift you some Link Detox credits for that ☺.
Workflow
To use this technique, we need a top level domain (obviously) added to Google Search Console and domain.com/subpage added to the Google Search Console account as well.
Adding a new domain to Google Search Console
Click "Add a site" in the top right corner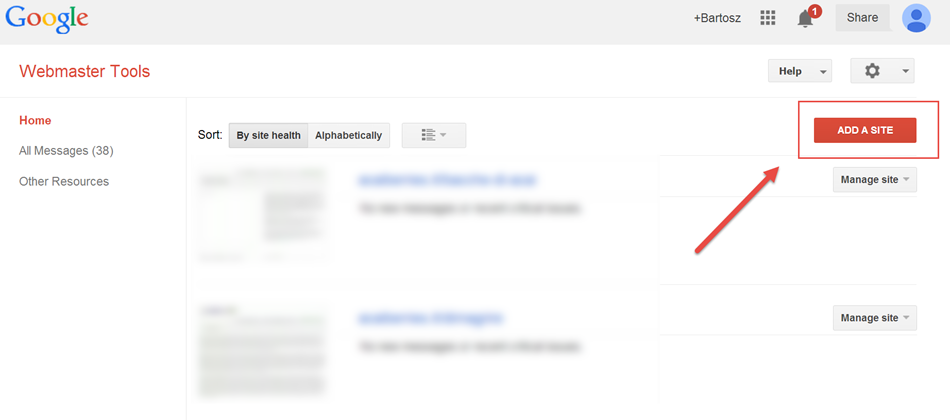 Type in the address of your website in "Enter the URL of a site you'd like to manage" field and click "Continue"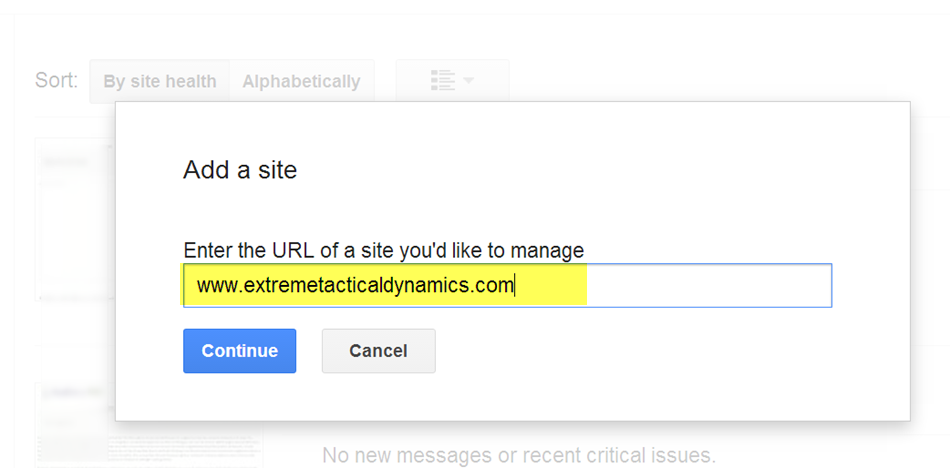 Verify your ownership of the domain by uploading an HTML file to your site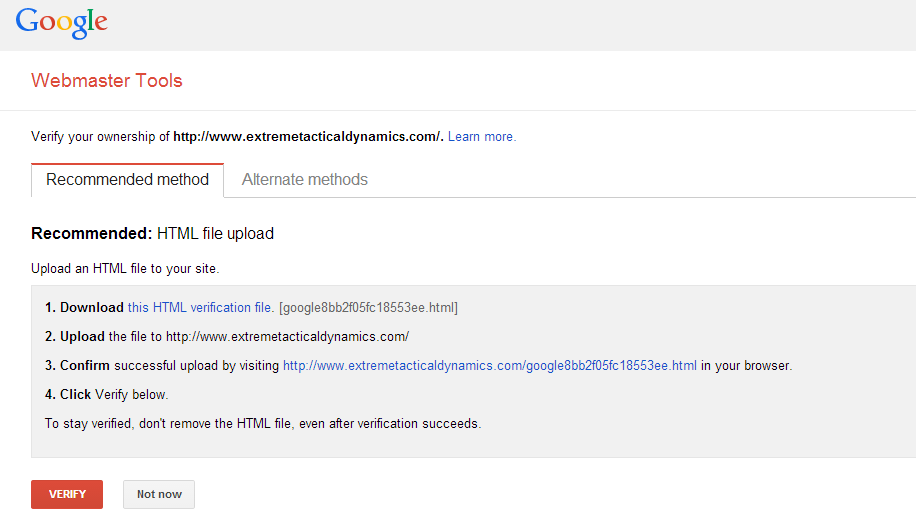 To do that, you can use the option suggested above (HTML file upload). I am not a big fan of uploading those HTML files via FTP. I'd use alternative methods.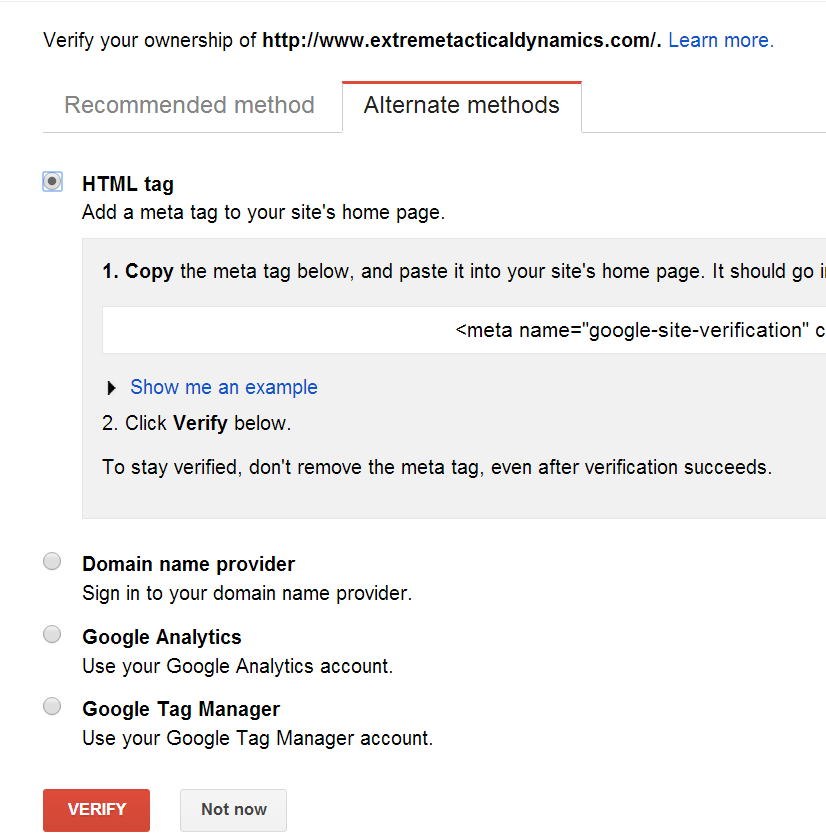 I prefer to verify new domains by adding the HTML tag to Meta. It is especially simple to do in WordPress with any Google Search Console plugin like http://wordpress.org/plugins/verify-google-webmaster-tools/.

Now you should see your domain successfully added in your Google Search Console account.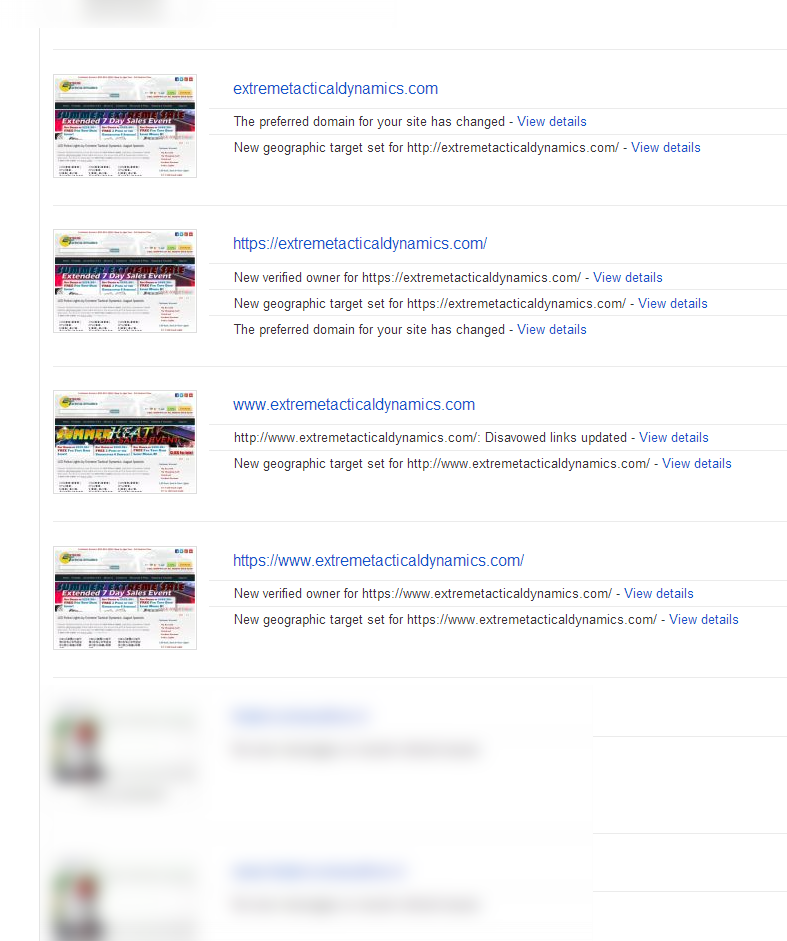 As you can see, I usually add each domain where more links are needed in the following options:
www
non-www
https and www
https and non-www
Using the HTTPS and www/non-www option is an extra solution. I don't do that for all customers. It helps get more backlinks or data only in specific situations.
Now go through all the steps again and add a subpage(s) of the domain.
Here is what we want to see: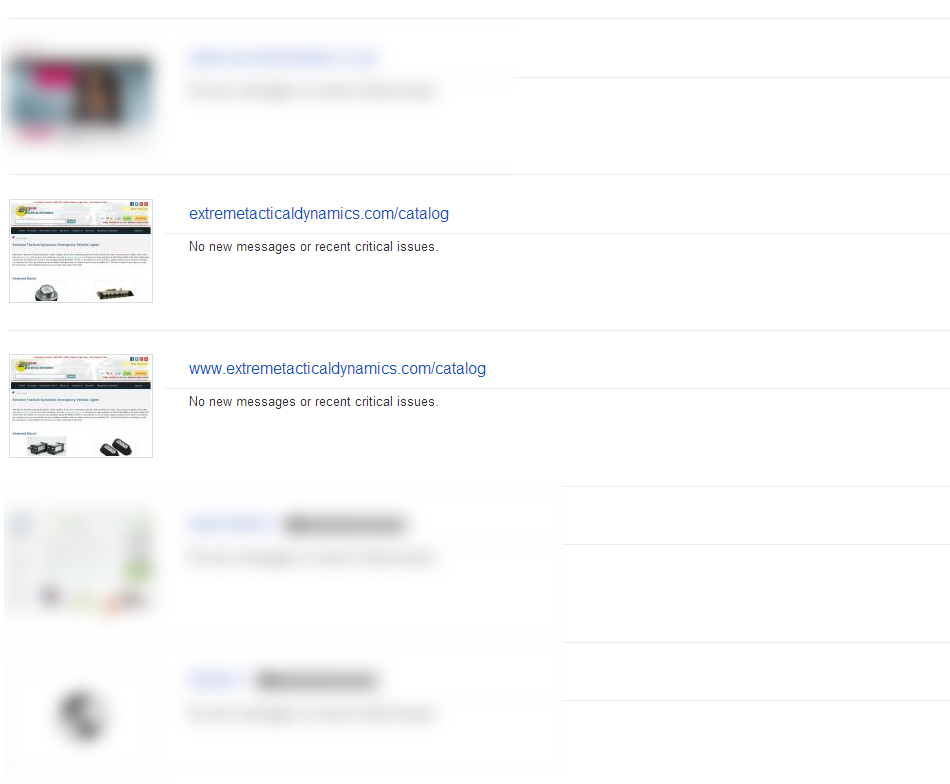 After all this work, we all deserve to see those extra backlinks, right?
Not so fast! To get the extra backlinks for all the subpages, sometimes you need Google Search Console to refresh for up to 3 days (!). Don't be discouraged after not seeing the backlinks straight away!
Fortunately, I did it a while ago and now we can see the outcome.
Outcome
Let me compare the amount of backlinks and see if we managed to get any extra backlinks with using this "Google Squeeze" technique.
To download the links from Google Search Console, we need to:
Go to "Search Traffic" tab, and then to "Links to Your Site" section, and click "More >>"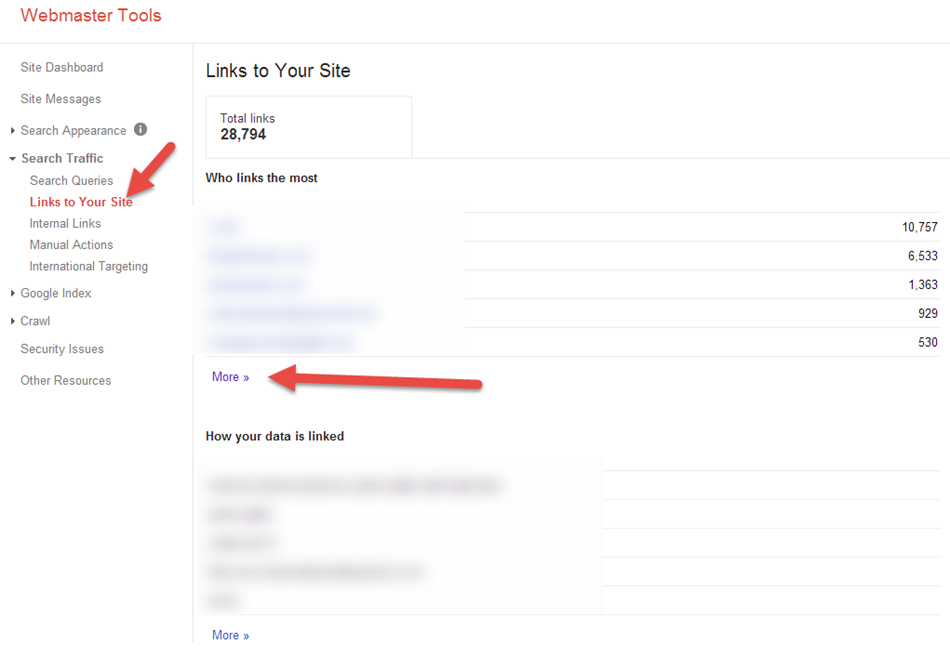 Click "Download more sample links" and "Download latest links"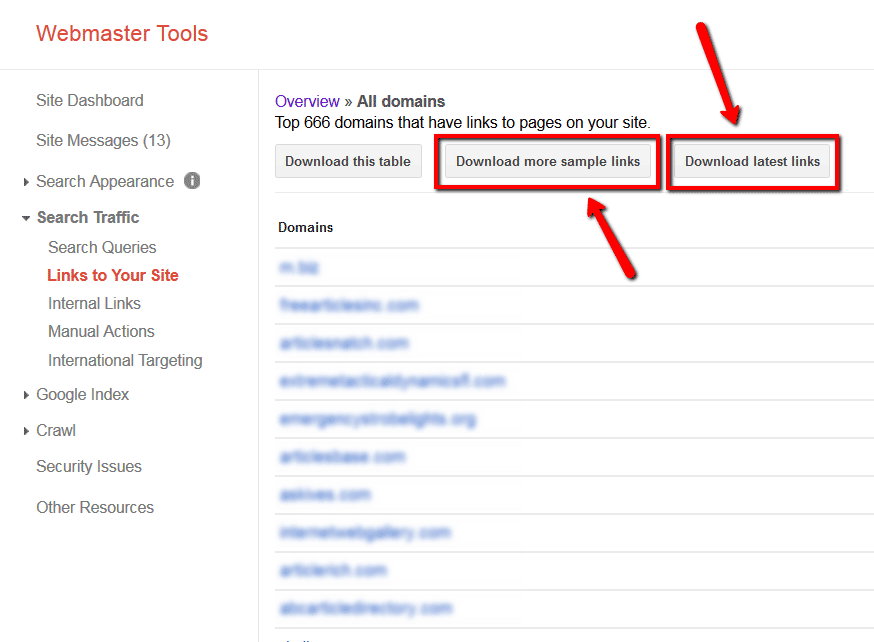 Choose download format (CSV or Google Docs) and you are good to go.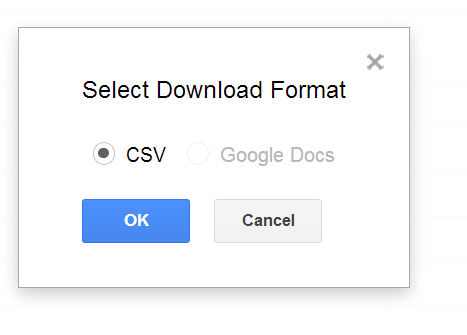 Tip:
Files in CSV format can be uploaded directly to LinkResearchTools when running any reports
Now, using ScrapeBox I will de-duplicate all URLs (not domains).
You can learn more about using ScrapeBox for processing links here: How to use ScrapeBox for backlinks processing
Interesting fact:
Both reports had the same amount of backlinks (16,079), but they were not identical.
Another interesting fact ☺
It often happens that you get duplicate backlinks within 1 report (for example, 222 in this case).
After extracting the URLs from both CSV files (for the main domain), I've managed to get 15,848 unique backlinks from the "Latest Links" file and 15,856 unique backlinks from the "More sample links" file.
Overall, after adding those backlinks together and de-duplicating the unique URLs, we've finished with 15,911 unique backlinks.
We got 63 extra links from using 2 reports instead of one. This is something, but compared to almost 16,000 it is still not enough (for me).
Anyway, 16,000 backlinks is quite a lot already. Let's see if we can squeeze any more.
After downloading the URLs from the www.extremetacticaldynamics.com/catalog folder, I've managed to get 2,221 unique backlinks from the "Latest Links" report and 2,137 unique backlinks from the "more links" report. Overall, after adding those up and de-duplicating both reports, we got 4,357 unique links! Both reports were almost completely different!
Now, drumroll please…after adding our 4,357 backlinks from www.extremetacticaldynamics.com/catalog to the report for www.extremetacticaldynamics.com, we've managed to get 18,735 links for a total of 2,824 extra links! Maybe I'm an SEO geek, but that is really awesome.
That's almost 3,000 backlinks I didn't have before!
For those of you not as excited as I am about getting more links, I have a quick TL;DR.
Almost 3,000 backlinks I didn't have before!
| | | | |
| --- | --- | --- | --- |
|   | "More Sample Links" | "Latest Links" | Total |
| URL: | www.extremetacticaldynamics.com | www.extremetacticaldynamics.com | www.extremetacticaldynamics.com |
| Links in CSV | 16,078 | 16,078 | 32,156 |
| Unique Links | 15,856 | 15,848 | 15,911 |
| URL: | www.extremetacticaldynamics.com/catalog | www.extremetacticaldynamics.com/catalog | www.extremetacticaldynamics.com/catalog |
| Links in CSV | 2,224 | 2,224 | 4,448 |
| Unique Links | 2,137 | 2,130 | 4,357 |
Summary
Total unique links from Main Page
15,911
Total unique links from Subpage
4,357
Total unique links from Main + Subpage
18,735
How to use this technique in LinkResearchTools
This is all happening in the background. Actually, it has been like this for more than 6 months now!
All you have got to do is have your Google Search Console Account connected to LinkResearchTools. Backlinks will be pulled out of the Google Search Console account (from the main website and subfolders) automatically while running any Link Detox or BLP report.
To connect your Google Search Console, follow the instructions found here.
Once connected, you should see both pages connected in your LinkResearchTools settings.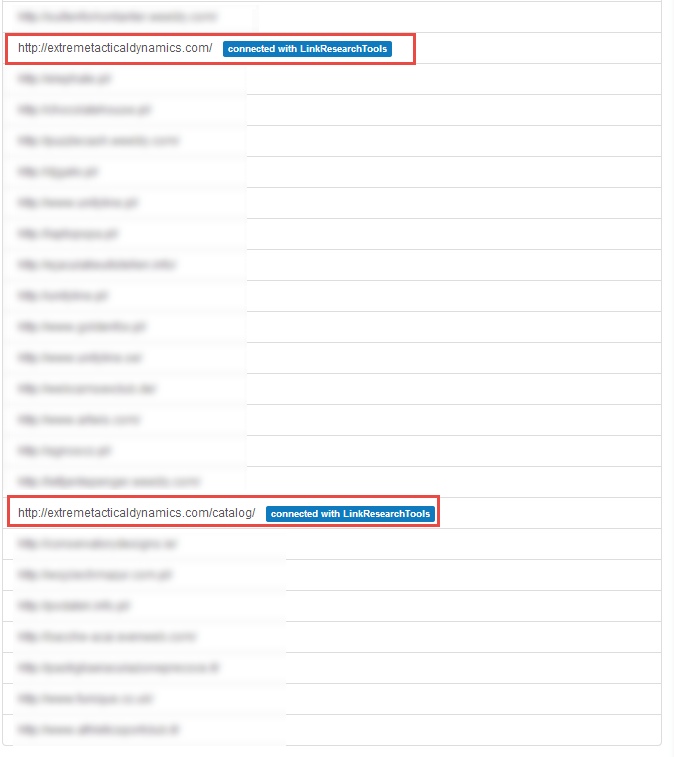 Why is it worthwhile to connect your Google Search Console account with LinkResearchTools (even without subpages)?

As you can see, by simply connecting the Google Search Console account, you get more than 30% more backlinks!
TL;DR
Authorize pages of your domain in Google Search Console and Get almost 3,000 extra links!
Summary
With all the link-craziness going on recently, this technique is really a magical cure for many companies struggling (and paying quite a lot) to get more backlinks.
This technique can be used in many different ways (for example, to work only on pages hit with a Partial Match manual penalty).
I've used it many times already, and sometimes it reveals more backlinks than any crawler and scraper can.