A Detailed Summary of Your Backlinks
Get the most comprehensive backlink analysis possible for your own and your competitors' sites.
The Backlink Profiler (BLP) is the most extensive backlink analysis tool on the market, when it comes to actual data and a multitude of metrics. Obtain backlinks from your domain and learn from backlink profiles of your competition. In addition, BLP helps you find the strongest text links, not existing links, missing image description and the like.
Benefits of the BLP
Create the most comprehensive backlink profileThe BLP allows for deep dives into backlink profiles of any domain or page. Highly sophisticated charts and visual elements help you understand the data you're looking at in seconds. Explore details of every single link with just one click.
Find out more about your link prospects Once you have found some link prospects, you can use the BLP to dive deeper and find out more about the pages where your link could be. The BLP results show you the most comprehensive, real-time backlink report for any domain or page.
Identify abnormal inbound links By just taking a look at the visualization, you can use the BLP tool for diagnosing problems such as abnormal inbound links which may be causing Penguin Penalties. If this is the case you should then run a DTOX to create a disavow file and clean up your backlinks.
Improve existing linksYou can use the BLP to find mentions of your site so that you want to change to links. You can also find images with missing alt text that you want to be added. In such case, you can contact the webmaster in an automated manner. Simply use our PitchBox integration.
Evaluate your backlinksYou want to know how many of your backlinks have an LRT Power*Trust™ value of 0 or are a NoFollow? By using BLP you can filter and export these with the help of the appropriate detail chart.
Analysis of anchor texts by keyword distributionDo you want to know for which anchor texts you need to create links? With the help of keyword distribution, you can detect if you have too many Brand/ Money/ Compound or other keywords. Compare those with your competition and check which distribution is normal for your niche.
Competition analysisAnalyze your competition's backlinks and try to find potential and good link possibilities.
Deep Link RatioShould more links to the homepage or sub-pages be created? Find the answer with Deep Link Ratio.
Use of deleted linksYou can also try to rebuild old links that have already been deleted. With BLP you can also show all your deleted links with [LinkNotFound] and reconstruct them if necessary.
View of site-wide/ deleted/ duplicate linksYou have started a Link Detox, but want to see site-wide/ deleted and duplicate links, too? Activate the right function before creating your BLP report.
Reach out for better linksYou can use the PitchBox integration for a quicker outreach from this tool.
BLP Features
With BLP you obtain a detailed overview of an existing backlink profile for any domain. BLP evaluates linking anchor texts for you and thus helps you to find weak and strong links fast and quickly. Learn more about the distribution of your keywords with the help of BLP by classifying them as Money/ Brand/ Compound/ Other keywords and analyze your deleted links. With the display of your deleted links, you can reactivate good, old links.
Starting a BLP report
Start your BLP – from the "start report" dashboard.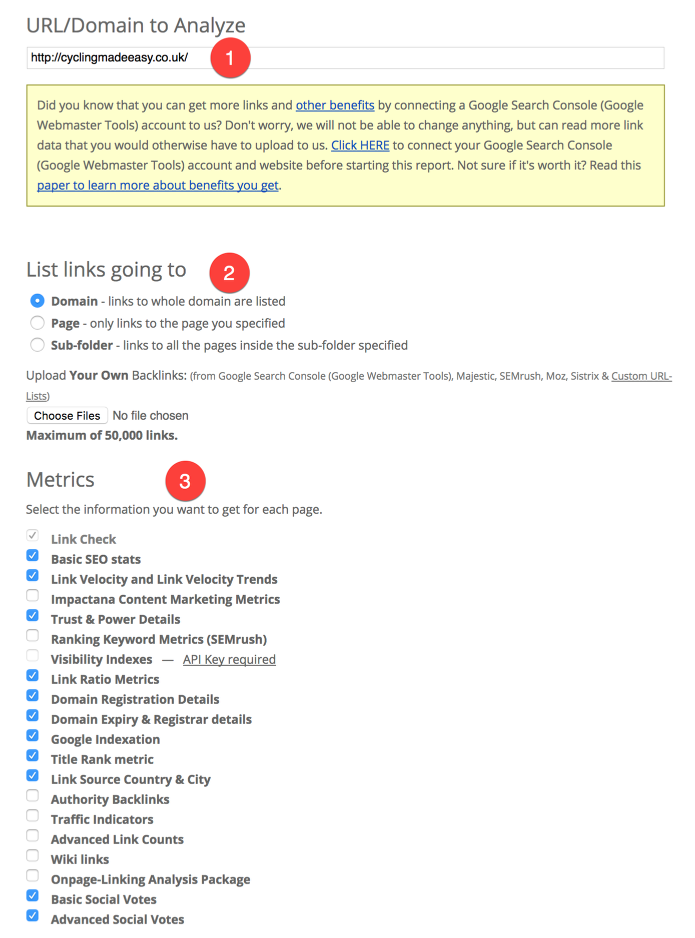 Enter the name of the URL (domain or page) you want to analyze.

Select if you want to analyze:
The backlinks of the entire entered domain (domain), including all sub-pages.
The backlinks of the entered URL/ page (page), e.g. "http:/ / www.21st.com/ company".
The backlinks of pages from the entered folder (sub-folder), e.g. "http:/ / www.21st.com/ company/"
Or analyze only the uploaded file.
You can also upload your own backlinks from other sources (we support formats from Google Webmaster Toolkit, Sistrix, Moz/ Linkscape, Majestic or all URL lists in .csv format).
Select your desired metrics.
Press the "Run Report" button and wait until your report has loaded.
Please note that if you decide to include the Title Rank metric for Homepage, in your report, the Site-Wide Filter will be automatically enabled to skip the SW links to 5.
Advanced options
In the "Advanced options", you can use the following settings for BLP:
Report Title
Site-wide Links-Filter
Dropped Links Handling
Repeat Report

Interpretation of the Results
The BLP gives detailed backlink results of your entered domains/ sites/ sub-pages and can evaluate by using various metrics if a backlink is good or bad. You receive a multitude of charts which help to answer your questions.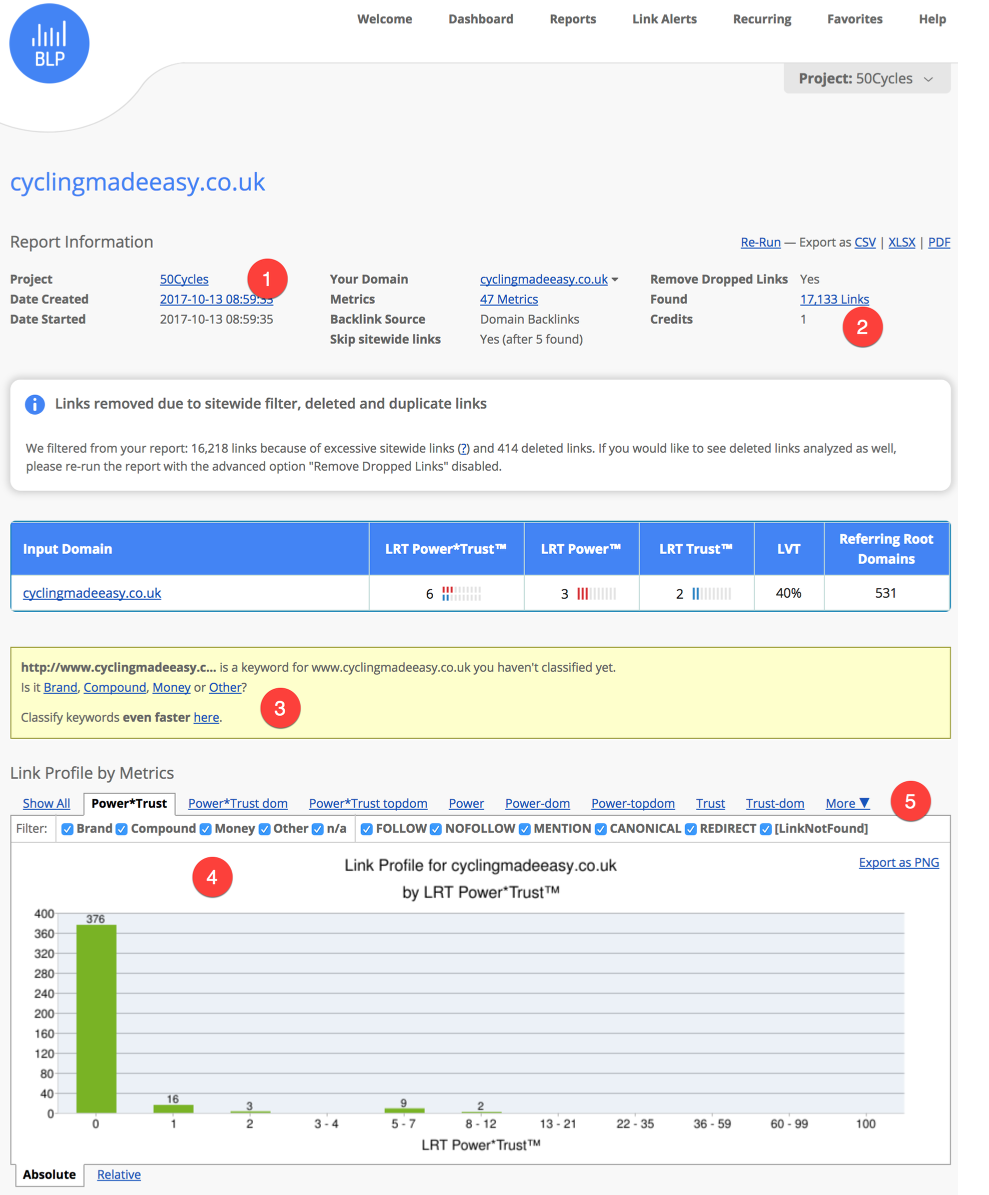 The Report Information shows you the basic information about your report.

Here you can learn how many site-wide, deleted and duplicated links have been removed from your report. In principal, we recommend keeping the site-wide link settings, because it secures a realistic picture of your backlink profile. We set 5 as a standard value of a site-wide links filter.

Categorize your keywords (see chapter "Classify Keywords").

Here you can view all metrics that you have chosen, e.g. Basic-SEO-Stats.

You can switch between the tabs. Every tab shows you another metric.
Further down in the report you will find the link detail table, in which you can access detailed information and metrics to the found backlinks.