Quick Domain Compare (QDC)

Fast Comparison
Compare your own site with your competition and find out in seconds who is doing best and why.
The QDC tool is the perfect starting point to quickly start several different reports for an analysis of your competitors.
The Quick Domain Compare Tool (QDC) gives a rapid summary of up to 5 domains that you have entered. In just a few seconds, you get results which helps you decide which domains need further analyses. You can even start new reports with one click. It is also very well suited for domain purchase decisions.
Benefits of the QDC
Quick decision – See if you need to go into more detail
You want to get a quick overview of domains that you would like to buy. With QDC, you can quickly decide if you need to analyze the domain in greater detail.
Comparing your site with your competition
Using the QDC tool you can compare up to five domains very quickly, this is usually your own site and four competitors. Use this to find out why your site isn't ranking as well as your competitors and how you can improve.
Identify the gap in ranking keywords
The QDC tool will show you for how many keywords you rank compared to your competition. With just one click you can dive into more details. This gives you some excellent opportunities to create content for the missing keywords yourself. Your competitors may not even know that they are ranking for some phrases that rank on the second page of Google. By doing a better job for these keywords, you can easily outrank them.
Helps with quick domain puchases
If a domain auction is about to end, you may need to make a quick purchase decision. QDC can help you instantly.
General Search Engine Optimization comparison
Check the overall quality (Power and Trust) of different domains quickly.
Quick start of several tools for several domains
You can make an overall analysis of different domains and start several tools simultaneously without tediously starting every tool separately.
Starting a QDC
Start a QDC from the LRT Classic Dashboard.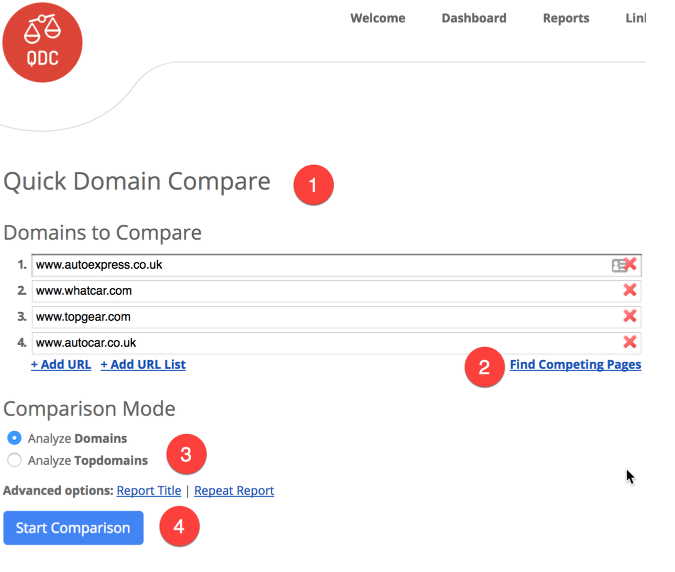 Enter up to 5 domains to compare directly.
If you do not know your competitors or want to compare domains to a specific keyword you can find them quickly and easily with the option "Find Competing Pages".
Choose to compare domains or top-level domains.
Press the "Start Comparison" button and wait until the report has finished loading.
Advanced Options
In the "Advanced options", you can use the following settings for QBL:
Report Title
Repeat Report
Interpretation of the Results
QDC shows you a quick summary of the quality of up to 5 domains with a predefined metric set. The predefined values are: LRT Power*Trust™, LRT Power™, LRT Trust™, Impactana Buzz and Impact, Link Velocity, Alexa, theme, country, ranking Keywords, domain popularity, IP popularity, ClassC popularity, links to the Domain, .edu links,.gov links, Facebook Shares, Facebook Likes, Facebook Comments, Facebook Votes and Google +1.
The overall winner, i.e. the domain with the most "wins", the one with the highest number of best domain values in all categories, will be highlighted in green.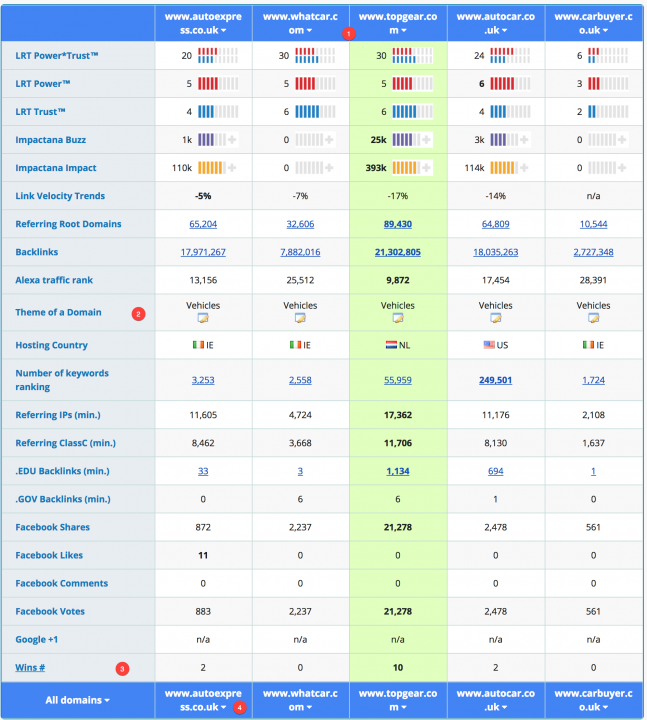 The columns are showing you the different metrics for each domain. The green column is the overall winner compared to the other domains.
You can edit the themes of the domains.
The metric "Wins #" is showing you, in how many metrics the domain is better than the others.
"Wins" are also used Competitive Keyword Analyzer to depict the winner. A Win is often based on the higher numeric value of different SEO metrics such as the LRT Power*Trust™, the number of backlinks, the number of linking domains and many more.
With the drop-down menu, you can quickly start reports with other tools.
With the drop-down menu, you can quickly start reports with other tools.
In the QDC detail table, you can start several other reports for the analyzed domains.
Start Reports for Many Domains
In the bar at the bottom, you see icons for different tools and the "All domains" button. By clicking on the icon you can start a report for the particular domain. Bulk URL Analyzer (URL), CLA, CLV, CDTOX and LORT are feasible. In this way, you can work more efficiently.
You can either start a certain report for all domains simultaneously or you can start reports separately by clicking on the drop-down feature on the footer table or header-table.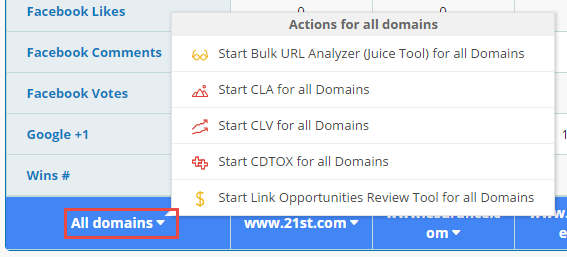 Start Reports for One Domain
Moreover, on the side of each domain at bottom of bar, a drop-down appears next to the domain for more context actions. By simply clicking on the side of the link, you can visit the domain's homepage or start a DTOX, QBL, BLP, SSPT or LJR report.