Import thousands of URLs and identify the strongest link potentials.
The Bulk URL Analyzer (URL) has been developed to get a fast overview of SEO metrics for an arbitrary number of URLs and domains. The unique LRT Power*Trust™ is included, which measures the relevance of a page as well as the metrics of partners such as SEMRush.
Benefits of the Bulk URL Analyzer
Helps you decide when planning to buy expired or used domains
If you are considering buying some domains, you can upload a list of thousands of domains and analyze them in bulk with the Bulk URL Analyzer (URL). The results of the Bulk URL Analyzer (URL) can easily help you decide which domains are most worthwhile. The Bulk URL Analyzer (URL) is used to profile large lists of URLs and find the strongest link potentials. If you plan to use a good selection of powerful domains you can load them into the 'Link Simulator'. You can read more about this here.
Metrics evaluation
Bulk URL Analyzer (URL) also helps you find out all the important metrics from different domains and URLs.
Competitive Compare
Use this tool to compare your competitors with each other.
Link Directories
Bulk URL Analyzer (URL) allows you to detect link directories.
Repair of Subpages
A convenient way to repair subpages (using the SITE function: command via "Find competing pages").
Bulk URL Analyzer Features
With the Bulk URL Analyzer, you can analyze up to 93 SEO-metrics via bulk analysis in a single report. Metrics are freely selectable in detail mode and due to the link detail table you get a quick overview and can filter according to your needs. With the help of Link Boost, you can analyze URLs in large numbers.
Starting a Bulk URL Analyzer Report
Start a Bulk URL Analyzer (URL) Report from the start report dashboard.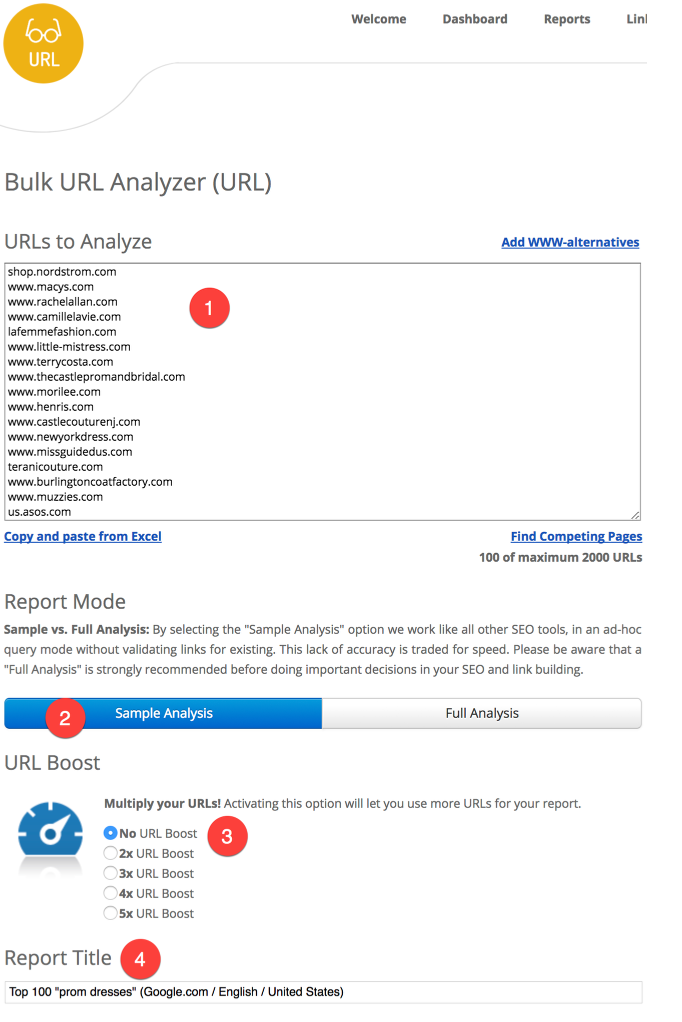 Enter the URLs you wish to analyze. You can enter them manually, import from Excel or add them using the function "Find competing pages".

Select if you want to display a quick analysis with a set of pre-selected metrics, or select a Full analysis in which you can freely choose the metrics displayed in the report.

Choose URL Boost to add more links.

Choose a title for your report.

Press the "Run Report" button and wait until your report has loaded.
Specific Functions and Settings
With the URL Boost, you can determine how many URLs you want to upload. You can read about the Upload Limit in the chapter "Products".
A special additional function for the Bulk URL Analyzer (URL) is the integration and availability of information on our API interface. The LRT API allows you to start Bulk URL Analyzer (URL) reports for a list of URLs and metrics (depending on your package).
Advanced Options
In the advanced options, you can use the following settings for the Bulk URL Analyzer (URL):
This tool also supports bookmarklets. Thus you can start the Bulk URL Analyzer (URL) from any site you are looking at and analyze the backlinks of this site. If you are looking at a site you want to analyze, you can start a report directly from your bookmarks.
Interpretation of the Results
With the Bulk URL Analyzer (URL) you get an overview of the entered URLs. You can decide based on these metrics whether these URLs are efficient or poor and thus analyze potential link targets. You get a multitude of charts which can easily answer your questions. Every single URL is also listed in the link detail table.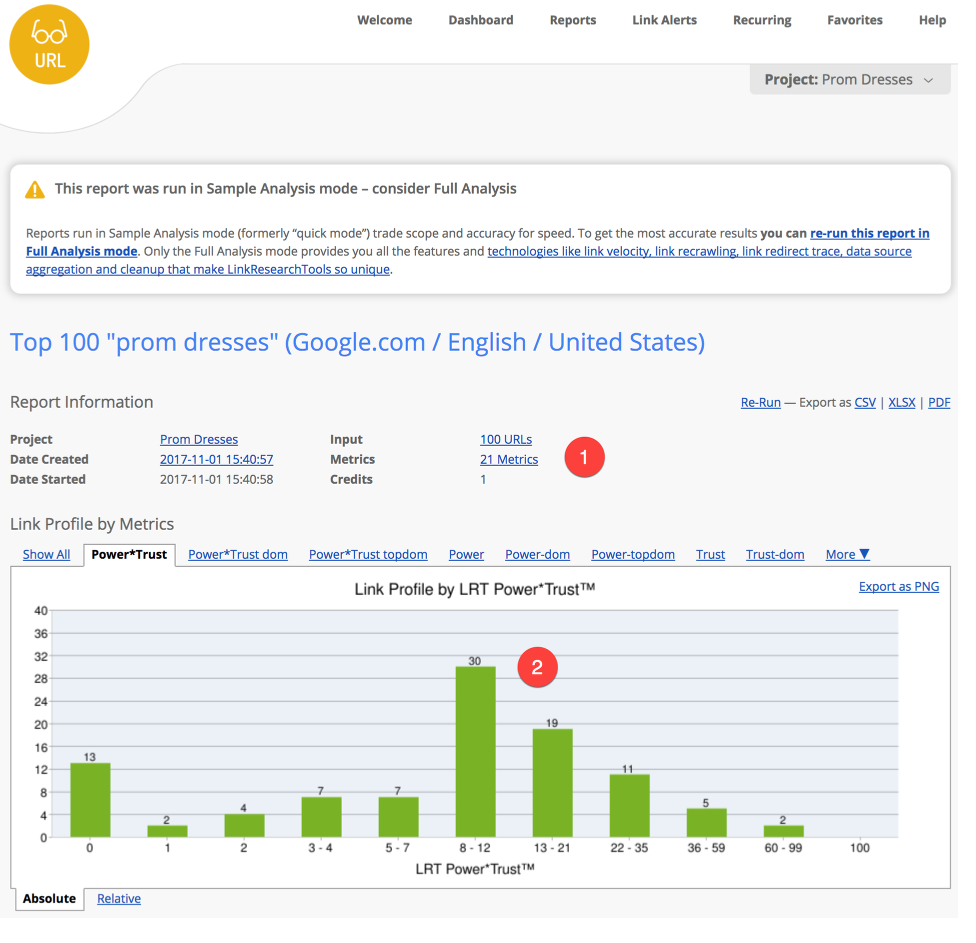 The report information provides you with information about the basic data of the report, e.g. 100 URLs have been entered and are analyzed after 21 metrics.

Here you can see the various histograms. You immediately see whether the entered URLs have a high value of PowerTrust and the like. In this example, 30 URLs have a PowerTrust value between 8 and 12.
Further down in the report, the link detail table is displayed. Just filter for the values that are important for you.

At the side of each found link in the detail table, a drop-down appears next to the link for more context actions. By simply clicking on the side of the link, quick details such as LRT Power*Trust, LVT, Number of Backlinks, DomPop will be displayed on the Context Menu for Page, Domain or Root Domain of the relevant link. From here you can also start QBL, BLP, DTOX report for the selected URL. Also, you can see the "Historic versions" and "Ranking keywords."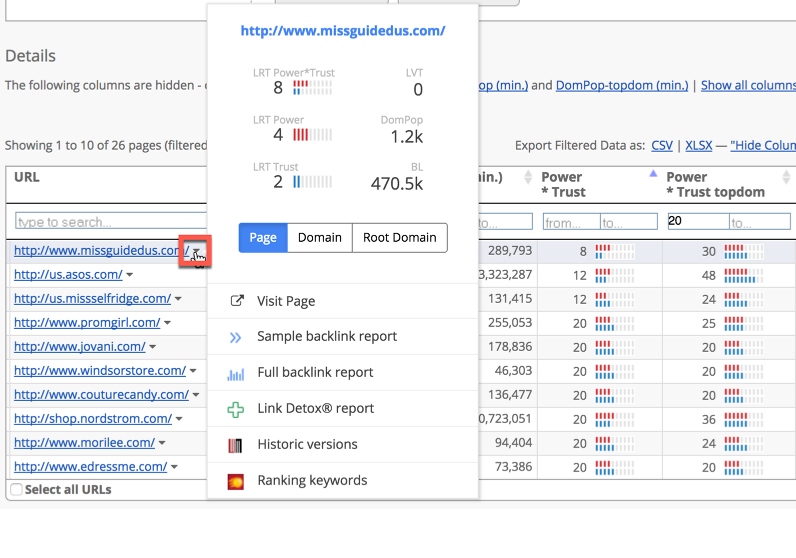 By clicking the (+) symbol next to each link, further reports can be started from an extra dashboard, including BLP and DTOX: