Overview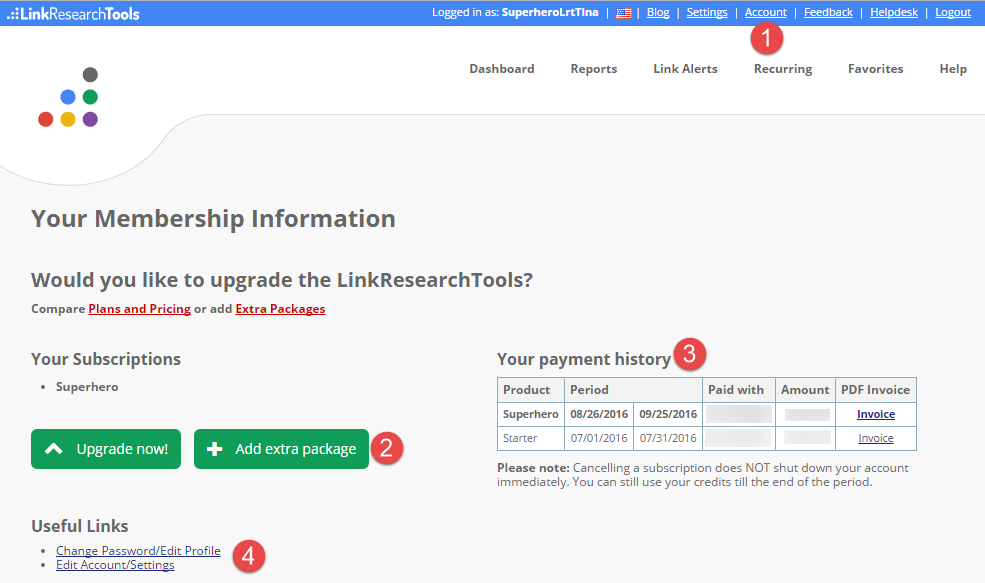 Clicking on "Account" in the navigation takes you to this account management page.
Would you like to upgrade your subscription or buy add-ons? Then click on one of the green buttons and select the desired product.
The table "Your Payment History" allows you to download your invoices.
The link "Edit Profile" will take you to a form which allows you to change your billing address and password.
Changing the VAT registration number
Please note that the VAT registration number, can only be changed by the LRT Customer Success Team, and only for new invoices moving forward. Please contact us in that matter directly.
Grandfathered price
If you are long-time customer benefiting of a "grandfathered" price, you will see your loyalty price displayed in your account, in comparison to the price a new customer or a customer with manual invoicing needs to pay .

Language Switch
You can switch the language of your user interface by simply clicking on the flag icon at the top of your account dashboard.

Changing tool icons
If you wish to work with the original legacy tool icons of LRT Classic, then use the "Show old icons" option, at the top of the dashboard.