6. Import Backlink Data Files
LRT uses many different link data sources already, but we always recommend you to upload additional available backlink files.
This way you can improve your results because we will combine and verify any data you upload.
Backlink source files can be from Google Search Console or even your old link building reports you received from many years ago.
We recommend giving your files meaningful names, including dates.
If you are unsure how to download your linking pages from the Google Search Console read this.
If you wish to download a disavow file from the Google Search Console, you can read our documentation here.
Supported file formats to import disavow data
For disavow files we support
disavow file downloaded from Google - CSV format, which looks like this:
disavow file that you export from LRT - TXT format, which looks like this:
Supported file formats to import custom backlink data
The LRT custom backlinks file is simple and only has one column to make link discovery as easy as possible. We crawl them anyways, so no need to have useless and outdated metrics in there from 3rd parties.
Example file to use as template: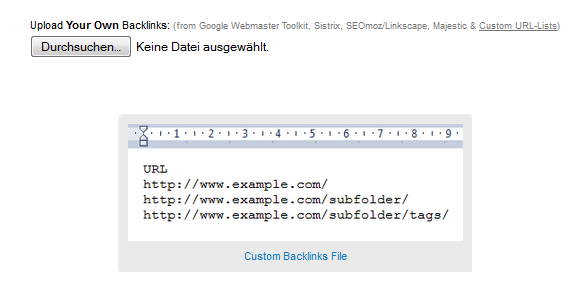 Supported file formats to import from 3rd party tools
The system accepts backlink data files exported from various other 3rd party tools and link databases.
Currently supported formats are:
Google Search Console
Moz/OpenSiteExplorer
SEMrush files with semicolons
SEMrush files without semicolons
Sistrix
Ahrefs
XOVI
SerpStat
SEO PowerSuite
LinkBird
Make sure you first download your actual backlink data files from the above 3rd party tools.
Please use the supported compression formats .GZ or .ZIP to upload the very large .CSV files for link data.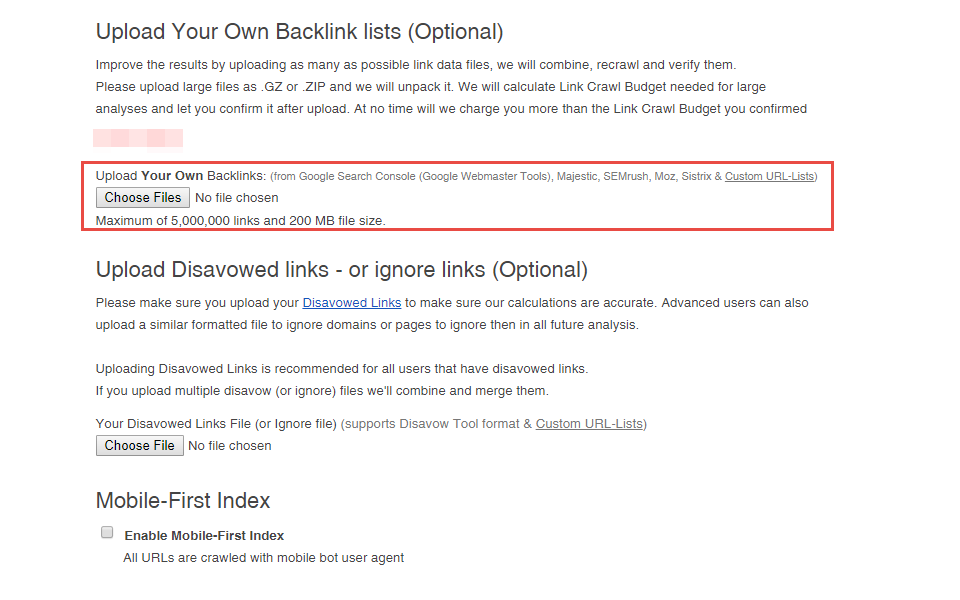 It sometimes happens that other vendors change their file formats without notice. In this case it's possible that our importer fails. Please contact our customer success team in this case and we'll investigate possible solutions with you.
Custom backlink file format
You can give us any number of custom URLs to upload and check for links in a simple custom backlink file format.
If you have data from an unsupported link data source, you can create such a file easily with some work in Excel.
Please note
there's only 1 column (i.e. no columns)
the first line must say "URL"
all additional lines must be correct URLs.
Don't worry if some of them cause errors in crawling. Validating that data is our job.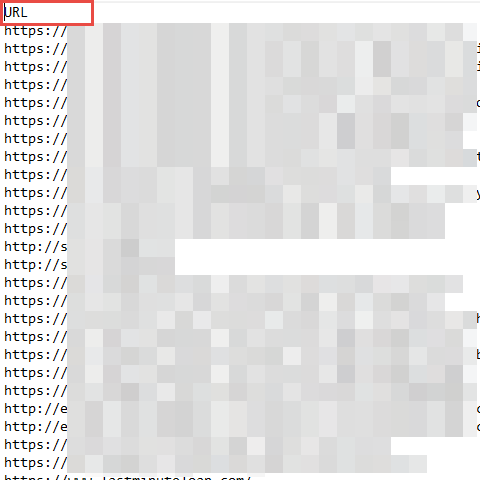 Common mistakes when importing backlink data
The most common mistakes are:
Users uploaded their existing link data into the Link Simulator (LORT)

Link Simulator is for simulating "what if you had those links". When you just want to add more link data, you need to upload those links as additional backlinks.

Users uploaded a file of "linking domains" from Google Search Console, instead of the "linking pages".