Your report also includes a link detail table. It contains all your entered domains, the links we found and your selected metrics. Moreover, you can proceed with secondary analyses from this chart.
Link Data Export
You can export link data either as CSV/ XLSX or work directly with this chart in the report:

Hide/ Enable Columns
In the link detail table, you can hide columns and also enable once hidden columns again. You can also show all columns at once:

You are able to maximize or minimize the link detail table just as you like. Just click on the free space next to the chart.
There are two options to hide columns:
Filter Columns mode: Here you can directly "Hide" the columns in the table.

Hide Columns: Here you can choose from a list, which columns you would like to hide.

In order to add the columns again to the table, you just have to click on each desired metric above the link detail table.
Detail Functions per Link
If you click the plus (+) next to one of your source URLs, which appears if you hover the cursor over it, the "Details to your URL" open.

Details to your URL
From here you can start several URL-actions: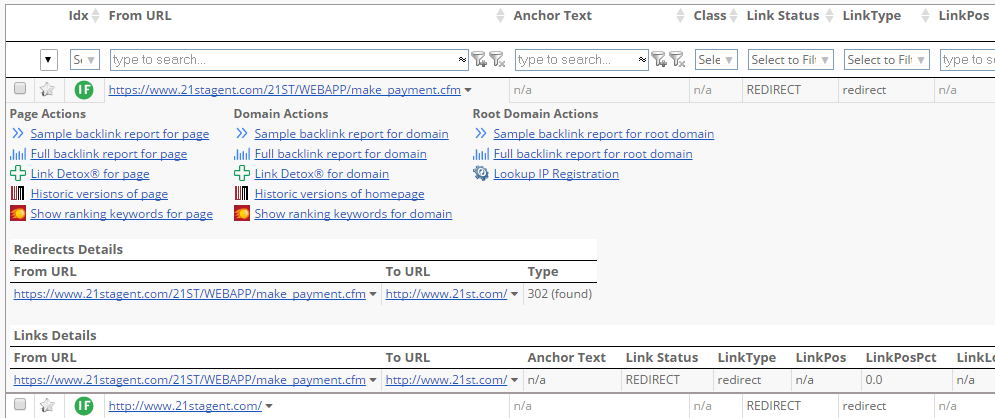 Examples:
Would you like to know more about the details of the domain of this URL? Simply query the Whois information.
Would you like to view this URL again later? Then put this URL to your "favorites", so you can quickly access it later.
Moreover, on the side of each found link in the detail table, a dropdown appears next to the link for more context actions. By clicking on the side of the link, quick details such as LRT Power*Trust, Link Velocity Trends (LVT), number of backlinks, DomPop will be displayed on the Context Menu for Page, Domain or Root Domain of the relevant link.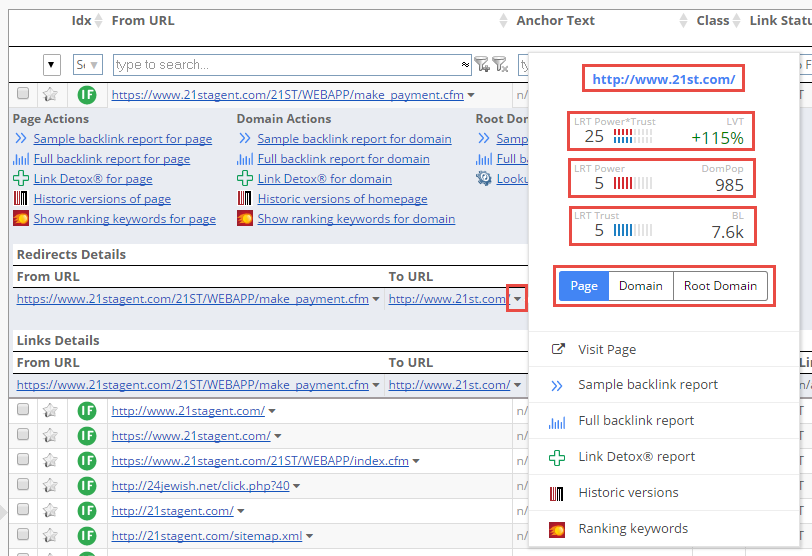 If we detect "Neighborhood Domains" for an URL, we display all these domains in the link detail table. More than that, we include a context menu that provides page, domain and root domain information for each URL in the neighborhood.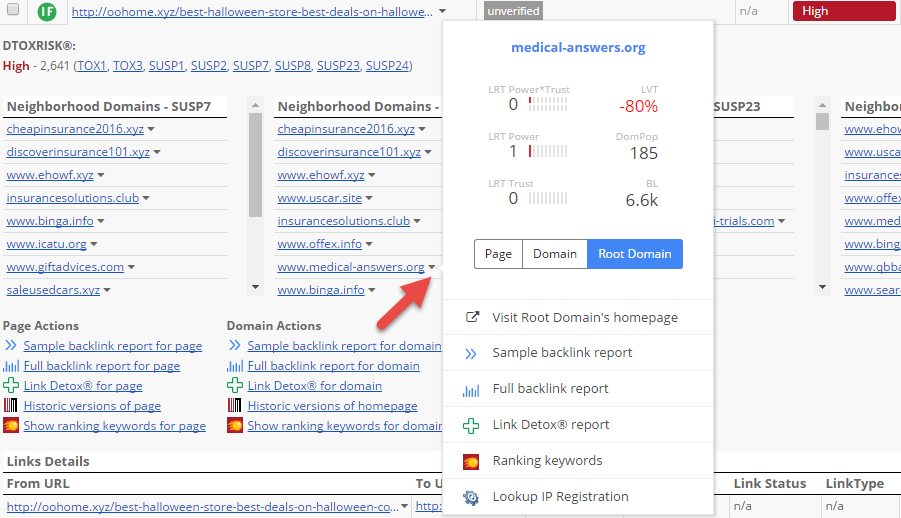 Bulk Actions
If you would like to start reports for multiple links, you can do that with bulk actions at the table footer.

In Link Detox, you also have the advantage to disavow, undisavow, rate links or add and remove tags on bulk. Just filter for the links in the table where you want to apply the bulk actions.