Learn from a Deep Dive into a Penguin 2.0 Victim's Spam Penalty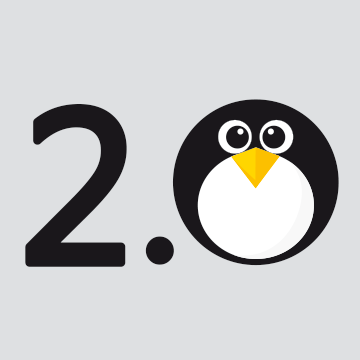 This case study was created using an LRT Superhero account.
Some of the use cases explained in this case study are not available in lower plans.
Deep Dive into a Penguin 2.0 Victim: HOME24.DE
So the Google Penguin 2.0 update launched on May 22 finally, long waited for.
Some people mentioned it wasn't as harsh as they expected or hoped for; other's lost more than half of their traffic
overnight.  Those spammy sites that still stick around are topic of another case study I'm already working on.
Today we're looking at a definitive loser of the Penguin 2.0 update – HOME24.DE
This is a German site selling furniture and much more and Sistrix was quick to calculate their loss today of -59% for the visibility index.
Since HOME24 this is a major brand, also engaging in TV advertising it's worth looking into it in more detail, and try to learn what went wrong, and what they could improve or could have improved.
Don't feel turned off because it's a German site. In fact it doesn't matter which language it's in. As long as you remember that "Möbel" or "Moebel" stands for "Furniture" you'll be fine.
Here's what you will learn
Not such a surprise?
It's not a surprise actually; something has been cooking for months.
Here is a screenshot from Sistrix' (not yet updated) chart, showing a decline since February.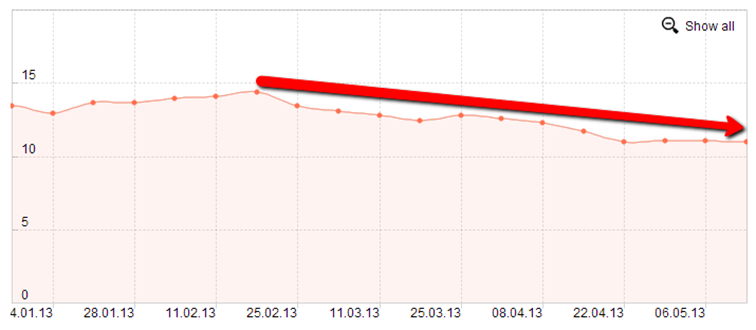 Looking at SearchMetrics we see that their traffic declined since February, including the Penguin 2.0 drop. And you can tell, that this drop was MASSIVE!
Did they receive an Unnatural Link Warning?
Something we cannot answer here, but suspect, is – did they receive an Unnatural Link Warning in February?
It looks like that month was the month when their rankings started to drop.
Quick Domain Compare – how do they match up?
A first quick look at the affected Home24.DE domain and some of their competitors
www.baur.de
www.ladenzeile.de
www.ikea.com
www.heine.de
in the furniture niche (specific to Germany) using our QDC tool goes like this

And a couple seconds later we get the
result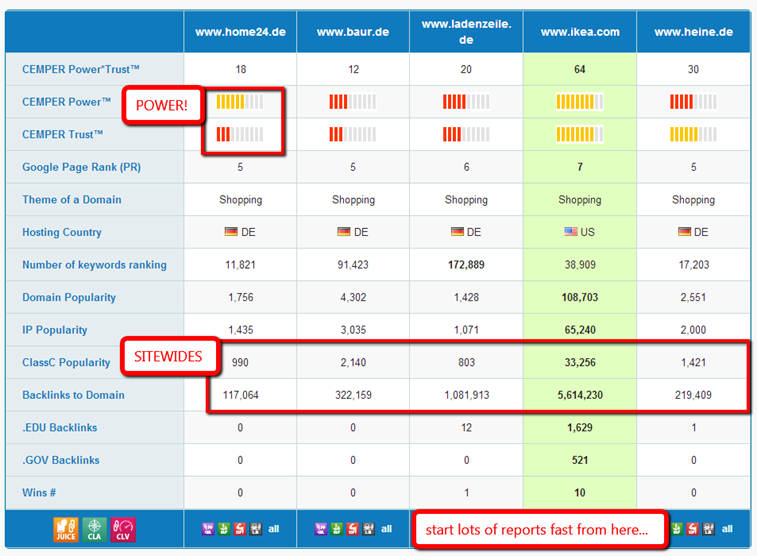 Looks like too much POWER – LRT Power™ to be precise
The first thing that strikes me is that the LRT Power™ value is WAY higher than the LRT Trust™ bar for HOME24.DE,
while their competitors are somewhat more balanced.
Now don't get distracted by IKEA, which is the winner here, but it's also I-K-E-A. A global brand, also very popular in Germany. They are a lot stronger than the others, but that should not concern us here. It's merely to understand quickly what a natural pattern could look like.
If you read up on what LRT Power*Trust is actually here you will notice the popular matrix here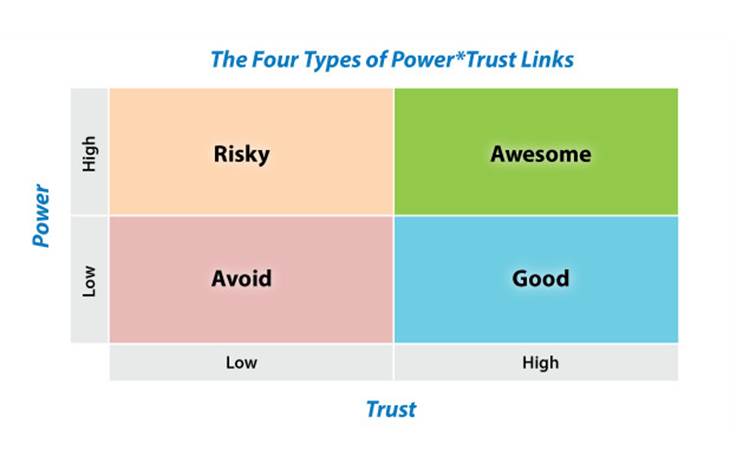 And what this tells you – of course based on a single link, but also true for the overall link profile, that links that have a High Power, but Low Trust are risky. Risky links suck when Penguin comes around, and that's why we introduced these very popular metrics last year right after Penguin.
Too many site-wide links?
Now looking at the Class-C Popularity, the number of different class-C networks that their links are hosted on and comparing them in ratio to the number of links to the domain another thing
strikes me.
Those hundred thousand-something links come from only 990 different Class-C network and 1.756 domains. That's ~2 domains per Class-C on average and especially 121 links per domain on average. That's not very natural. It appears others have similar high ratios, but it's noteworth that a HUGE brand like IKEA has way different ratios.
So take note of this and let's dive deeper.
By clicking on the tool icons below I can conveniently start other reports.
SEO Analysis Project Setup
But first we'll setup those competitors to default for the whole project.
Organizing stuff in projects is important if you work in different markets and countries, just like many from the 87 countries we have clients in work into the US and UK they probably also work into their own country… so pick the project

And make sure all the settings for your country match up. After all you don't want to look at your German site with UK settings or vice versa, especially when we fetch important data from SEMrush or other API integrations.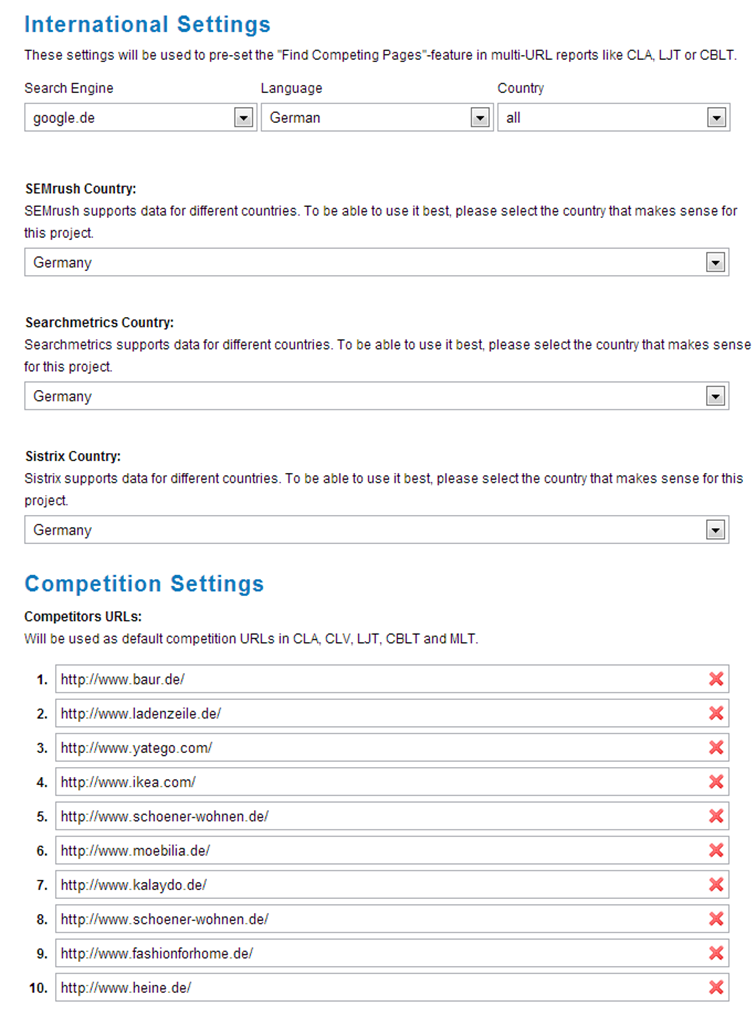 As you can see I added 10 total competitors in the German furniture niche, which will help me speed up future analysis in this project, because I don't have to type them in over and over again.
Quickly Diving deeper into their links with QBL
Using our Quick Backlinks tool I just want to get a feeling for their links, so I click that small purple button to start a QBL for the whole domain.
Immediate questions I want to have answered
 How do their anchor texts distribute
 Do they have something that looks fishy at first glance
 Do they have sneaky redirects, i.e. from strong domains that I should dive deeper into
Actually looking at the profile now I realize that HOME24.DE is the rebranded set of shops from FP Commerce, and they used to have separate domains for lamps, gardening and basically every other niche, just like CSNSTORES (now Wayfair).
Apparently they merged all those domains into one using 301 redirects. and their link equity together into one domain.
Ohoh – that's a lot of potential to maybe have spammy stuff done years ago hit you without realizing at first glance.
Hmm – penalties were said not to pass via 301 redirects in the past – did that change with Penguin 2.0? 301ing was used for a while to get rid of penalties, and it looks like if that change it would open up a whole new can of worms for negative SEO.
Big time.
Hard Money Anchor Texts?
Looking at those strongest 30000 links in the first QBL, I realize that there's a really tough money anchor text "Möbel Online Kaufen" (means "Buy Furniture Online") really very present, besides many links for their brand name.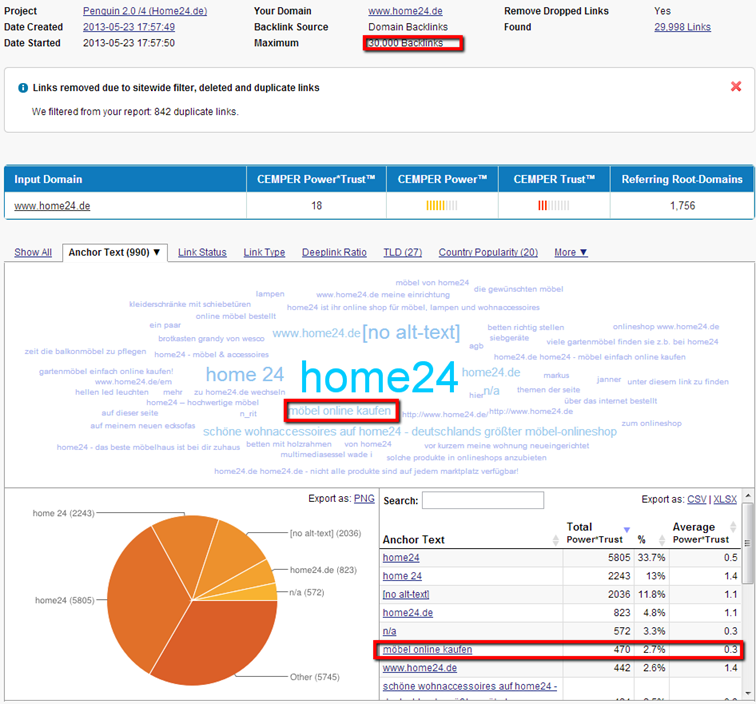 This reminds me, that I thought about site-wide links before, and seriously, how likely is it that 470 different people link to you with the exact same money anchor text.
This could be skewed by sitewides, so what I need to do is enable the site-wide filter in a re-run. Skipping more than 5 links in site-wides is the default and best-practice from my experience. It helps overweight sitewides a bit in the stats, but not behave as if 10.000 subpage links would work like 10.000 links from different domains.

And Voilá – it disappears, and the biggest Power*Trust transferred is for a quite OK brand name distribution, as it should look like.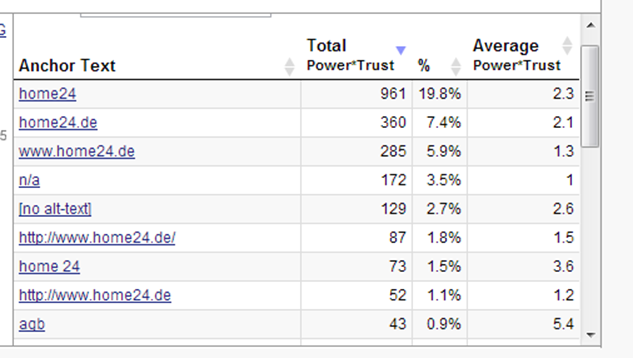 Now I think this is a good example for showing why the site-wide filter makes sense to apply in link analysis, but it also means, we have to dig deeper.
Doing a quick check for that keyword with a simple table filter we see that while that one money keyword was only placed on two websites, we see "Möbel Online Kaufen" was used in a very varying style in many other links. Something not shown below is that those links are all on pretty low Power*Trust pages, AND the linking urls seem to be quite optimized as well for keywords.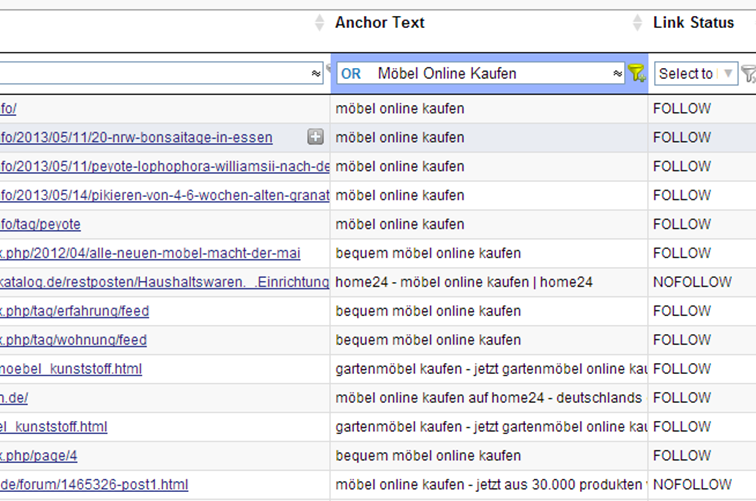 Time to look at some of them.
Some paid blog posts
Looking at this page for example we see a brief blog post from April 2012 with two money keywords, both linked directly to the site.
http://www.duergy.de/index.php/2012/04/alle-neuen-mobel-macht-der-mai/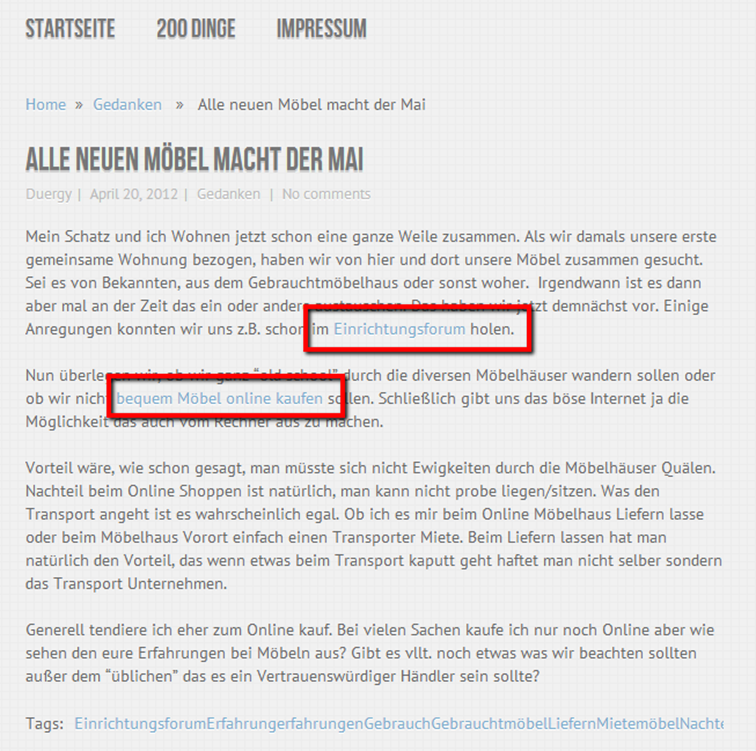 And the stuff I find here doesn't look much better.
http://dreibeinblog.de/thomas-pet-friends-t1-aqua-filter-schon-nach-6-monaten-kaputt-teil-4/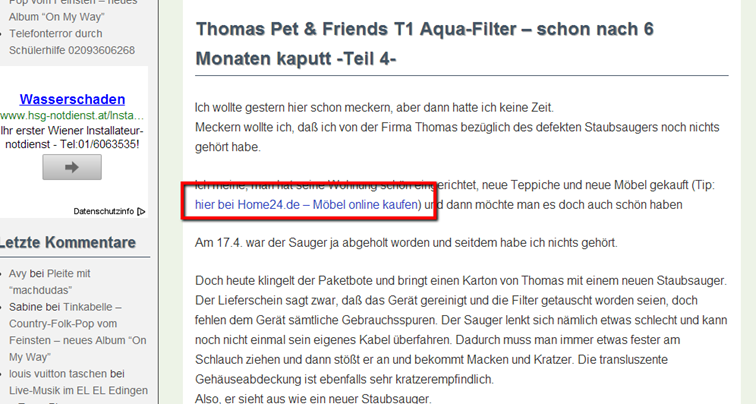 They linked phrase  "hier bei Home24.de – Möbel online kaufen" is what we call a compound keyword, where brand and money keyword are combined (more about that here). This way to combine money and brand phrases became popular a while ago, but frankly, this doesn't look to natural to me either.
Plus that site quality overall…well…
What I find interesting is that this link e.g. has the CSS class "broken_link". Now not sure what that is good for, especially since this link is not broken, but Google probably didn't buy that either.

Another link from this page screams paid links...
http://laden-de.com/garten/gartenmobel
scroll all down to the bottom to find this obviously paid link, albei labeled as "RSS" :-)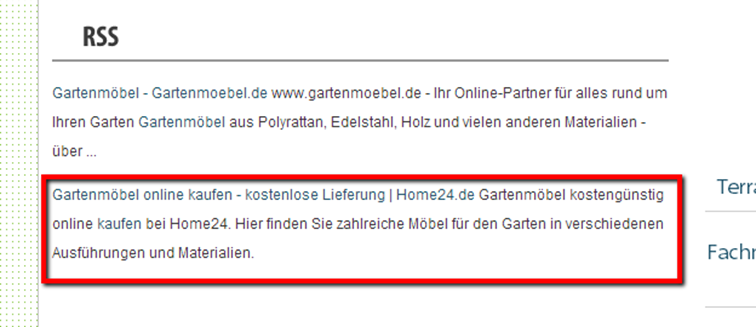 And a bit further to the right we find these "related sites". Take note that the first one even links to an English outdoor furniture site. They are somewhat related, but the whole block stinks like paid links do at first glance, don't you think?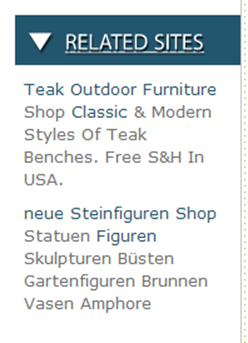 A Quick Competitive Landscape Analysis with CLA
Now realizing there's something going on here, I want to make sure I understand this industry fully and start the Competitive Landscape Analyzer (CLA). In quick mode it also only takes a couple seconds to give me a full comparison of link profiles of the HOME24.DE site analyzed vs. its competitors.
Looking at the first link profile (a histogram actually) charting LRT Power*Trust™ I notice a couple things immediately.
The percentage of LOW quality links with Power*Trust 0 and 1 is WAY higher than the average for the TOP10, TOP5 and especially the TOP3
The percentage of HIGH quality links with higher power trust is really marginal, compared to the competition.
Then switching over to the Link Profile by Keyword classification I immediately see that while the others have around 7% (TOP3) and 14% (TOP10) of their links for money keywords, our candidate HOME24.DE here has 25% of their links withmoney keywords, at the cost of brand keywords (only 57% compared to the average of 69%).

Now looking at this we can be pretty sure, that they had a pretty aggressive SEO strategy in place and did not try to follow my standard rule to blend into the competition.
Now what about those redirects?
Since the company merged many sites into one in the last year or so, it probably makes sense to analyze those as well… time for a full detailed BLP (Backlink Profiler) that will give me all details about link locations, site types of linking sites, but more important redirect traces…
As you can see below, we have quite a bunch of redirects, also a lot passing link juice.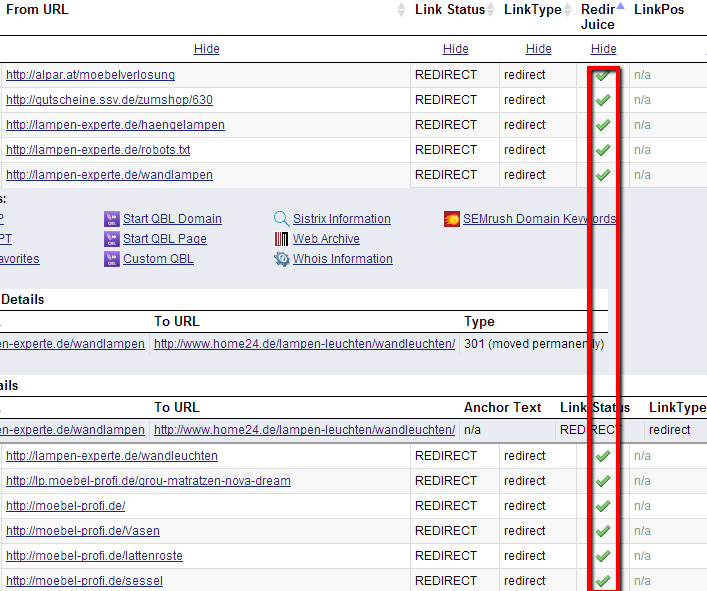 There's a bunch of tracking URLs that use 302 or meta-refreshes, not passing Link Juice as you can see below… that huge Redirect Trace with 302s in it doesn't pass Link Juice at all, so I wouldn't worry about it now.
BTW – do you know any other link tool that provides you that detail?

So let's focus on those domains that seem to have
A) Sufficient linking domains
B) Sufficient Power*Trust
C)  Therefore deserve our attention for now
Link Detox to analyze the risk in your links for own and redirecting domains
I hear you – where's Link Detox in the game. The previous steps were just required to gain an understanding of how the link structure is built up – and owners or SEOs of a website usually have that.
Now I want to look at Link Detox results and the Link Detox Risk calculated for not only HOME24.DE but also those major domains redirecting to it.
So I started Link Detox for
and the previous niche-sites
moebel-profi.de (furniture)
www.fp-commerce.com (the company site)
lampen-experte.de (lamps & lighting)
www.gartenmoebel-experte.de (outdoor furniture)
grillkamin-vergleich.de (chimneys)
which were all redirecting completely or partially to the mainsite home24.de…
The results were… interesting.
Mainsite home24.de
43.8% healthy links, is a pretty toxic link profile.

And some links in there possess a huge risk already. Let's look at them.

A link page with > 1000 links (SUSP17)
http://ks369145.kimsufi.com/new/new0006.html
Then blogspam on pages like this
http://blog.martha-s.de/2012/01/heute-mochte-ich-euch-noch-einige.html

Which is by the way on the same IP as 30 other linking domains (SUSP7)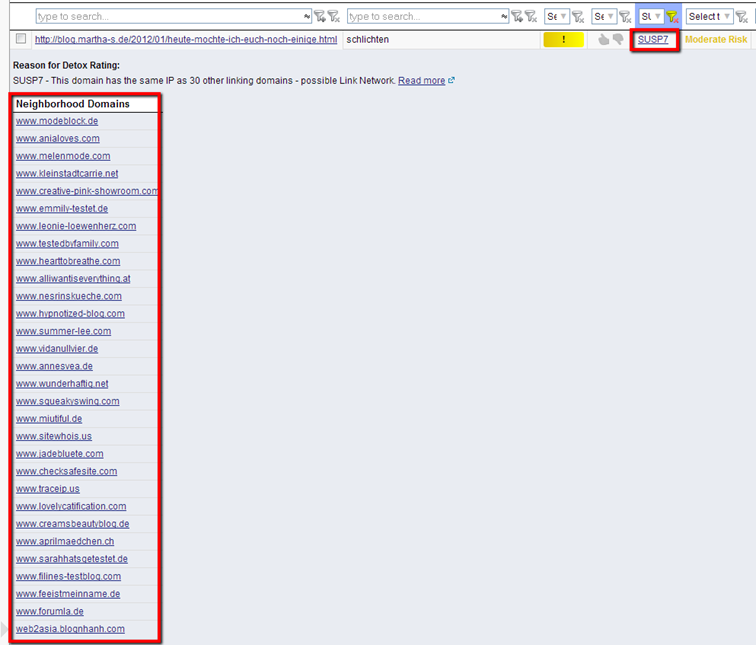 That all carry enlighted content like here http://www.anialoves.com/, fully of money keywords linked from questionable blog posts. Please note, these are 3 links to HOME24.DE, not one.
In that one line of text.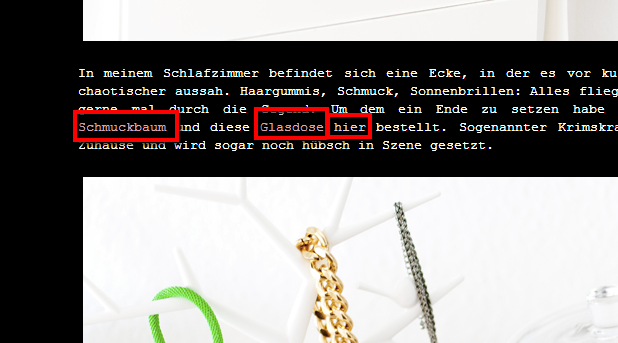 Redirecting site moebel-profi.de
This seems to be a previously promoted niche site that now redirects all link juice and traffic into HOME24.DE.
And as can be seen below, 293 links to a sub-page "/betten" is 301ed to the respective category on the new HOME24.DE.
That makes sense. You wouldn't want a domain with 15k domains just sit ther without helping your new domain, will you?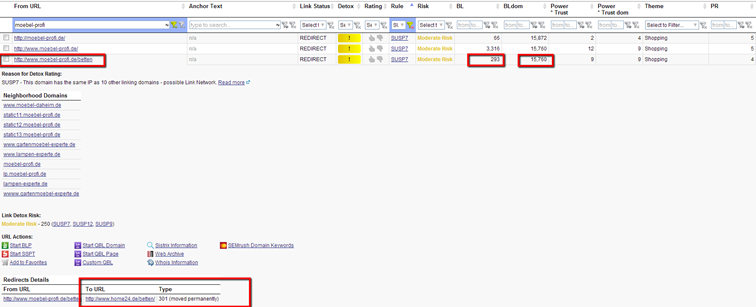 But then, this redirect game has been going on since 2006 when I started buying expired domains like many others, just to exploit their link juice of the past.
What I wrote last year for the EMD update seems to be true here again. Did Google finally close some loopholes they had open for years?
Let's take a look at the actual Link Detox Risk for that redirected domain moebel-profi.de.
Oh yeah – lot's of sitewide links filtered.

And again, only 40% healthy links.
And when I pull up some of those not so healthy links I see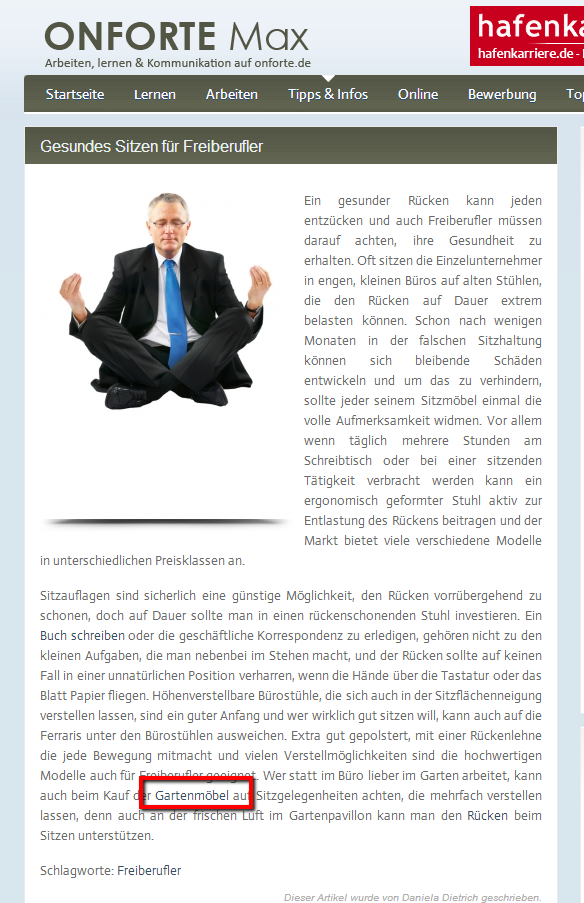 At http://www.onforte.de/gesundes-sitzen-fuer-freiberufler/
And more money keyword links in a paid blog post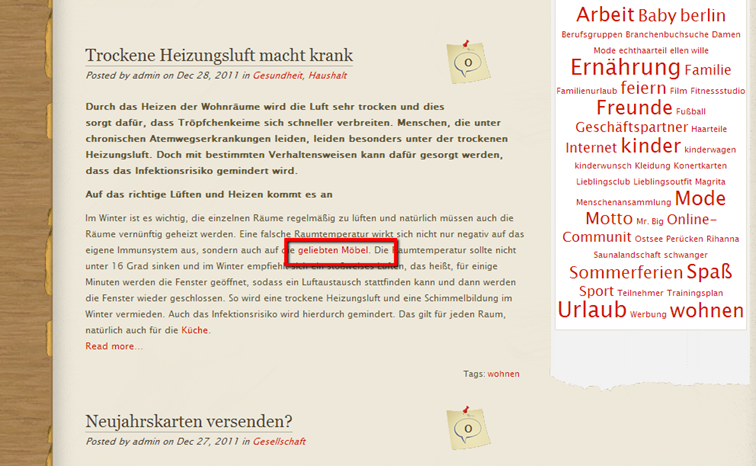 (BTW – this template looks so familiar, think I've seen this on paid blog post sites that Interflora used as well)
And then this spammy post comes around at
http://moebelprofi.blog128.fc2.com/blog-category-0.html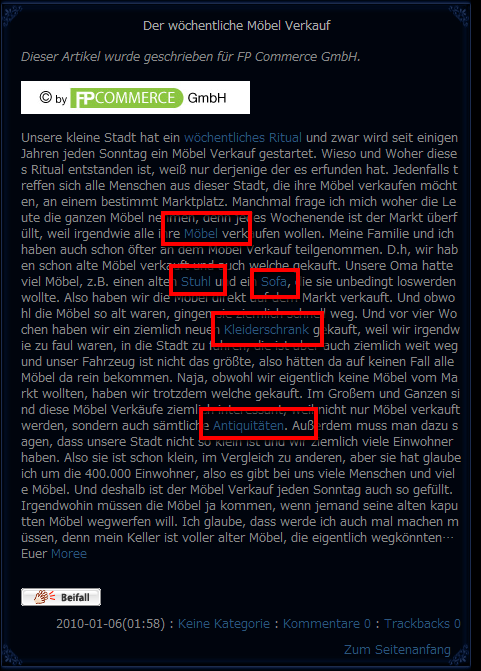 Now that URL alone freaks me out, but just take a look at all those money keyword links, all going to Moebel-Profi.de
Redirecting site gartenmoebel-experte.de
Another site, previously promoting gardening and outdoor furniture. Redirected to the main site HOME24.DE at some point.
Just look at this money keyword link here.
http://www.hausbau-infoportal.de/garten.html
Luxurious gardening stools. Not so anymore.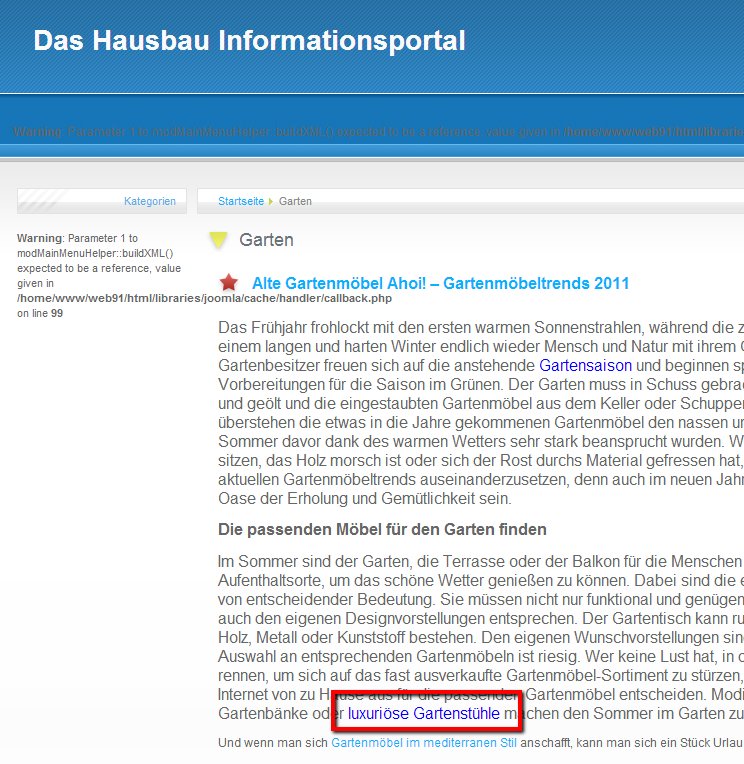 And another "paid" or "built" link on this made-to-sell-links site at
http://www.hausbau-blog.com/garten/paravents/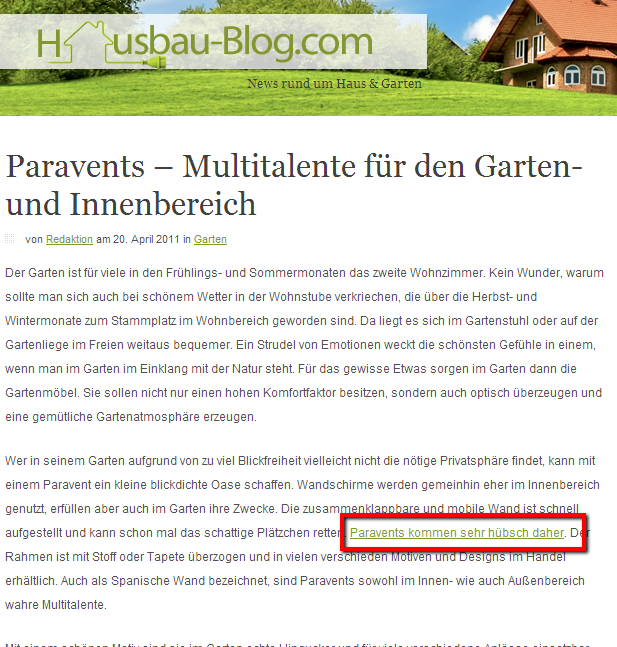 I guess you get the point. Another SEO story of the past. Pushed into the SERPs back then, when Google didn't really care or enforce action against link schemes like this.
Redirecting Site lampen-experte.de
And a third one to complete the picture. Merely 40% Healthy.
http://www.artikelforum.de/wohnen-und-leben/die-renaissance-der-kronleuchter.html
a "free for all article directory". Guess what, Google doesn't appreciate free for all sites for a while.
And there's another money keyword link embedded inside 100 poor German words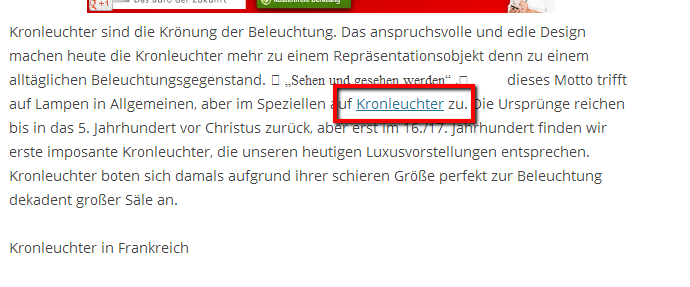 And there's ton's more like that.
Conclusion of the Link Detox mania
Without spending more hours diving into this for you, I can tell you that the redirecting sites don't look healthy or natural at all.
And for like seven years now it was the "best-practice" to 301-redirect domains or pages that received a penalty or got filtered,
simply because Google "forgot" about the penalty and just passed on the Juice.
It looks like
"NOT SO ANYMORE!"
Conclusion of this Penguin Penalty deep dive
This is the first part in a series of deep dives into Penguin 2.0 victims. But frankly. What we see here screams SPAM.
If we assume that redirects work differently now, then this is a game changer.
We'll see a whole new stampede of negative SEO attacks that are really easy to do. All you need is a couple sites that were penalized in the past, and you can buy them en'masse on expired domain networks, and redirect those to your competitors. Nice, ha?
The case here isn't negative SEO, but a proof of how the game changed, once again.
My favorite comment on the Interflora penalty post was this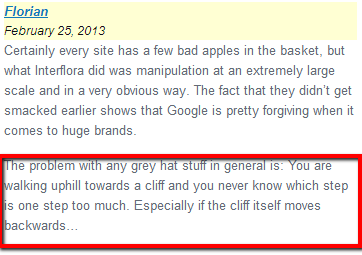 Yes, damn. That's it.
The problem with any grey hat stuff in general is:


You are walking uphill towards a cliff and
you never know which step is one step too much.
Especially if the cliff itself moves backwards
The past or present SEOs acted right with what was "best-practice" in 2011 or 2012, but in 2013 the risk of your links is defined not only by what you do today, but what you did in the past.
I repeat – if you don't watch out for the risk inherent in your past or present link building practices, you will be doomed and suffer, just like this site.