Google Update: Penguin 4.0 - the "Real Time" Link Algorithm
By

Christoph C. Cemper

in Google last updated 08/10/20 01:21 pm by

Christoph C. Cemper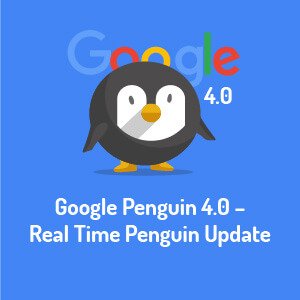 The Real Time Google Penguin Algorithm is LIVE
Google Penguin 4.0 is officially part of  Google's Core Algorithm, according to an official statement given by Google on September 23, 2016.
"Penguin is now real-time. Historically, the list of sites affected by Penguin was periodically refreshed at the same time. (…)  With this change, Penguin's data is refreshed in real time, so changes will be visible much faster, typically taking effect shortly after we recrawl and reindex a page. It also means we're not going to comment on future refreshes."
The "real-time feature" implies that effects of the Penguin algorithmic filter, i.e. demotions and promotions of organic rankings for a website due to link spam (unnatural links) happen faster than in the past. In the past, every Google Penguin update brought drastic changes. Penguin 4.0 is the last Penguin update in history. There will be no other update.  
Important points about the Real Time Penguin
The Google Penguin positive or negative signal is now recalculated on crawl. Link Detox Boost is therefore the perfect tool also to "test & try" links effects and not only make the disavow work.
Google Penguin now not only affects the whole site (or not). It has its impact on all levels like domain, folders, pages and probably also keywords and keyword groups. So anything that goes into the organic rankings will now be affected by the Penguin algorithm on a fine level.
Because of 2. it will be harder to diagnose "small Penguin penalties" in many cases.
Since Google Penguin will be more granular, it can mean that an aggressively SEOed part of a website trips the Penguin filter, while other parts are ranking fine. This will makes doing a competitive research using Competitive Link Detox (CDTOX) for every main topic a site covers more important to understand different risk level standards.
Because of 4 the "Subfolder Analysis" Feature of Link Detox will become one of the most popular features to diagnose and fix Penguin bases ranking issues (in conjunction with Link Detox Boost).
You can read our latest Q&A about the Granular Real Time Google Penguin here.
The internet started going crazy about the Real Time Google Penguin
SEROUNDTABLE announced the Google Penguin roll out right after Google announced it
Google rolls out the real time Penguin 4.0 update, more details at https://t.co/XdTJ3pslIy pic.twitter.com/waVrnnK37G

— Barry Schwartz (@rustybrick) 23. September 2016
https://twitter.com/rustybrick/status/779295570938716160
Penguin is now real time and part of the core algorithm. It took a while to launch it, but totally worth the wait imo https://t.co/ItQM8XxuQ5
— Gary Illyes (@methode) September 23, 2016
The Real Time Penguin will not act at Page-Level, it's simply more granular...
https://twitter.com/methode/status/779311298173558786
Correction: Penguin isn't "page-level", it's simply more granular, via @jenstar https://t.co/w4nHzFm2Bl

— Cyrus Shepard (@CyrusShepard) September 23, 2016
https://twitter.com/CyrusShepard/status/779326294580428800
Some remember the nightmare of the Google Penguin 2012 launch...
People are following the Real Time Penguin update all around the world
Google ha actualizado hoy Penguin. Google rolls out today a new Penguin update in all languages.#googlepenguin https://t.co/XKf3mLNwf0

— Marketing Ayuda (@MarketingAyuda) September 23, 2016
https://twitter.com/MarketingAyuda/status/779342431217221637
What we recommend moving forward with Google Penguin 4.0
It's still early in this update. However, some principles remain and one new aspect is the game changer – "Real Time". How much real-time that "Real Time Penguin" might be, it's going to be a lot more frequent.
But there's still network and processing power needed for all those massive crawls and calculations, so I wouldn't be surprised if "real-time" really translates into weekly or daily.
Link Risk Management, the practice of proactive link audits and disavows gets, even more, important for your business – and we always recommended to do it on a weekly basis. Maybe faster in the future. The post-penguin basic principles for link building and SEO remain
A link can help or hurt - positive to negative effect, vs. positive or nothing pre-Penguin
You need to analyze your FULL backlink profile – it's about ratios. It's wrong to think that the few percent that Google Search Console gives you in links would be enough to audit. And don't show any penalized sites, so you're definitely missing out if you're not aggregating all sources you can. LRT was made for that.
Use a machete, not a scalpel for bad links – I know that it's tough to let a so-so link go, but remember it's about ratios
Disavow shady scraper links – Google has better things to do than detect all sorts of scraper spam, so they put it on us
Be careful with redirects – as I found out in Penguin 2.0 update Google passes penalties on with redirects for a while now
Be careful with redirects 2.0 – temporary redirects are handled differently than just a few years ago and can convert into permanent redirects. Did you know?
Content relevance and the "AI" part – "Rankbrain" is here – Google rolled out their new machine-learning in October 2015 that can and will impact search results. this will make results, even more, unpredictable for Google themselves as well. Let's see how this works out.