What is Backlink Monitoring?
The web is constantly changing and this is why you need to keep up a Link Monitoring routine for your website and your business. It's just like setting up Google Alerts for your brand or browsing the newspapers for news about your business.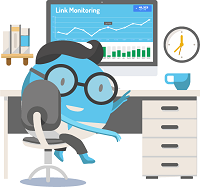 Link Monitoring Workflow
Link Monitoring is the foundation for keeping your backlink profile steady and keeping track of all your links. It helps you prevent negative SEO attacks, analyzing your competitor's backlinks and checking your existing links.
We at LinkResearchTools (LRT) offer multiple tools for you to do that:
LRT Smart
In the new LRT Smart link monitoring automatically built it.
Just setup the recrawling frequencies in the Link Crawl Budget Management and you'll get amazing details and insights for any domain you setup.
Link Issues and Hints alerted
Alerts about new and lost links
LRT Classic
Monitor Incoming Links
Setup Link Alerts (LA)
to get notified about new links to any domain.
receive weekly Email notifications when new links are built to your site
This way, you will be the first to know about a negative SEO attack on your domain.
Keep an eye on your backlink profile, but also follow your competitor's link building campaigns.
Keep Track of Existing Links
With the Link Check Tool (LCT), you can
See if the links you built are still alive.
Check your partner links, built links or paid links ads. If a link or if an ad got removed while you are still paying for it.
Setup the schedule how often your links shall be re-checked
Conclusion
The importance of Link Monitoring is often forgotten by many SEOs. SEOs enjoy to focus on building new links while forgetting that the web is not static, but rather constantly moving. This is why new links can come naturally and links you build today could be gone tomorrow.
Link Monitoring tools are the solution for always knowing the current status of your backlink profile.