Competitive Domain Analysis FAQ
What is the difference between Sample Analysis and Full Analysis?
From all the competitive domain analysis tools available in LinkResearchTools (LRT), the Competitive Landscape Analyzer (CLA) has a Sample Analysis and a Full Analysis mode.
"Sample" is a clearer name for the quick mode that trades accuracy for speed. "Full Analysis" is freshly re-crawled, comprehensive link data and is what you need to base decisions on.
What's unique about LinkResearchTools is that it can provide users with their website's full backlink profile. No need to base important decisions on sample backlink analysis.
Not when you can have the full picture.
By selecting the "Sample Analysis" option, we work like all other SEO tools, in an ad-hoc query mode without validating links. This lack of accuracy is traded for speed.
Keep in mind that you are not getting all the technology benefits of LRT in the Sample mode, like:
Re-crawling all the links as we create the report for you
A full check of all – current – stats for link status, server indexability, etc.
Why is comparing my Link Detox Rules with those of my competitors useful?
The comparison of these Link Detox Rules with your competitors is a necessary step in order to understand why your competitors are ranking better than you in the search engines for a particular keyword or why you have received a penalty whereas your competition has not.
The Link Detox Rules are triggered in the Competitive Link Detox (CDTOX) when a backlink has some properties that makes it look risky. In a severe case, this might mean that the link is coming from a website that contains malware or a virus. In a less risky situation, it can mean that Link Detox Genesis algorithm detected a 'footprint' for a domain which is closely related to other domains that link to you. This is often the case with link networks.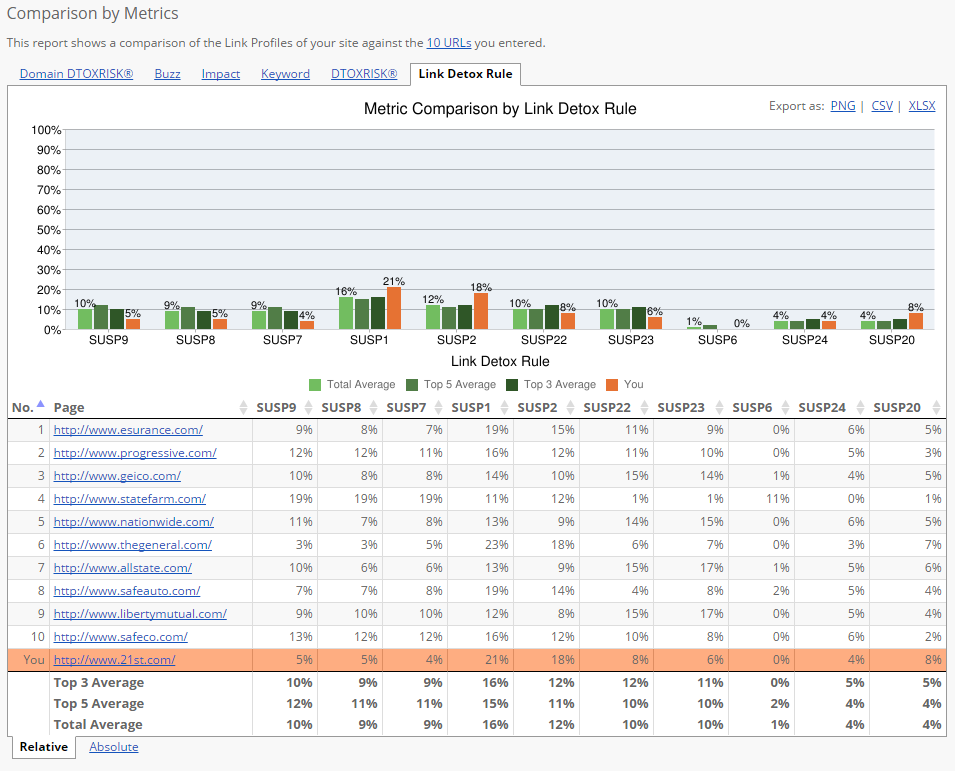 Being able to see which rules are being triggered by your competitors allows you to see what is 'normal' in your niche. For example, you might find that your competitors tend to have a lot of links from article directories. In most circumstances, this would not be seen as a good thing, but if that is what Google expects to see in your niche, then maybe you should have some similar links too.
If you find that some rules behave differently in your niche you can even adjust Link Detox Genesis Algorithm, by creating your own personal DTOXTUNE configuration. This means that you will have CDTOX, DTOX, and LORT working perfectly for your specific niche.
All niches are different. Seeing which Detox rules are triggered by you and your competitors helps you understand your niche better.
When using the Quick Domain Compare (QDC) tool, what is more relevant for a link opportunity, the number of Wins or the Power*Trust?
It depends on your needs. When it comes to link building, you have to check what is natural in your niche. The Competitive Landscape Analyzer (CLA) tool can help you understand the LRT Power*Trust distribution in your competitor's backlink profiles comparedto your backlink profile.
For example, if you have only links with high LRT Power*Trust, then it might look unnatural to Google.
Generally, if a domain has many Wins then it will be a good link opportunity. You should do a quick link audit using the Link Opportunities Review (LORT) tool. This will help you see the impact that a link will have on your backlink profile.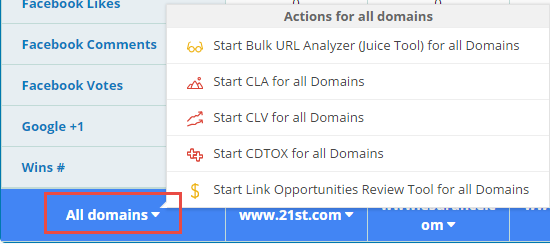 What is the difference between "heatmap relative to all domains" and " heatmap relative to your domain" in a Competitive Link Velocity (CLV) report?
The default heatmap shows you the changes for a certain domain. Every domain has it's own line, and the lines are not connected with each other. So you can see the link velocity of every single domain.
In the "heatmap relative to all domains": every cell/month is calculated relative to the average over all domains for this month.
In the "heatmap relative to your domain": every cell/month is calculated relative to your domain for this month.
Having these display options is useful because we are using averages and big sites can mess up your results. If the report contains a big site, the comparison with all domains is problematic, because the smaller numbers get lost.
What information does the Competitive Keyword Analyzer (CKA) have about a keyword?
For each keyword you add to your Competitive Keyword Analyzer (CKA) report, you can see the Top 10 Google results in your chosen Google search engine, for your country and language. The position on Google's first page is displayed along with a host of optional metrics including Basic SEO stats, Link Velocity Trends, Authority Backlinks, Wiki Links, Social Votesand much more.
CKA helps you understand what you need to do to rank number one for each of these keywords, so you can find out, for example:
How many backlinks does the winner have?
What Link Velocity Trend does the winner have?
What kind of Deep Link Ratio does the winner have?
How old is the winner's domain?
How many pages does the winner have that are indexed by Google?
How many Facebook votes does the winner have?
Google has chosen to show 10 results on the first page so if you can 'back engineer' the details of these 10 sites you can learn how to rank for this keyword.
Should my Link Velocity Trend be similar to my competitor's?
A similar Link Velocity Trend to your top competitors is always great to have. You don't want to stand out too much with either building too many links or too few. If your backlink profile doesn't blend with the ones of your competitor's, it might stand out to Google as being unnatural.
The Competitive Link Velocity (CLV) tool helps you compare the development of your link profile with the development of the link profiles of up to 10 other sites (e.g. the 10 of your closest competitors). This way, you can learn about the link growth and its velocity and find out why your competitors are ranking better than you.
To find out ore about the domains you analyze using the CLV, you can select the domains you want to analyze and do a sample or a full backlink report, quickly compare the domains, or do a detailed comparison of the backlink profiles.