Why can't I see the PageRank metric in LinkResearchTools?
Google's Toolbar PageRank is officially dead. That's why we removed it from our toolkit many years ago. Don't even think about it. In March 2016, Google removed PageRank from the Google toolbar, but the truth is that they rarely updated the toolbar PageRank in the past.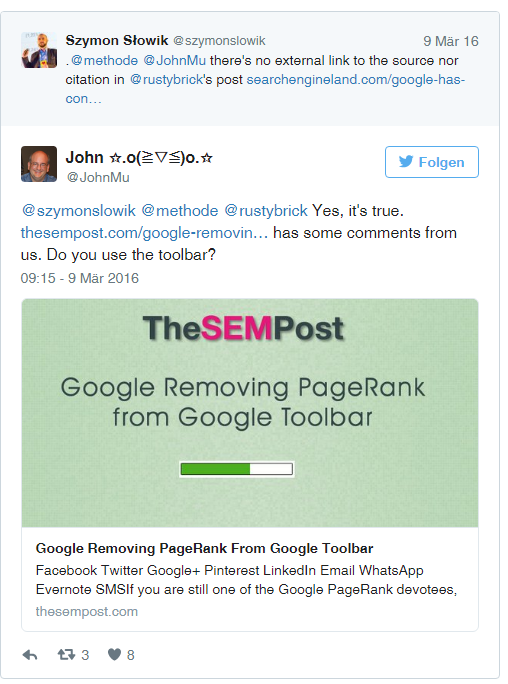 What are the best SEO metrics to replace Google's Toolbar PageRank?
PageRank was not a reliable metric for assessing the quality of a page even in the past. That's why already in 2012, LinkResearchTools developed the LRT PowerTrust metric. It's more than a replacement for Google's toolbar PageRank. LRT Powera reliable set of two SEO metrics that measure the power (like Google PageRank) and more important as the second dimension also the trust of a link.
The LRT PowerTrust metric is included in all the LinkResearchTools plans, and it's also part of the free LRT PowerTrust toolbarme or Firefox. The browser extension shows you the LRT Power*Trust for both page and domain in your browser.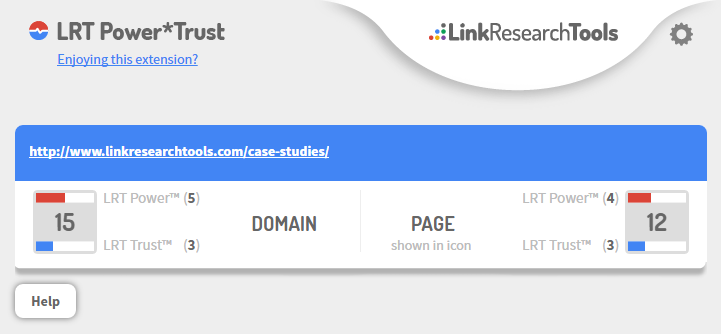 Is there a reliable metric to help me assess if my links are risky?
The best metric to help you assess the risk of each link is Link Detox Risk (DTOXRISK) - a unique SEO metric which calculates the risk of any link, as well as the risk of a domain as a whole (Domain DTOXRISK™).
The DTOXRISK metric is included in LinkResearchTools and helps you decide which ones to disavow, delete or to keep. You can quickly estimate the probability of your website being penalized by Google just by looking at the DTOXRISK score.
The DTOXRISK metric helps you monitor the risk of your backlink profile and avoid tripping a Google algorithmic filter. Looking at it on a regular basis, also helps you keep your website safe from negative SEO attacks.
What metrics can you use to analyze link growth or decline?
There's a special metric in LinkResearchTools (LRT) that you can use for measuring link growth or decline. It's called Link Velocity and it helps you measure the trends of link growth, i.e. how fast or slow the link growth to a page or domain is in a given time span.
Having metrics like Link Velocity Trends (LVT) in your hands for every single link you analyze empowers you to understand how natural or unnatural the backlink growth for any given linking domain is at the moment of analysis.
This is important when planning an SEO campaign. Building too many backlinks over a short period may have a negative impact on your website's rankings. If you build more links than most of the competitors in your niche it can look suspicious and may trigger a Google algorithmic filter.
How to check if the websites linking to me are ranking well in Google?
You can easily check this for your website by doing a Google search, but when you want to see this for all the websites linking to you, it's better to use a tool and save time. LinkResearchTools (LRT) has an integrated TitleRank metric which allows you to determine the ranking position in Google search results, based on the page title for each of your links.
It's important that the links to your website are on domains that are still indexed by Google and are ranking on the 1st SERP page for their homepage title. Most of the times, if a website doesn't rank for its own homepage title, then it's almost sure that it has a penalty.

If a website ranks on the 30+ position for its homepage, it can have a real problem.
You can also check the Google Index (G!idx) metric in LinkResearchTools to see how many Google Indexed Pages each domain has. If it's 0, them either this domain has a penalty or it has some technical issue which caused the de-indexation. It's a good idea to check it out.
You don't want links from websites that Google penalized and de-indexed. They can harm your backlink profile.
How to check if the redirects pass rankings?
There are several kinds of redirects and each of them passes a different amount of power and trust to your domain.
If you want to check a specific redirect you've set-up, you can use the free Link Redirect Trace browser extension built by LinkResearchTools (LRT).
You don't want to do a redirect such as the one in the example below.
This is a META refresh after 15 seconds that then 301s to a 404 page, which returns a 200 error code instead of a 404. It accumulates a Power*Trust of 25 (!). There is lots of link power and trust that gets lost using this method.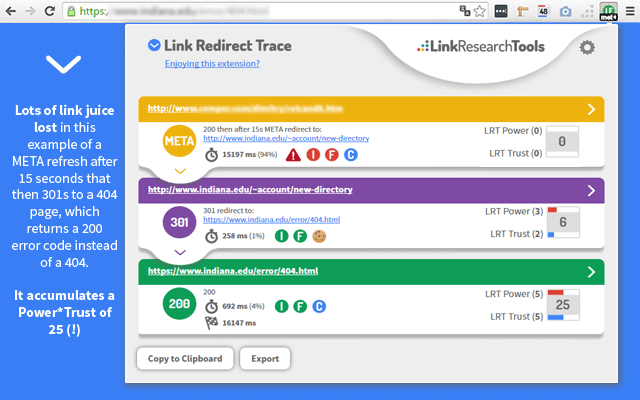 If you want to check all the redirects to your website, you can do a full backlink analysis of your domain using the Backlink Profiler (BLP). For different types of links and redirects, you will see different status icons next to each link.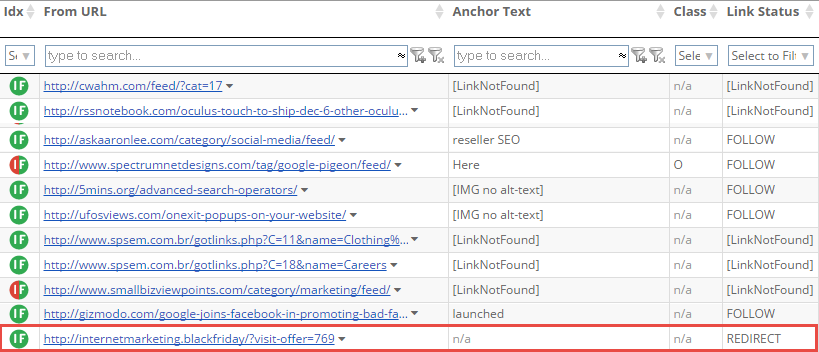 If it's your own sites redirecting to you and you can optimize them to your advantage. If a strange domain is redirecting to you, you should probably check this case in more detail and find out if this is a valuable website or if it is harming you. You can do a DTOXRISK check using Link Detox (DTOX).
Why can't I see the KWPage metric?
KwPage ia a SEMrush metric which evaluates the number of ranking keywords of the page. You need an API Key for SEMrush to see KWpage. It is not necessary for the analysis but if you find it helpful you can add it with the API.
KwDomain reports the number of keywords the domain ranks for. KwPage reports the number of keywords the page ranks for.
What is Class C Popularity?
The Class C popularity refers to a Class C network. In a 32-bit IP address, the number of bits used to identify the network and the host vary according to the network class of the address. In a Class C network, the first 3 bits, or the high-order bits, are always "110." The next 21 bits are used to define the Class C network, and the final eight bits are used to identify the host. The IP address is represented in dotted decimal notation of four 8-bit fields, or octets, that have been converted from binary to decimal numbers.
In LinkResearchTools (LRT), the Class C Popularity metric can help you easily detect link networks and possible issues with a backlink profile. If a significant percentage of a website's links comes from a specific IP address, than either that website has some spammy directory links from the past or might be the victim of a negative SEO attack.

What is the G!idx metric useful for?
LinkResearchTools (LRT) can show you how the backlinks of your domain are indexed by Google, compared with your competitors. You can use the Competitive Landscape Analyzer (CLA) toolto spot abnormalities that your site might have and plan a strategy to blend in. For example, you might find that:
You have an extraordinary amount of backlinks which are not indexed by Google
You don't have many links from large well-indexed sites like your competitors' do
The CLA finds the Google Indexed data for the backlinks of your domain and up to 10 competitors. You can see how your site compares with domains that rank on page one of Google. You should then aim to blend in and then win.
To see this metric in the reports you must run the CLA in the Full Analysis mode and select the metric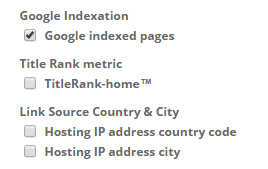 What are Link Type ratios?
Links can be text links, image links, frames, redirects, mentions etc. The most successful sites have a mixture of different link types. If you analyze your competitors you can see the typical Link Type ratios of the domains that are ranking on the first page of Google.
The domains that Google rank on their first page usually have similar Link Type ratios. If your domain does not have a similar ratio it could look unnatural to Google and be devalued because of this. You should aim to have similar Link Type ratios to your competitors that rank for similar keywords, in your language, and in your country.
Sites that have unbalanced Link Type ratios look highly unnatural and can get devalued by Google. Most normal sites have a wide range of Link Type ratios. You can see how your site compares in the Link Type tab of the histogram chart in Competitive Landscape Analyzer (CLA):
In all LinkResearchTools histograms, the orange bar is You, the light green is the Total Average, the mid-green is the Top 5 average and the dark green is the Top 3 average. With the CLA the idea is to try and blend in and not stand out.
You have the option to switch between ""relative numbers" and ""absolute numbers". This can be very helpful if you want to know the exact number of backlinks of your competitor in comparison to your backlinks.