Outreach for LRT Quality Links with Pitchbox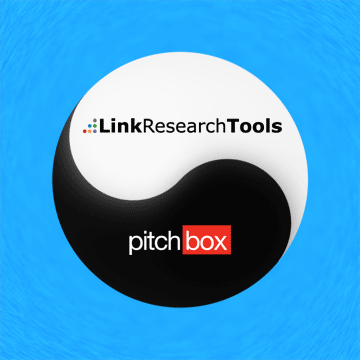 LRT Outreach with Pitchbox
If you have the Link Simulator give you the cream of the crop of links, you can use Pitchbox to perform the outreach in the most efficient way.
Also in case of a Manual Action, Google expects you to contact the sources of those bad links for removal. Also they expect you to show proof of your efforts. In case you don't impress Google, your reconsideration request will fail.
After months of hard work, we presented our PitchBox integration in June 2014. Since then, thousands of our customers used this perfect combination and recovered their sites.
Although it is primarily designed to help you recover, you can make even more use of our LinkResearchTools and PitchBox integration. Read this great case study by Geraldine Edel and learn how to use this great partnership for:
But more than anything, learn how to save your time and money.
Enjoy & Learn
Christoph C. Cemper
Table of contents
1. LinkResearchTools and Pitchbox – Simply an awesome team!
An accurate, dynamic, easy-to-use SEO tool that is essential when fighting against Google. When operating in the complex field of search engine optimization, it becomes more and more necessary to use different tools in order to solve daily SEO tasks. Therefore, integrating one tool into another can help you save time and money. Such a smart integration can be seen in LinkResearchTools' integration with Pitchbox.
After a brief introduction of the tools' operating modes, I am going to show you efficiently usage of them by means of practical examples.
2. LinkResearchTools – Introduction to BLP, CDTOX, CLA, DTOX and MLT
Those who are familiar with LinkResearchTools know that it's almost impossible to give a quick overview of this software, simply because the possibilities for how to use these tools are almost endless. Further, LinkResearchTools isn't one simple tool but consists of a set of 26 single tools!
As this article is primarily about how to benefit from Pitchbox's integration into LinkResearchTools, I will only discuss some tools and features of Pitchbox and LinkResearchTools in detail (see chapter 4).
3. Pitchbox – Introduction
Pitchbox is one of the best e-mail outreach tools on the market so far. The software is really affordable and has some great features:
3.1. Prospecting
This feature really saves a lot of time! The tool automatically finds targeted opportunities for your outreach, including contact information as well as social profile information!
Just enter the keywords you think describe best the opportunities you're looking for. You can look for opportunities either by using short tail or long tail keywords.
A filter helps to limit your search to the most influential sites. Also you can set a metric filter. For instance, you are looking for link opportunities (websites) that have LRT Power*Trust of minimum 10, but not higher than 25.
An interesting detail on the side: The LRT Power*Trust metric will be shown for each website – no matter if the domains have been added manually, via LinkResearchTools or if they have been added due to Pitchbox' prospecting!
3.2. Scalable Outreach
Intelligent Templates let you create personalized outreach that don't look like form letters. They can be stored to reuse for various transactional emails.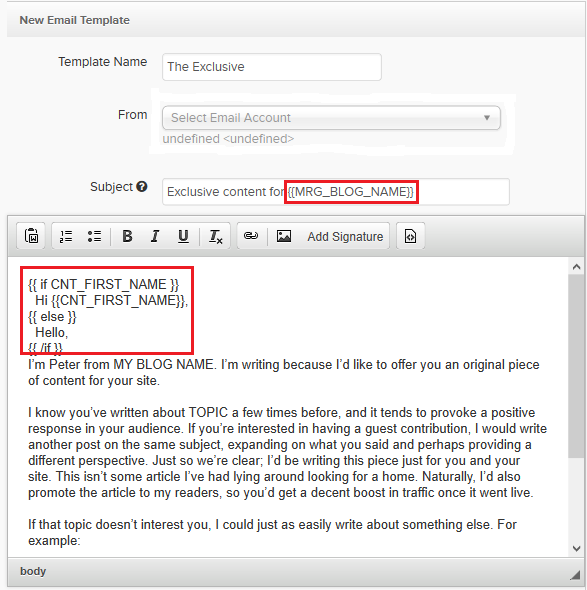 Using placeholders, you can add dynamic content to your Pitchbox emails, which is especially useful for variables like the recipient's name, addresses, URLs, or phone numbers.
3.3. Automated Follow-Up
You can easily create individual templates for each follow-up e-mail and set the amount of time between each follow-up.

Here you are able to select which of your personalized templates should be used for the first, second and third attempt.
Another great feature: You can choose how long you want to wait between each attempt. Pitchbox automatically recognizes when one of your opportunities sends a reply. If there is no reply within the number of days you specified, the tool sends another follow-up email.
3.4. Integrated E-Mail Client
All e-mail traffic can be easily managed within Pitchbox. The tool automatically matches incoming e-mails to your outreach campaign, even when prospects reply from a different e-mail address. You'll find them in your inbox.

3.5. Relationship Manager
Here you'll find all the information for each opportunity. That includes URL and social media activity as well as contact history.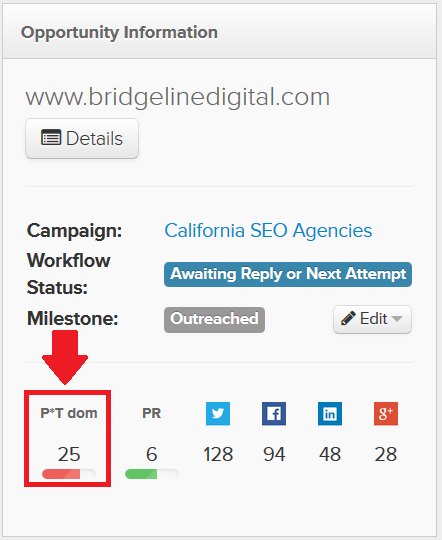 3.6. Performance Reporting
Pitchbox's project and campaign trackers give you detailed information about any part of your project or campaign.
You'll find this information in your "project overview":

You can choose between getting an overview of your whole project or of a single campaign:


Here you see how many of your opportunities are waiting for inspection. The inspection page is where you can take a closer look at the results of your prospecting efforts (opportunities). Then you can curate which ones you want to pursue, remove, or blacklist (if they're not relevant at all).
The inspection screen gives you a chance to visually preview each website without leaving Pitchbox or having to open new tabs. Also, you can look at SEO metrics, number of contacts, etc.

Here you can personalize your opportunities but before doing so you have to define your personalization fields: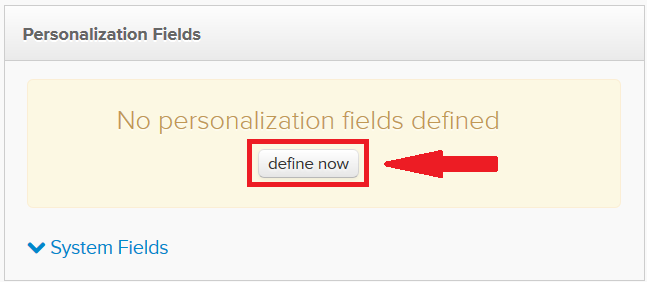 You can create some within Pitchbox or import pre-defined ones: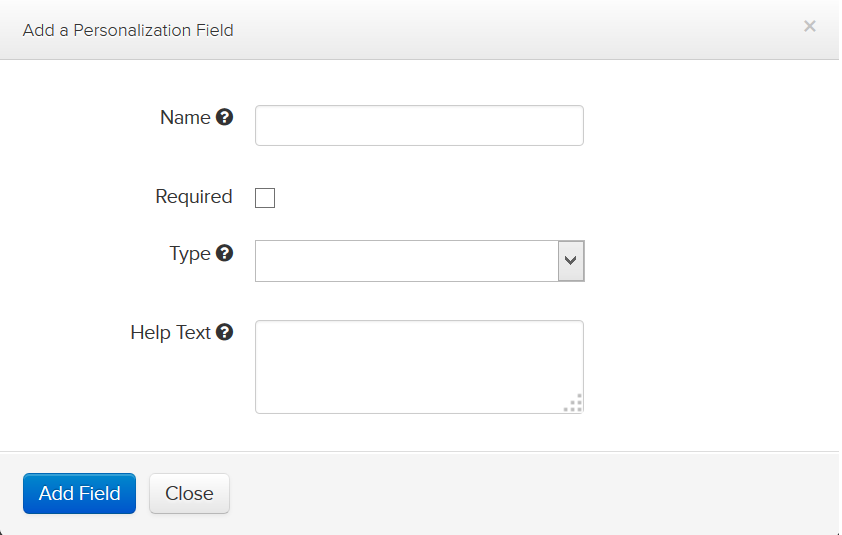 After that, you can either submit the opportunities for approval (if necessary) or you can move on to the compose stage.
Here, you can see your email sequence and preview what is going to go out.

If you click on "Preview & Send," you will get a detailed e-mail sequence view, where you can see the templates you've chosen or created for your follow-ups:

When composing your email,
click the "send" button and you'll find all your selected e-mails in your outbox. Depending on your time schedule, your e-mail will wait in your outbox until they have been sent.
4. LRT & Pitchbox – Best practice samples
4.1. Link Removal
Link removal is an important issue in SEO. Particularly since Google's Penguin Update, it is more important than ever to have a clean link profile. Often, links that have been built in the past and boosted websites' rankings are now the reason why sites get penalized. Many SEOs don't wait until a penalty comes up, but instead start cleaning their link profiles before trouble starts. In any case, link removal has become a time-consuming process. The link removal process consists of four parts: identifying bad links or the links you want to get rid of, research for webmasters' contact details, contacting them and managing incoming responses. As you can imagine, this procedure takes plenty of effort if your website has 1000's of backlinks. With LinkResearchTools and Pitchbox link removal has never been easier!
4.1.1. Remove harmful links
4.1.1.1. First step: identify bad links
The easiest way to identify harmful links is by using the LinkResearchTools' "Link Detox" tool:
A good way to start your analysis is to sort all your backlinks by its DTOXRISK™. It's always good to start with your high risk links, as these links are most harmful for your link profile.

DTOXRISK™ is the score for every link.  From the calculation and weighting of various rules for the links, their domains, and their location, additional technical criteria will be derived. The higher the DTOXRISK™ score is, the more automated rules get triggered and signal the potential risk of that specific link for the overall link profile. So the higher a link's DTOXRISK™, the higher its risk to harm your Google rankings. The rules used for this calculation are listed in an extra tab.
Let's just say your website has 1000's of backlinks, the next Penguin is on its way and you want to clean up your link profile just in case, but you have only a limited time for this cleaning process. I'd recommend running a Link Detox, filtering your links by high risk, sorting these high risk links by their link priority and start reviewing your links.
Note: No matter what are the results of a Detox report, it is essential to also review your links manually as no tool – not even a great tool as Link Detox – can replace a professional manual review!
Apart from sorting your links by their Detox risk or Link Audit Priority, it's also possible to sort them by their Link Detox rules. For instance, here I generated a list of all of my "TOX 1" backlinks: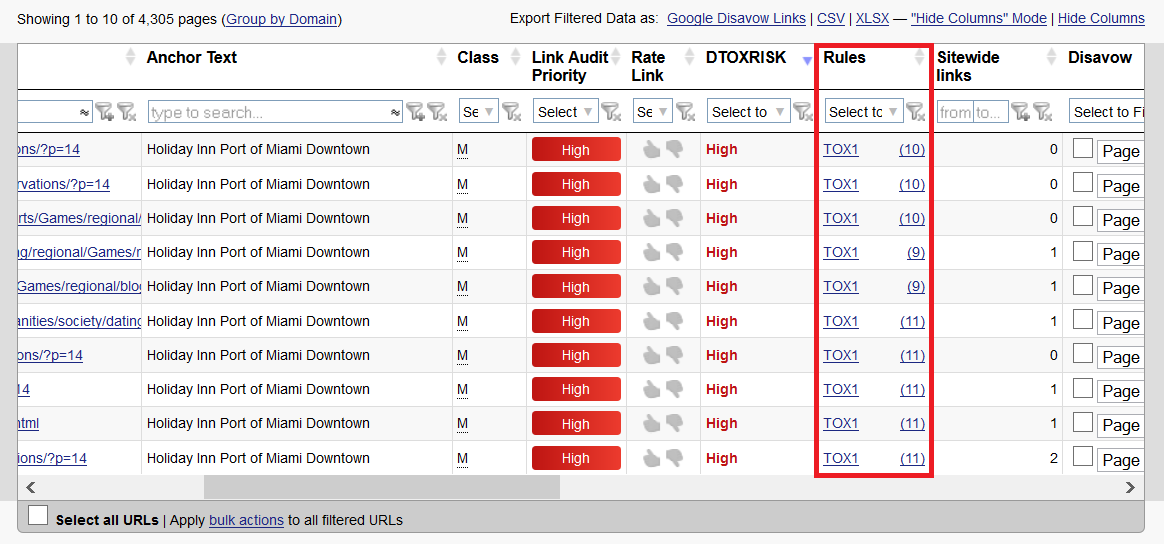 TOX1 means that the domain is not indexed in Google anymore which could be a sign for a Google penalty (e.g. the domain has been part of a link network that got deindexed by Google). Of course, by visiting a website, I can't tell if it is indexed or de-indexed. That makes it hard to tell if a link is harmful or not. So knowing that the link is from a de-indexed website can make professional manual reviewing easier.
4.1.1.2. Second step: research for webmasters' contact details
Let's get back on track: I filtered all my "TOX1" links and after carefully reviewing them, I decided that most of these links are harmful for my link profile so I'd like to remove them. At this point I usually had to start spending several hours researching contact details for websites I'd like to remove my links from. With LinkResearchTools this step only takes a couple of seconds, as the tool automatically finds contact information for almost every website. As you can see in the screenshot below, sometimes the tool even finds more than one e-mail address, so the chances to actually get a response increase.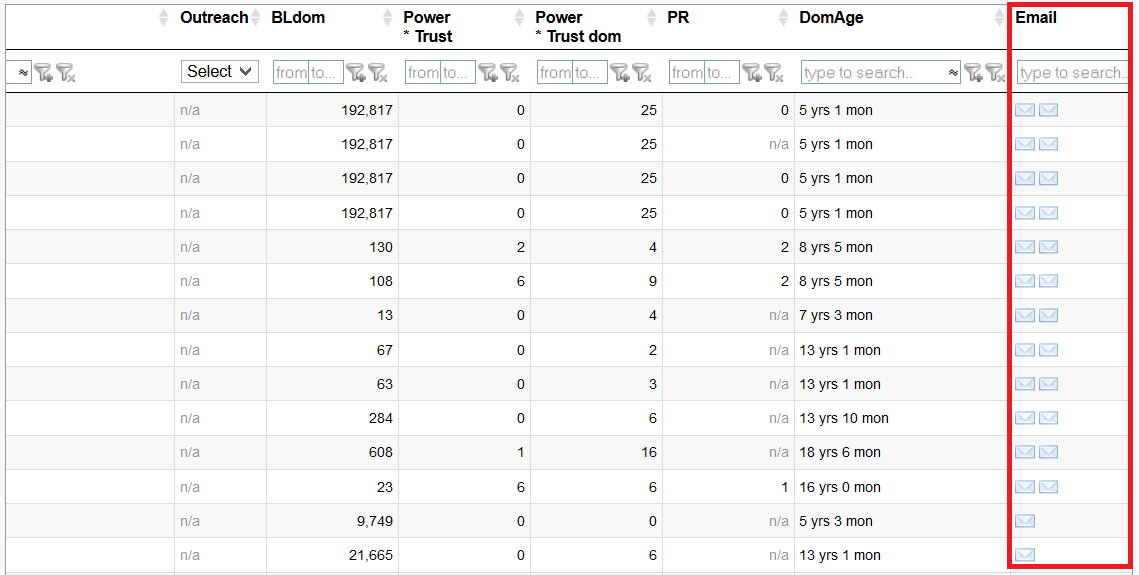 So instead of researching each e-mail address and contacting the website owners one by one, I can simply select all displayed URLs by ticking the box underneath the link list. After that, I click the outreach button: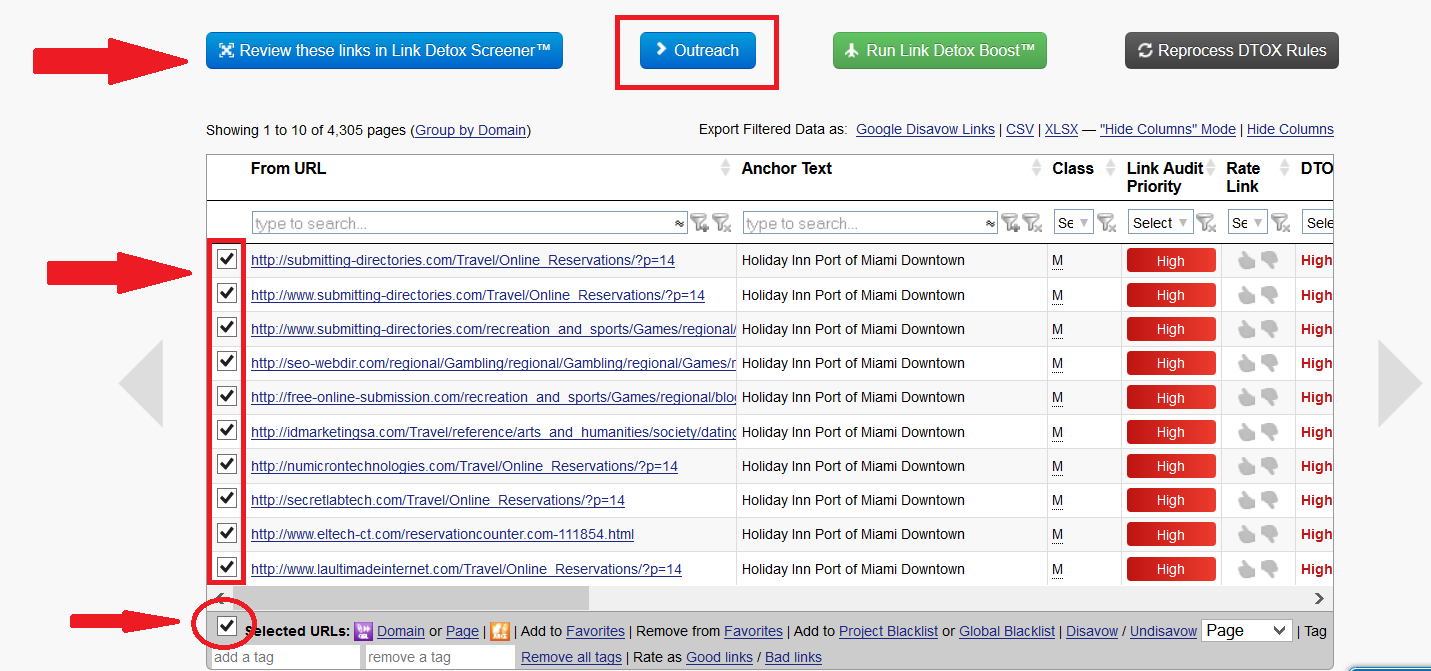 Now the tool will ask me if I'd like to reach out to only the selected URLs or all filtered URLs.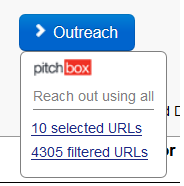 I select my filtered URLs, add a campaign name, the project's name, choose an e-mail account and select the campaign's country.
Finally, I sent the selected websites to Pitchbox.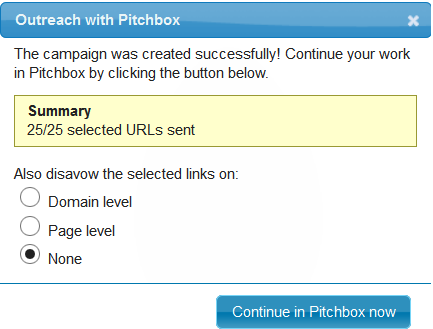 4.1.1.3. Third step: outreach
The outreach process itself has always been very time-consuming and hard to manage. But not anymore! With LRT and Pitchbox your outreach process has never been easier:
As soon as you've sent the selected websites to Pitchbox, you see a small overview of your outreach progress: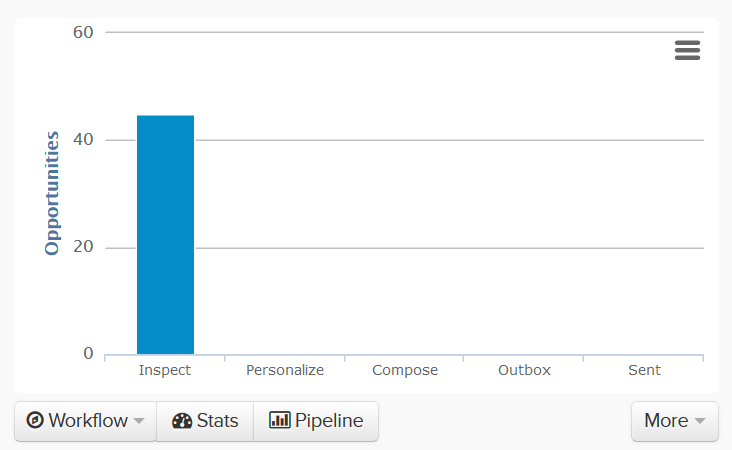 Pitchbox's outreach process consist of 5 steps.
The first step is to "Inspect" your opportunities (websites) which means that all the websites need to be evaluated.
In our case sample, this step isn't required as we already evaluated the websites in our Detox report. Inspecting websites is only necessary if you for instance use Pitchbox's prospecting feature. Here the tool automatically finds new link opportunities for you. Before continuing the outreach process, these opportunities have to be evaluated by yourself.
The second step we have to take is to "Personalize" the websites we sent to Pitchbox via Link Detox.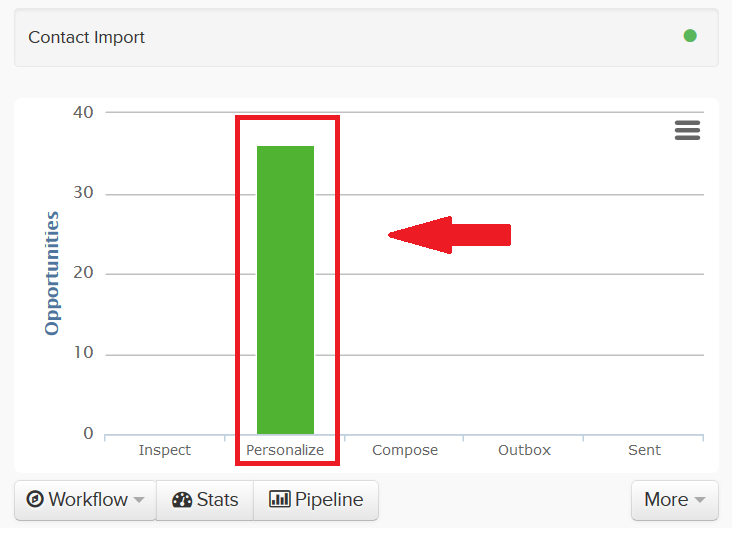 In the "Personalize" tab we also find information like the website's Power*Trust, PageRank or the number of contact addresses the tools found out.

In the "Actions" tab we find a button called "Personalize":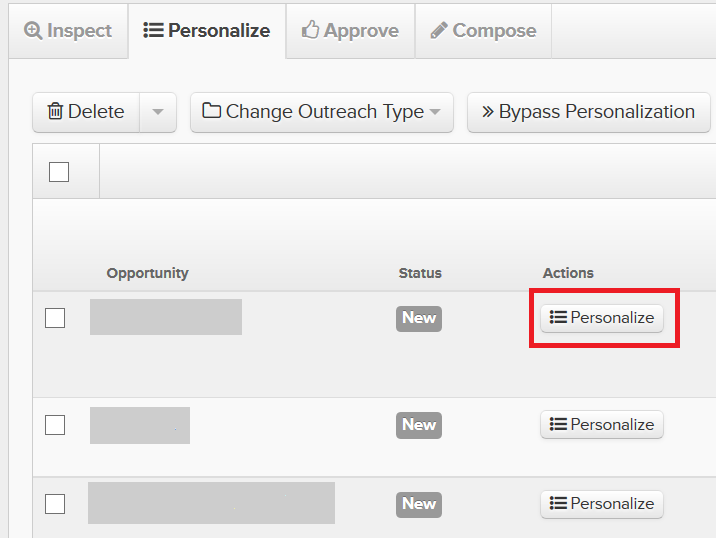 Here we can add, delete or change contact details:

For our purposes, we don't need to change any websites' details, so we select all link opportunities and "process Link Detox Opportunities":
By clicking the "Process Link Detox Opportunities" button, all websites with contact information are going to receive emails based on our outreach schedule and templates setup.
Opportunities without contact information will be marked as lost in Pitchbox. As you don't have any contact information, you can either search for them manually or simply add them to your disavow file.
Let's go back to our campaign's overview, where we can follow our outreach process easily. As you can see, after processing your Link Detox Opportunities you find all your links in Pitchbox's outbox.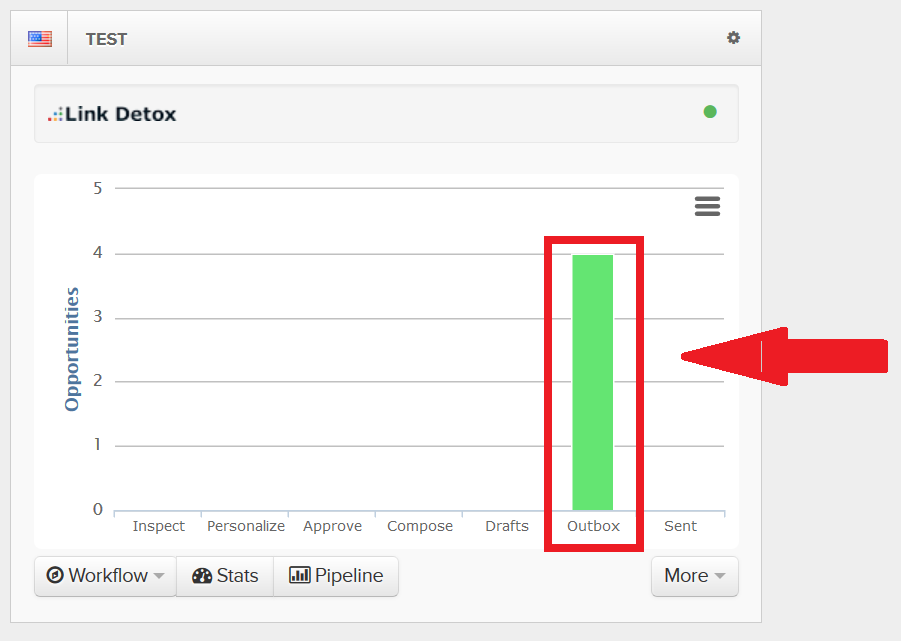 Depending on the schedule you specify, at some point you'll finally find your links in the "SENT" row.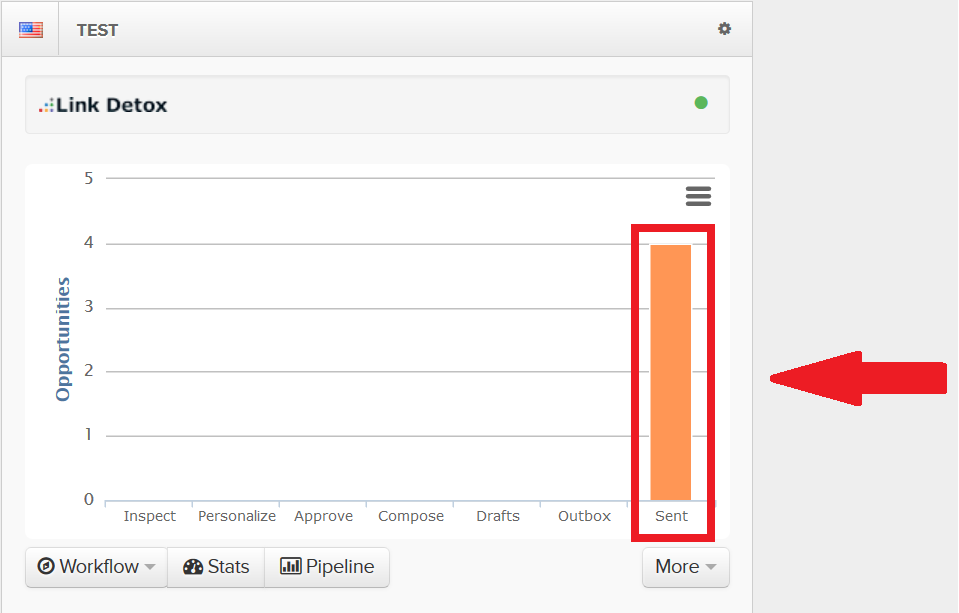 Of course, this procedure can be applied on various tasks in the link profile cleaning process. Here's another example:
We all know what web directories are, right? They used to be a great way to generate fast and cheap links that boosted our websites' rankings. Well, not anymore. Today, links from most web directories some of the most harmful ones. In order to have a sustainable link profile - which means a link profile that withstand future Google updates - it is essential to remove or disavow all your web directory links.
Yes, previously removing 100s or 1000s of web directory links would be a time-consuming process. With LinkResearchTools and Pitchbox this procedure takes only a couple of minutes:
Let's go back to our beloved Detox Tool. Here, we have an option called "Site Type". As the name suggests, we can simply filter all analysed URLs by their site types.
LRT offers plenty of metrics, though obviously not all of them are shown in the chart. You can add the metrics you need in your table by clicking on it:

Now we see the "Site Type" tab in our table. Just select "Link Directory" and the tools shows us all our links from link directories.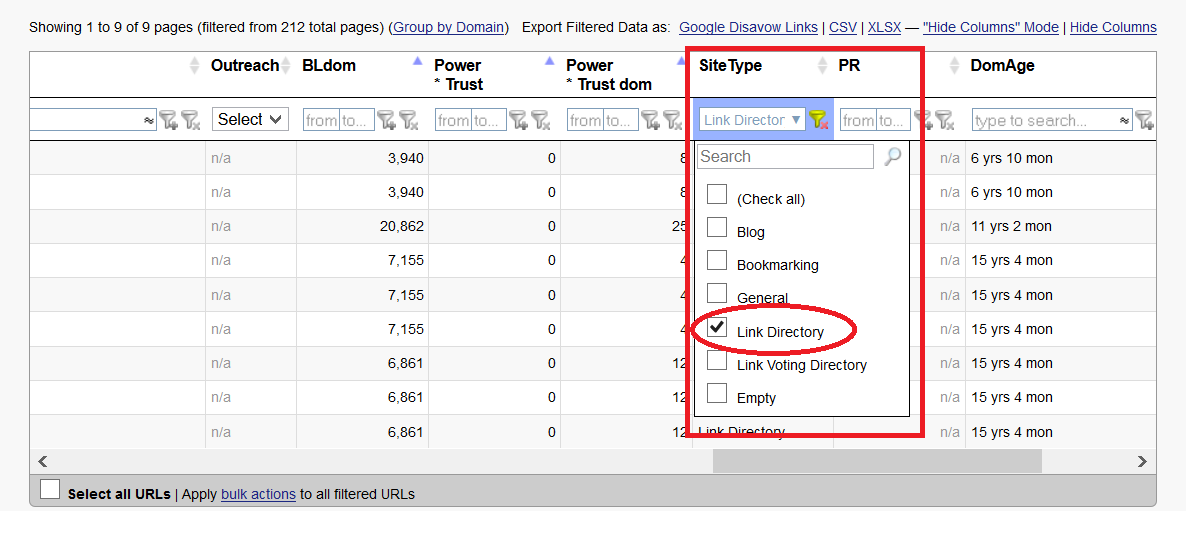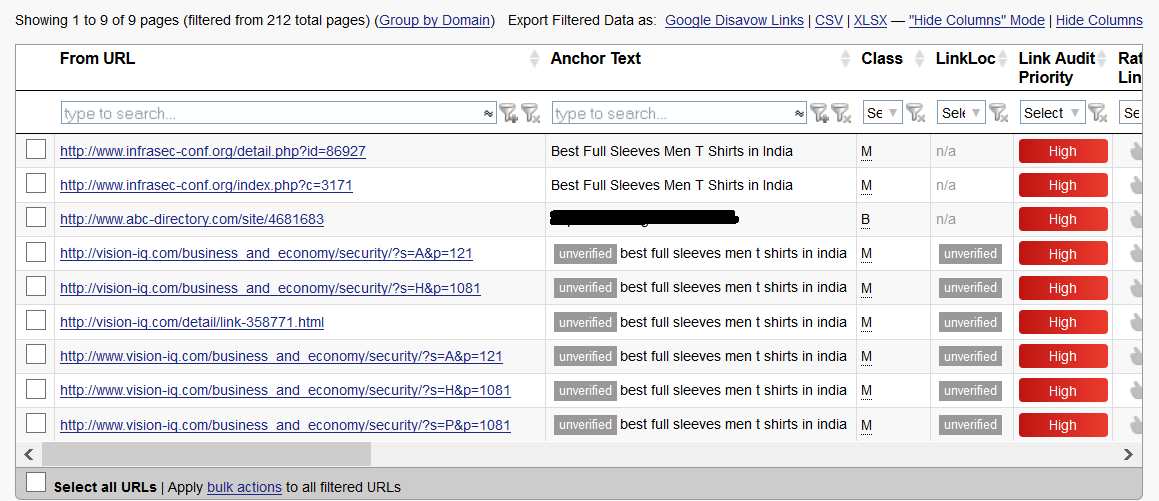 This sample shows only a handful of link directory links. But for very big websites with 1000s of directory links, it would be almost impossible to filter them by hand. Anyway, the first important step has been done: identifying the harmful web directory links. I am pretty sure now you want to get rid of them, right.
Always keep in mind removing links is safer than disavowing them. Although Google usually follows requests from users, no one knows how Google will handle disavow files in the future. Google still emphasizes that they're under no obligation to ignore links in a user's disavow file. Consequently, given that link removal requests are now just a matter of a couple of clicks, it's worth a shot.
Again, just select the filtered URLs and send them to Pitchbox: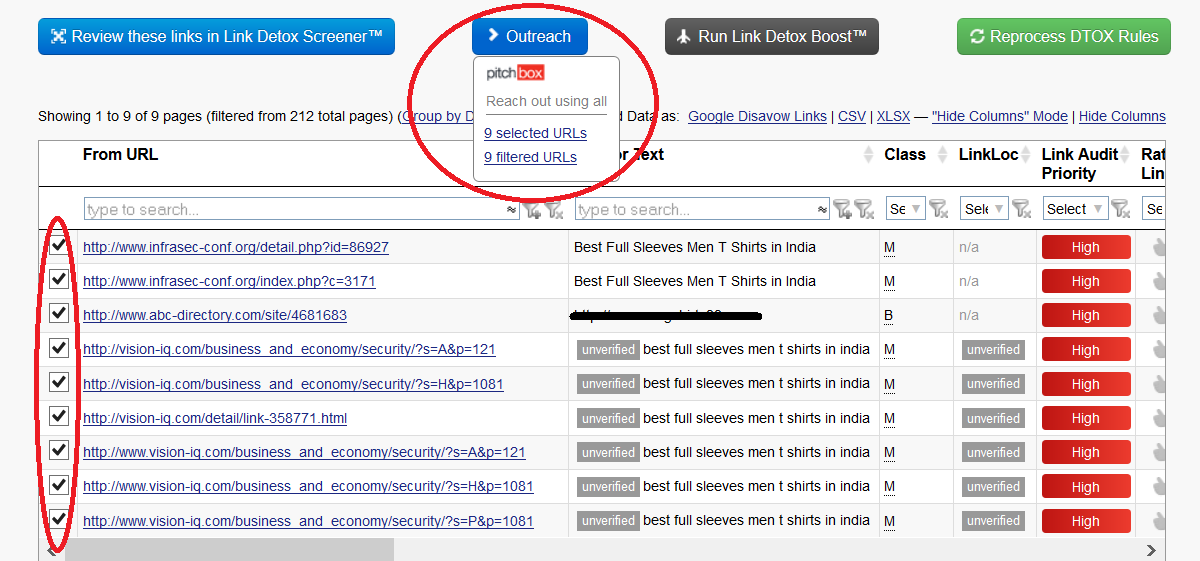 Want another example of how LRT + Pitchbox can help you remove bad links efficiently? No problem!
If you ever bought big bunches of "quality backlinks" for only $12 in the past, then you have probably plenty of poor quality, spammy links from non-target market countries, mostly Indian, Russian, Poland and so on.
Of course, these kinds of links do not help your rankings anymore. On the contrary, having these links can result in a penalty from Google. So how can you get rid of them? It's simple:
Go to your Link Detox report and activate the "CNTRY" column:

Now simply sort all your links by its country origin: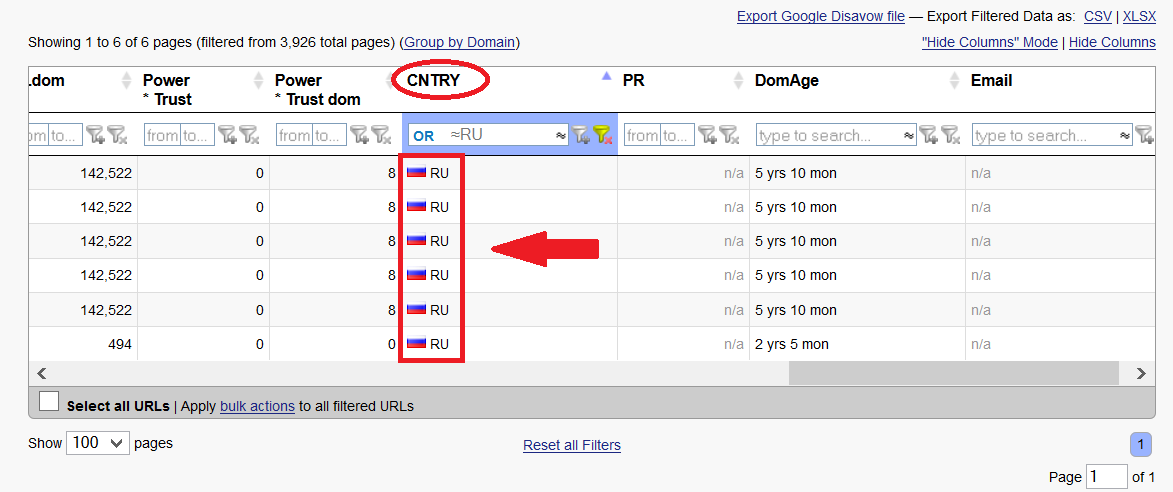 Now you can go through these links and see if they are really spammy.
For test purpose I click on the Polish link and ….look what I've found!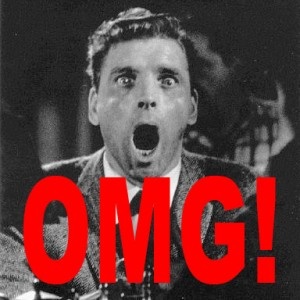 The link is from my LRT Certified Xpert fellow Bartosz!!!!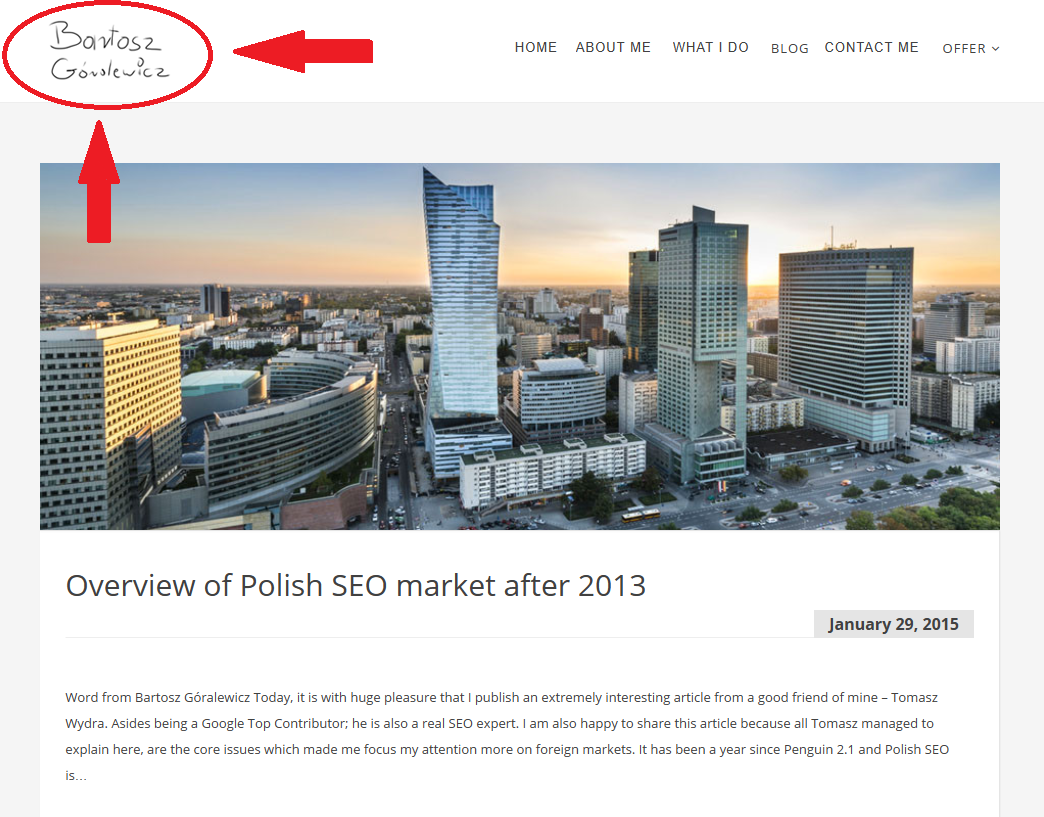 Just kidding :-P
4.1.1.4. Fourth step: manage in-coming responses
Although it's good when I get replies from the webmasters I contact, managing all those incoming e-mails is another big issue during the link removal process.
With Pitchbox, even this step can be done fast and easy.
4.1.2. Remove link network links
"I have nothing to do with link networks!" Many clients try to tell me. But when I ask if they have bought link packages for only a few Dollars, many of them say they have. Well, where these links come from? From big, massive link networks! How else is it possible for some agencies to provide a large number of backlinks at once and for so little money? But what exactly is a link network?
Simply, a link network is a group of sites that are connected somehow. They don't necessarily have to be owned by one person; they can also count as link networks if they are owned by multiple people. Their connections can be obvious, for instance if the site already states that it is connected to another site. Nowadays, link networks aren't as obvious, so you have to put some effort into uncovering those networks.
There are many indicators that a site may be part of a network. But that's for another time, as our aim here is to demonstrate how to get rid of your link network links by using LRT and Pitchbox.
Let's start!
Go to LRT and open the Backlink Profiler (BLP). Enter your domain, analyze the whole domain and boost your results.
Now select "Domain Registration Details" as well as "Domain Expiry & Registrar Details".
Don't forget to set a sitewide filter (I usually set it to 5) and run your report.

As soon as the report is done you are able to sort all your links by their IP addresses: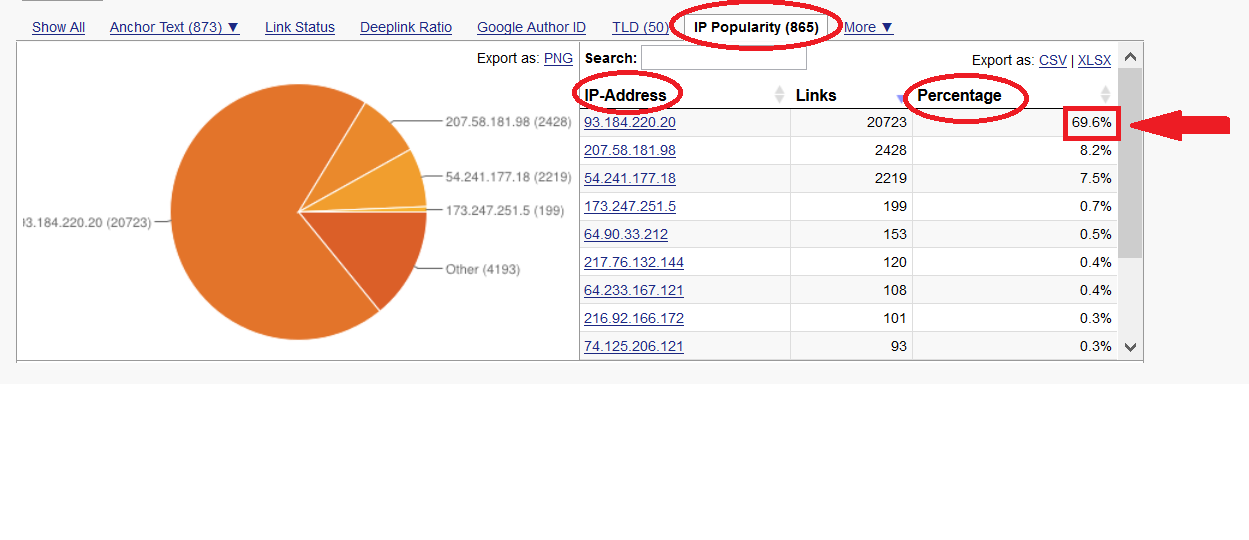 Here we can see that 69.6% of the website's links are from a single IP address!
Often, link networks use different IP addresses but the same ClassCs. In those cases a quick look at the "Class-C Popularity" tab helps you to identify link networks: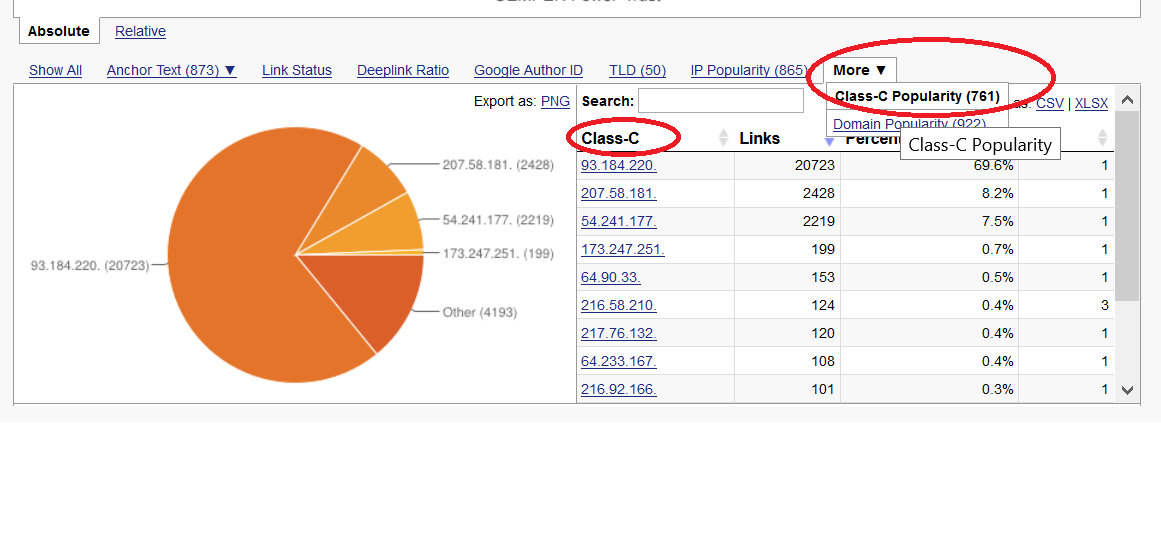 By clicking on the certain IP address/ ClassC, the report shows you all links which are from the specific IP address/ ClassC. Now you can easily review them and reach out to them via Pitchbox. Hopefully at least some of the webmasters you contact will delete your links.
4.1.3. Remove links that fit into particular pattern
I am going to demonstrate this on an example straight out of our daily praxis.
Recently, one of our clients was hit with a manual penalty. He offered some widgets for download, and any user that put these widgets on their website linked to the client's website with a particular money keyword. Well, it's not surprising that this link building strategy didn't end well.
Anyway, the link profile of this particular client consisted 1000s of links having this particular money keyword. Of course, we didn't want to remove or disavow all of them as some of these kind of rich anchor text links were located on high quality sites. So we wanted to filter out good quality websites having this particular anchor text and ask to change the money anchor text into a brand anchor text. Therefore, we provided a new widget and asked some of the website owners to implement the new widget, pretending the old one had to be renewed because Google said so ;-)
To make this happen, I gathered as many backlinks as possible from different sources like Webmaster Tools, Majestic, SEMRush and so on.
Then I started a BLP report and upload them in order to analyze as many links as possible: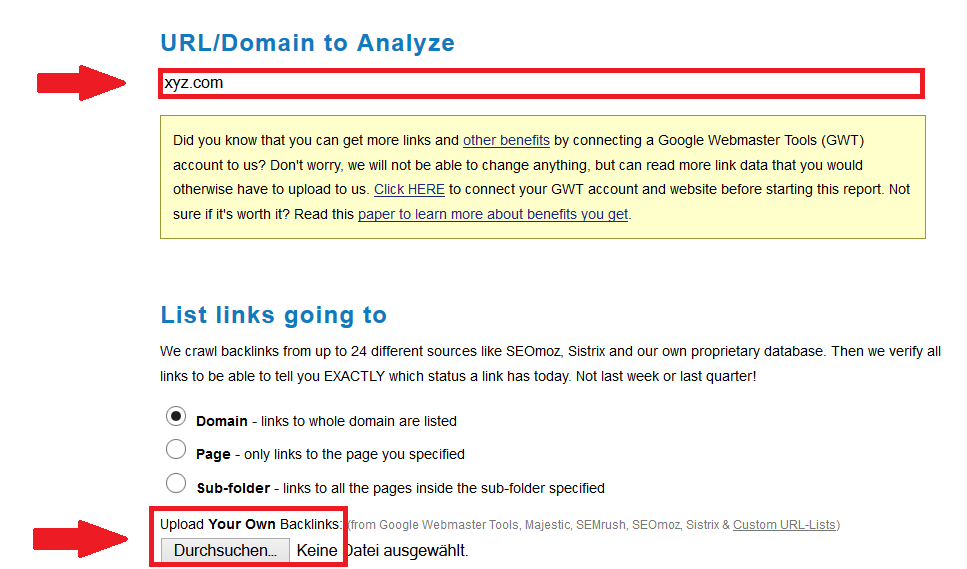 After the report was done, I filtered all links by the particular anchor text:

And sort these filtered links by their LRT Power*Trust.
Finally, I got all the high quality sites that contain a money keyword link to our client's website with the particular anchor text. I checked them off and reached out to them via Pitchbox. Can it get any easier?
4.2. Link Building
4.2.1. Find links your competitors have but you don't!
Do you want to contact potential link partners but have only very limited time? No problem! The Missing Links Tool combined with Pitchbox make it possible to do this quickly and efficiently.
Let's start with what's usually the most time consuming part – researching potential link sources. For this, use the LRT Missing Links Tool (MLT). The Missing Links Tool compares your competitors' and your own backlinks and shows all domains where they have links but you don't.
Type in the URL for which you want to find new link sources, find your competitors, and select the 5x link boost and run the report in order to increase your results.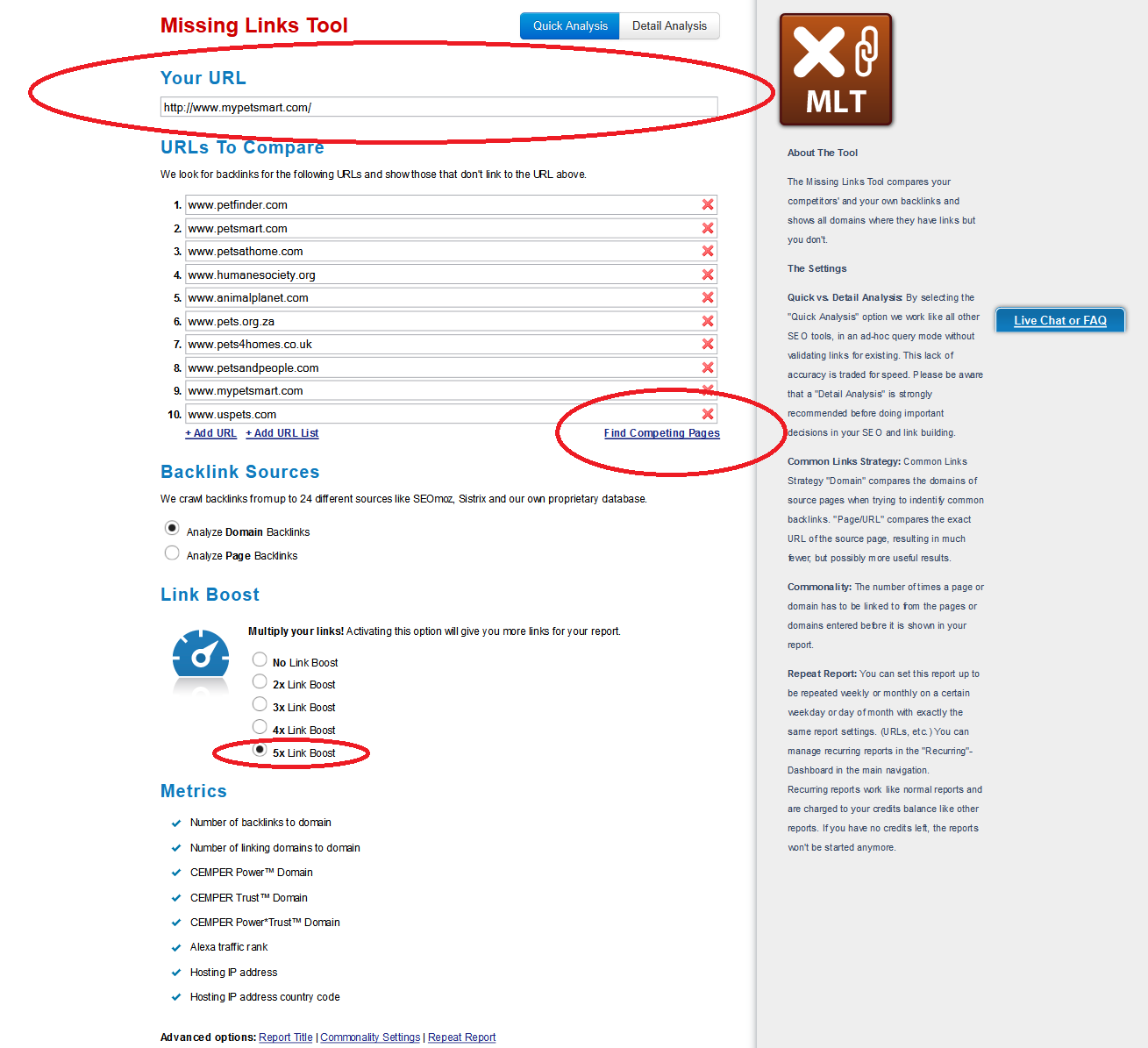 First the report gives you an overview of the common backlinks between you and your competitors:

Underneath this chart you'll find the heart of the MLT report. As you can see, the report lists all domains that are linking to at least one of your competitors. Let's just say you wanted to find out which of these domains link to at least 3 of your competitors. To do that, you should set the common links from 3 to 9. As a result you'll get 40 websites. Since you want to get new links, simply reach out to these 40 websites with Pitchbox.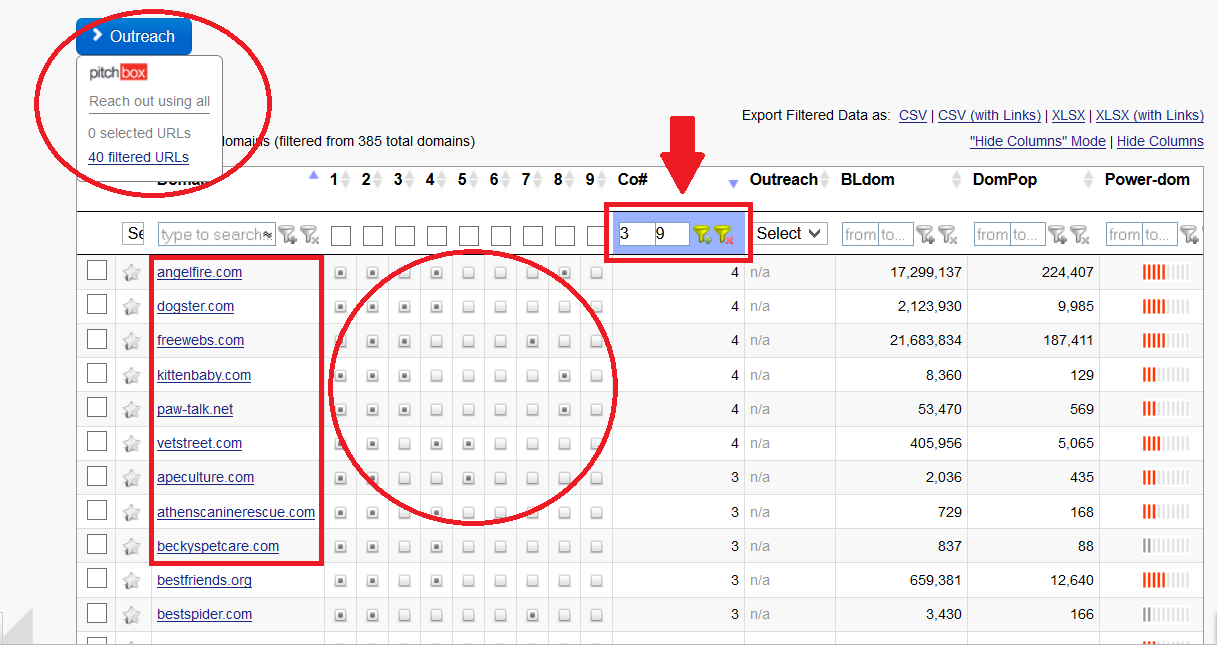 4.2.2. Find sites your competitors link to
LinkResearchTool's Link Juice Thief (LJT) helps you identify pages that your competitors link to frequently.
"So what? Why do I have to know where my competitors link to?" you might ask. Well, if you can catch a link from a site your competitors link to, it means that your competitors indirectly link to you as well. Imagine a basic link graph, consisting of your strongest competitors and a website A. With this strategy you place yourself in the middle of the link graph, rather than linking to website A like all your competitors, you get a link from website A and indirectly from all your competitors as well.
To find out which are the sites your competitors are linking to, the easiest way is to use LinkResearchTool's LJT: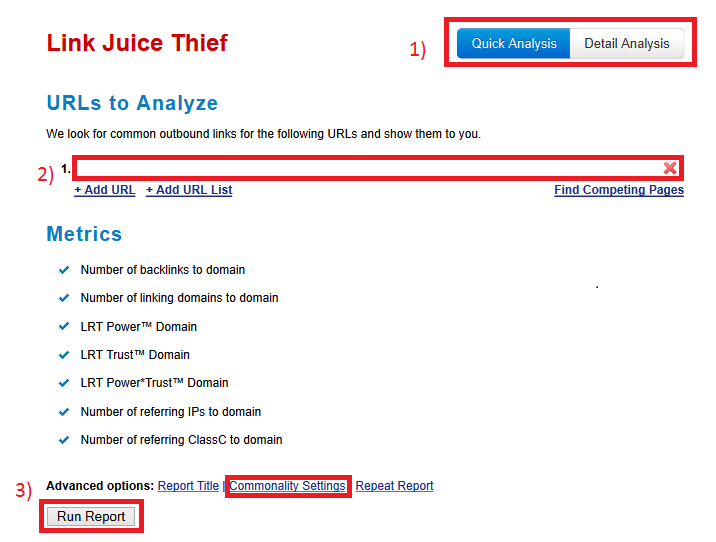 Select quick or detail mode
Type in your competitors
Choose how many common outbound links you want to have
Finally you get a nice report:

The column "domain" lists all domains at least one of your competitors link to
Here you see which of your competitors is linking to the specific domain
In this box you can select how many common backlinks the domains have to have
Now you can go through the list, check the domains LRT Power*Trust or other metrics and decide if it's worth it to get a link from there. Simple, right?
4.2.3. Build healthy links
Would you like to copy your competitors' links? Well, be aware of the fact that copying links from even the strongest competitors doesn't guarantee that you also get good links!
If you want to check out up to 10 competitors' links and see if they're worth copying, you can with the help of the competitive Link Detox Tool!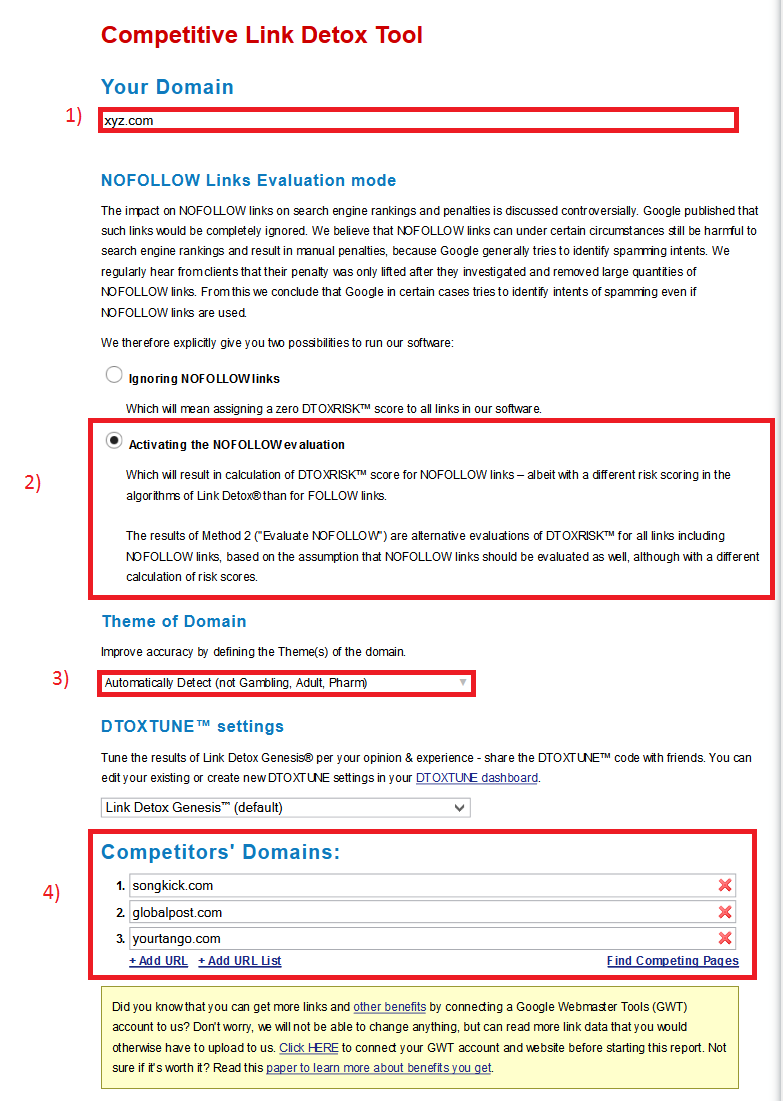 Type in your website
Select whether or not you want No Follow links to be evaluated as well
Select the theme of the domain (I strongly recommend to also select "Automatically Detect", especially if the analysed website is a website that fits into various categories)
Choose your competitors
[notification style="warning" font_size="13px" closeable="true"]
You might be wondering if you should evaluate No Follow links or not. Well, if No Follow links are relevant for ones link profile or not is a well discussed topic. Opinions in this matter tend to differ sharply. One the one hand, the attribute "No Follow" means, that Google doesn't "follow" the link which means that they do not take these links into account in the calculation carried out. In simple words: No Follow links do not affect a website's ranking in a positive way directly. But – in my opinion – indirectly they though can have a negative impact on your rankings: For instance, in case of a manual investigation, a website's link profile will be reviewed in detail. I think, here also No Follow links will be taken into account if Google has a strong suspicion of ranking manipulation.
The CDETOX report shows you your link risk in comparison to your competitors' link risks.
[/notification]
Wow, what I nice chart we get ;-)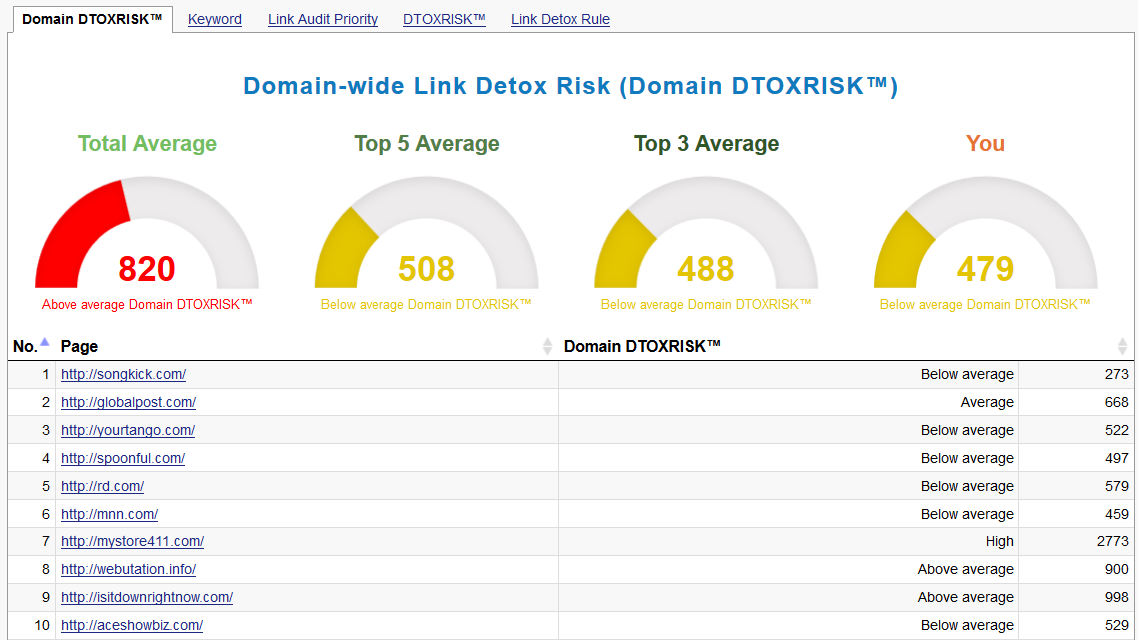 Beyond this chart you find a table including all links – yours and your competitors'.

As you want to build only healthy links, simply filter all links by their link risk: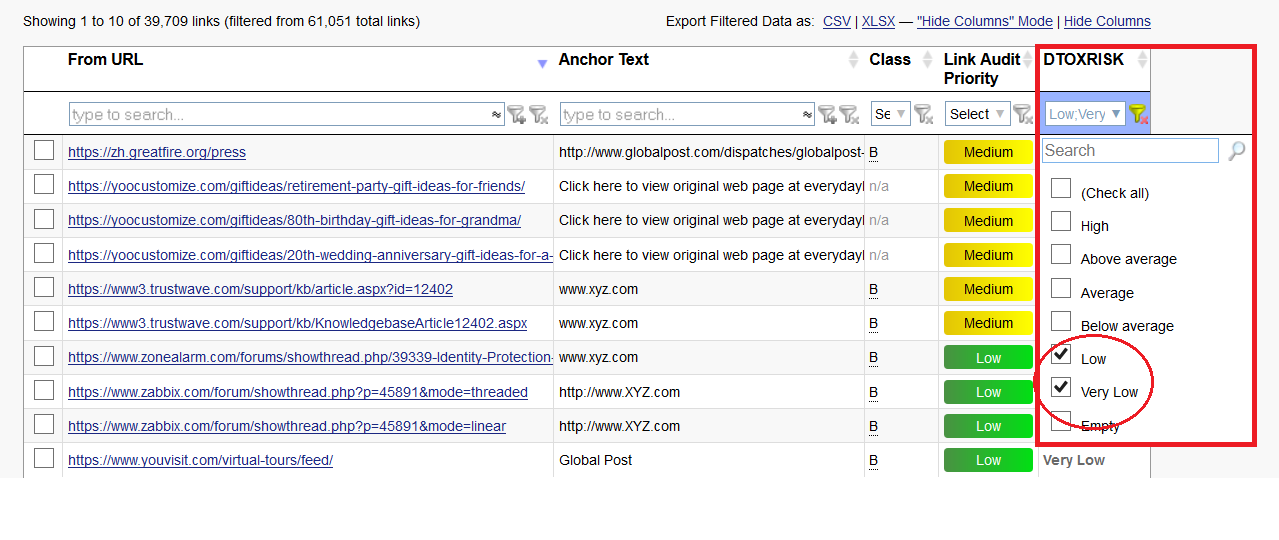 Now you get a list with all "very low" as well as "low" risk links. Be careful, though: This list also includes your own low risk links! If you remember, the purpose of this CDETOX report was to find healthy backlinks from your competitors. So, we don't need our own backlinks in this step.
Therefore, enable the "To URL" column:

Now you can easily exclude all links that are pointing to your own website:

Here it is: A list of very low and low risk links from your competitors. Perfect. All you have to do now is review each link and see if the particular website is a good fit for a link to your website. If you think so, tick the box on the left hand.
4.3. Sales
Did you know that LinkResearchTools in combination with Pitchbox can also be used for Sales? Let's just say you're a link building agency and you want to sell your service to other marketing agencies throughout the country – or even the globe!
Simply open the LRT "SERP" tool. The tool helps you find new link opportunities. It aggregates the results of up to 20 keyword queries. You can easily filter out results that either link to you already or are somehow else useless for your campaign.
Type in your domain and relevant keywords for prospecting link opportunities. You can also choose the type of the link sources as well as a specific time frame: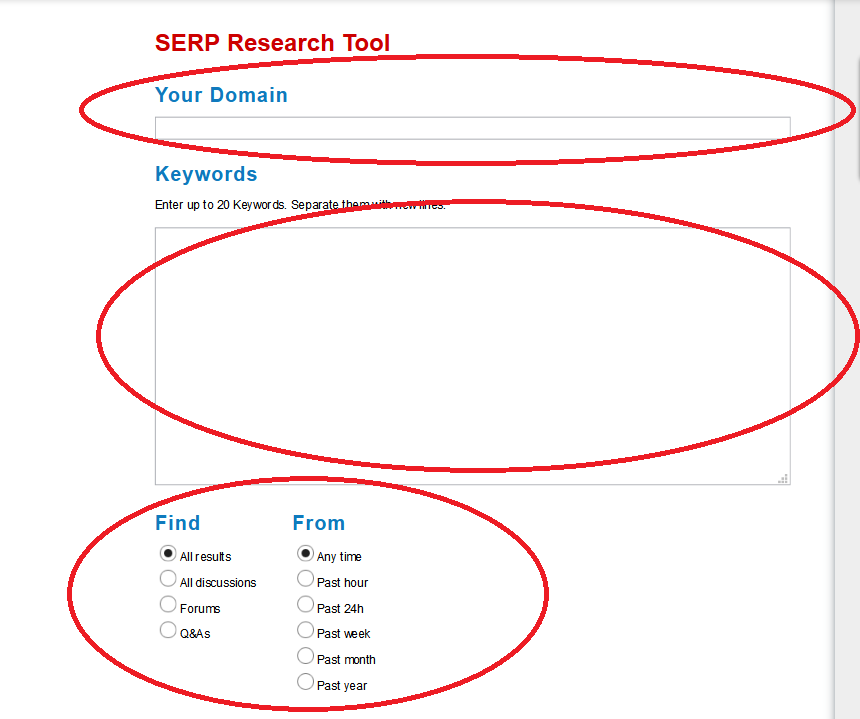 After that, just select your target country as well as the metrics you need for your analysis: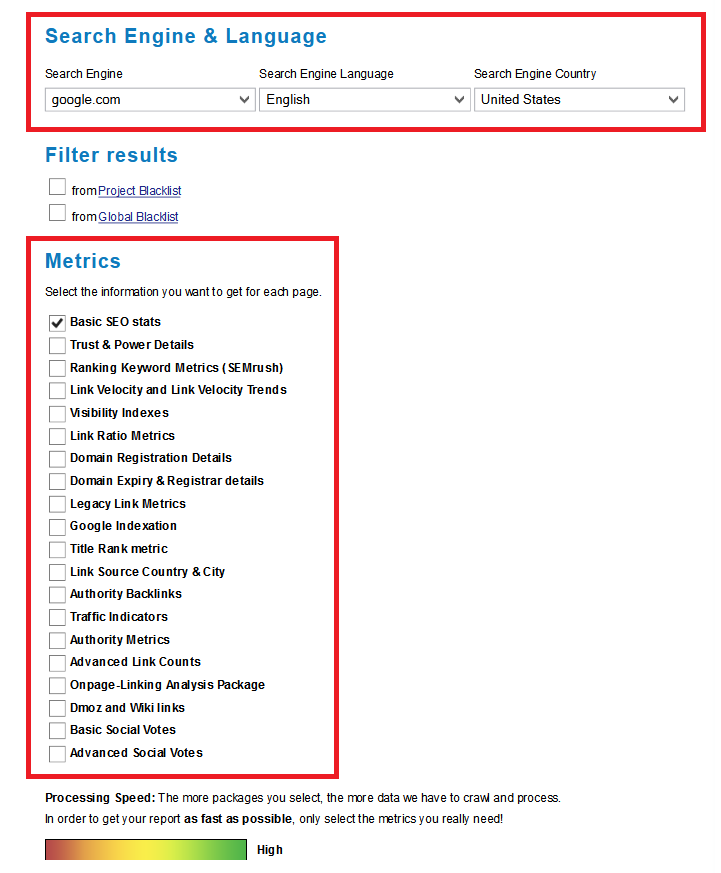 In the report itself you can see 1) basic information about your selected settings as well as 2) the keywords you've chosen:

The most important information of the report can be found here:
The domains rank. You also find a filter option here.
The URL itself
This column tells you which keyword the result is ranking for
Here you see if the result is linking to you already

Let's just say you are selling a high quality product and you are looking for partner in your niche. You are not interested in companies that have a rank of 85 for the services or product they are providing, but looking for some popular partner in your niche. Simply select from the range of positions your partner should rank for and for which product/service (=keyword).
Now you can export your filtered URLs and upload them in Pitchbox.

And carry on with setting up your campaign as explained in the previous chapters.
5. Summary
The integration of Pitchbox into LinkResearchTools was a great idea as it offers almost endless possibilities to optimize link removal, link building and sales processes. Saving time and money are, of course, the most important benefit for every business. So, I strongly recommend using these tools in your daily business! Both thumbs up!
This case study was written by Geraldine Edel, Head of Inbound Marketing at Mediabase, and long-time user of LinkResearchTools and Link Detox.

---
A word from Christoph C. Cemper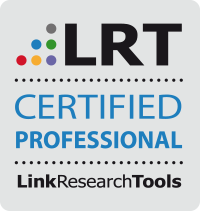 This case study was conducted and written by our LRT Certified Professional, Geraldine Edel.
Geraldine showed proficiency in doing link removal and link building using the LinkResearchTools and PitchBox integration. I am thrilled by the detail and structure she accomplished in her case study.
Geraldine and Harry are members of the Mediabase team, our LRT Certified Agency. This allows Mediabase to market their brand and service with this highly sought after certification AND receive consulting leads from us.
Our goal is to provide our user community and clients with high-quality services, and our certified experts are key to that.
I look forward to future work and personally recommend Geraldine Edel to work with you whenever you get the chance!